Memorial Day Weekend Things To Do in Brooklyn NYC
Things To Do in Brooklyn over the Memorial Day Weekend
UPDATED _ May 29, 2022 / Brooklyn Neighborhoods NYC / Things To Do in Brooklyn NYC / Brooklyn Blvd NYC.
This is a report containing things to do in Brooklyn over the Memorial Day Weekend.
This was first published when Memorial Day Weekend was a few weeks away. But given Brooklyners' interest in resuming some level of normalcy post pandemic, I thought you might want more time to figure out how you're going to spend the weekend.
Weather. The temperature highs will be near 80 on Friday, Saturday and Sunday, rising to the mid 80's or higher on Monday. The temperature lows will be in the 60's all weekend. Over a half inch of rain is expected between about 2 pm Friday and about 4 pm Saturday, and the rest of the weekend will be dry. Winds will be 5 - 10 mph on Friday, Saturday and Monday, falling to 3 - 5 mph on Sunday. The humidity will be 80% on Friday, 70% on Saturday, and 60% on Sunday and Monday. All in all a pretty fair weather for the three day weekend.
Click for an up-to-date forecast of Brooklyn Weekend Weather.
The things to do in Brooklyn on Memorial Day Weekend include art exhibitions, theater, live music, comedy, dance, shopping, outdoor activities such as soccer, kyaking, baseball, parades, street fairs, museums and dining in the Dumbo, Williamsburg, Clinton Hill, Fort Greene, Brooklyn Heights, Park Slope, Greenpoint, Bushwick, Greenwood Heights, Gowanus, Downtown Brooklyn, Sunset Park, Bayridge, Marine Park, Coney Island neighborhoods of Brooklyn NYC.
Be sure to check our Memorial Day Weekend things to do on Friday afternoon leading into the Memorial Day Weekend in Brooklyn NYC.
Brief History of the Memorial Day Holiday in Brooklyn
Memorial Day first started out as Decoration Day in Waterloo, New York on May 30, 1866 - a year after the Civil War - to honor those who fought in it. In the 1880's the day came to be known as Memorial Day.
According to a May 25, 2012 report in Time Magazine, ten states - Texas, Louisiana, Mississippi, Alabama, Georgia, Florida, North and South Carolina, Virginia and Tennessee also officially observe some version of a Confederate Memorial Day, sometime between late April and early June [in Texas it's in January]. It's been reported that unofficially most of the former Confederate states still commemorate it, but not without some controversy as to the former Confederate diaspora it's to honor their ancestors, while to the former diaspora of the slaves it seems a remnant of these states racist past.
About ten percent of the nation travels more than 50 miles over the weekend. Memorial Day differs from Veterans Day which is held on November 11th of each year. Veterans Day began by honoring those who fought in World War I which ended on the 11th hour, of the 11th day of the 11th month of 1918. Both honor those who served in the U.S. Military. Veterans Day coincides with a similar holiday in Europe for the same reason, which is called Remembrance Day and Armistice Day.
---
$element(bwcore,article_picker,1468-1517,Y,N,page_title_home,N)$
$element(bwcore,article_picker,1490-1489,Y,N,page_title_home,N)$
Labor Day Weekend on Staten Island NYC
Things To Do on Staten Island Over The Labor Day Weekend
August 25, 2019 / Things To Do NYC / Staten Buzz.
It's too early for a reliable weather forecast. Nonetheless you can still attend NYC street fairs in all five boroughs, go bicycling on Staten Island, play soccer & other games in Staten Island parks, go shopping on Staten Island, attend Staten Island parades, watch theater, visit the Staten Island art museums, and eat out at one of the Staten Island restaurants.
And it's all happening right here in our favorite borough - Staten Island. So take your time to sort through the days and locations and start planning your weekend.
Labor Day Events on Staten Island
Click here to obtain information about things to do Labor Day Weekend on Staten Island. This events calendar is updated monthly with dozens of different Staten Island fun cultural events.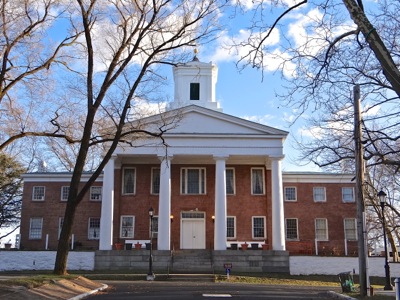 Staten Island Public & Private Parks
Staten Island has one of number of public parks of which a few include swimming facilities. Click here for a listing of the Staten Island Parks including maps showing their locations along with a bit of park history. This is coming at a later date.
NYC Golfing on Staten Island
Staten Island has four golf courses and all of them are open this weekend. The Silver Lake Golf Course is located at 915 Victory Blvd in the northeastern section of Staten Island near the Silver Lake neighborhood. It's only short bus ride from the Staten Island Ferry Terminal in St. George. The La Tourette Golf Course is located at 1001 Richmond Hill Road near Historic Richmond Town and Lighthouse Hill neighborhoods in the center of Staten Island. The South Shore Golf Course is located at 200 Hugenot Road in the southwestern part of Staten Island in the Rossville neighborhood. It is home to the Grand Oaks Country Club. And the NYC Junior Golf Club is located at 66 Pitney Road at the southern end of Staten Island in the Woodrow neighborhood. Click here for details about Staten Island golf courses including maps and links to the operators' websites. The links are coming at a later date.
---
$element(bwcore,article_picker,1513,Y,N,page_title_home,N)$
Brooklyn Fireworks Celebrating July 4th
*Q / Brooklyn has Fireworks Displays at Coney Island and at the Brooklyn Bridge as the Macy's 4th of July Fireworks has Moved Down River
June 25, 2019 / Brooklyn Neighborhoods NYC / Brooklyn Things To Do NYC / Brooklyn Blvd NYC.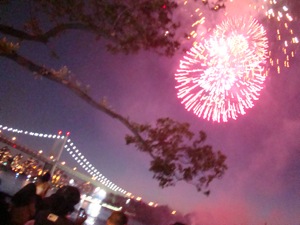 The following are the dates and locations of the legal fireworks displays in Brooklyn over the next week or so leading up to and just beyond the July 4th holiday.
It begins on Coney Island on Friday, June 28th beginning around 9.30 pm when the fireworks will be shot into the air off Coney Island. You can get a good view from the Coney Island Beach. Organized by the Coney Island Alliance. This continues on July 4th, and then Fridays such as July 5th & July 12th and into the summer.
On Wednesday, July 3rd at 9.45 pm there will be a barge of Fort Hamilton in the southern top of Brooklyn near the Verazanno Narrows Bridge. These fireworks are sponsored by Fort Hamilton.
The big event is of course on July 4th, beginning just before 9.30 pm, when the Macy's 4th of July fireworks takes to the sky. This year the fireworks have been moved south of the Brooklyn Bridge on the East River [Between Pier 17 and Manhattan Heliport], so the view from Brooklyn should be better than in prior years.
And last, but not least, are the Breezy Point fireworks in the Rockaway Inlet in Queens on July 5th beginning at 9.30 pm. The Breezy Point Co-Op is the sponsor. Folks in southeastern Brooklyn should be able to see these fireworks.
---
$element(bwcore,article_picker,1510,Y,N,page_title_home,N)$
Have a Good Memorial Day Weekend / Q*
May 24, 2019 / Things To Do NYC / NYC Neighborhoods / News Analysis & Opinion / Gotham Buzz NYC.
In the photo at right, a New York City veteran pays his respects to those who went before him. These brave men made the supreme sacrifice to preserve democracies - governments by the people, for the people, operating under rule of law in lieu of being subject to the capricious whims of reckless rulers.
That struggle for truth and justice continues to this day. But the battles are being fought on our own soil between - those who appear hellbent on destroying our Constitutional democratic institutions using mass deception and outright lies - versus those who are fighting to preserve them.
Thomas Jefferson said that "Eternal vigiliance is the price of democracy" and that "Those who believe a people can be ignorant and free - believe in something that never was and never will be."
The Founding Fathers of our nation designed our system of government so that it includes checks and balances within our governance system. These checks and balances are designed to thwart rule by commands, and to empower the governed by institutionalizing a system of law based on due process, which guarantees all people their inalienable human rights, including liberty and justice for all.
But any system on the planet can be hacked, if the hackers are given enough time. And rights, like property, can be lost or stolen - if the rights or property holder doesn't pay attention and take appropriate action when required.
Thus, we live in a time when American democratic institutions appear to be not just under siege - but in actual jeopardy - and the ultimate outcome of this continuous struggle remains unclear. So while remembering those who went before us, who fought to bravely to preserve the blessings we all enjoy, honor them by paying attention to what's going on in our own government. To do this you need to be sure you're getting the truth - all the facts - about the pols and the issues, which these days can only be done by using multiple information sources controlled by different people.
Right now mega-billionaire Rupert Murdoch controls Fox News, the Wall Street Journal, the NY Post, Barron's, Market Watch, National Geographic and this year he became the largest shareholder in Disney / ABC. It's useful to think of these media outlets, which represent about half of America's news, as being controlled by one man. And do your duty to your country, and your fellow Americans, by seeking out non-Murdoch information sources to fill in the omissions, correct the distortions and offset the amplified lies told by others that are broadcast and printed by the Murdoch-controlled information sources. It's been documented innumerable times, that Murdoch's information sources distort or corrupt the news.
Murdoch's dominant or monopolistic control of the national media in Australia and Britain appears to have turned these two nations into banana republics. For example Australia has gone through five Prime Ministers in about five years [including one former Murdoch employee who appears to have given Murdoch's company a nearly $900 million tax gift paid for by the Australian public]. And it seems that because of Murdoch's relentless push for Brexit [Murdoch is said to prefer operating in Britain as a separate nation because he can tell British Prime Ministers what to do], Britain is on its way to thrashing through three Prime Ministers in three years. One of the leading candidates for British Prime Minister, Michael Gove, is also a former Murdoch employee.
Others see the Russian or Chinese nations as the greatest threat to America, perhaps because Rupert Murdoch's grabbing for monopolistic control of our media, is stateless and more insidious. It's possible that Rupert Murdoch's self serving use of his media outlets represents an even more dangerous, hostile stateless intelligence service to our nation, than Murdoch's former fellow Australian countryman, Julian Assage, Founder of WikiLeaks, could ever even imagine.
I've documented Murdoch's history of propaganda profiteering, which he appears to have been doing in Australia, Britain and America for decades, in a multi-part series posted on this website about Rupert Murdoch and the Rise of the Propaganda Press - including Fox Fake News.
---
$element(bwcore,article_picker,1475-1474,Y,N,page_title_home,N)$
The Road Ahead 2019
A Few Axioms To Keep In Mind Throughout The New Year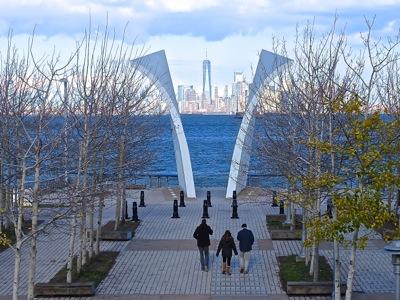 December 31, 2018 / Brooklyn Neighborhoods / Staten Island Neighborhoods / Holidays / Brooklyn BLVD NYC & Staten Buzz NYC.
For all of us, tomorrow starts the beginning of the new year.
I usedto make new years resolutions that generally lasted a few days or few weeks. Over time I've given that up and have focused on a few guiding principles that I work toward throughout the year, every year.
1. The first guidepost is to keep things as simple as possible by letting things go, so you can change and evolve who you are. Over time it's important to learn to let go of the past which includes letting many of the people, projects and things - once so meaningful and relevant - to fade away with time. This process involves discarding much of what one collects, in order to open up space in your life to make room for new possibilities.
2. The second guidepost is to take care of the vessel that carries one's being - meaning take care of your body because it's the only one you'll ever get, and it has to last an entire lifetime. This means consuming the foods that will enable the body to function properly and ward off disease, while recognizing that satisfying the mind is important too, as it's a part of the body. There are three elements to this guideline.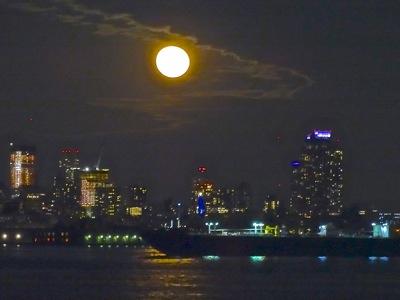 a _ Try to maximize consumption of natural foods while managing / minimalizing consumption of the delicious processed foods that come in packages. Read package container nutrition labels which indicate the amount of fat, sugar, sodium andcholesterol consumed per serving. You can manage the balance of natural and processed foods depending on what's going on in life, meaning leaning toward natural foods to take care of the body, and leaning toward tasty processed foods to treat your mind.
b _ Reduce consumption of toxins by first paying attention to the quantities consumed of them, and then by substituting the toxins with healthier choices. For example dilute a soft drink with seltzer water [cuts sugar], or swap in a lemonade for a beer [cuts alcohol], or swap in pretzels for potato chips [cuts salt and fat]. Over the years these little substitutions can add up to some fair measure of weight loss or stability, and can aid in maintaining generally good health. But it's also important not to deprive oneself, too much, of some of the simple pleasures in life that keep one going - experience tells us not to be too draconian, or you can expect a subconscious rebellion, and then your program doesn't work.
c _ The third element of this guidepost is to try to walk and bike whenever possible. It's a good way to kill two birds with one stone, as it enables getting somewhere, while also getting some exercise. And be sure to carve out enough time each night, for a proper rest.
3. The third guidepost is to try to move your life in the direction of your interests. This will likely take a great many years, as well as needing to make a good number of economic and other lifestyle trade offs. But if successful, you can then spend most of your time doing the things that totally engage you. It's said that "when someone is doing something they truly love, they'll never have to work another day in their life."
4. The fourth guidepost is to keep on learning, because "luck is when preparation meets opportunity". So the more you learn, and the more experience you get, the better prepared you'll be ... come what may.
May your new year be filled with promise and possibilities. Best wishes for a happy and successful 2019.
---
$element(bwcore,article_picker,1469-1470,Y,N,page_title_home,N)$
A Navy Yard Brooklyn Halloween Party
The 733 Collective Steps Out into Limelight at the Brooklyn Navy Yard
October 29, 2018 / Brooklyn Navy Yard & Brooklyn Neighborhoods / Brooklyn Halloween Parties / Fact N' Fiction / Brooklyn BLVD.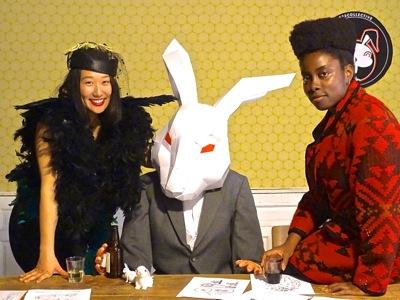 It was a dark and stormy night. And all around the campfire. There were Briggins tall and Briggins small. Luigi said the Captain, Tell us a tale. So Luigi began ...
It was a dark and stormy night ... as I made my way west on Flushing Avenue along the southern perimeter of the Williamsburg neighborhood on my way to the Brooklyn Navy Yard. The dark wet streets were largely empty of pedestrian traffic, except for a few Hasidic Jews, one of whom gave me directions. I encountered construction along Flushing Avenue, just west of the BQE, but all in all it was smooth journey.
I arrived at the 77 Building and passed through the building security, taking the elevator to the 15th floor. The building had recently been completed, and the 15th floor had not yet been rented out. So the organizers of the party, many architects by profession, obtained an option to use the space for Halloween Weekend night.
The space was massive. It was literally thousands of square feet, with very high ceilings [likely 18 feet] and floor-to-ceiling windows on all walls. The location was also pretty remarkable as it is just across Flushing Avenue from the Brooklyn Coffee Company, less than a half mile north of Fort Greene Park, and less than a mile from Downtown Brooklyn / Cadman Plaza Park. And, of course, the Brooklyn Navy Yard is located along the East River, but not yet a regular NYC Ferry stop [they've done special pick ups like during the Clinton / Sanders debate of April 2016].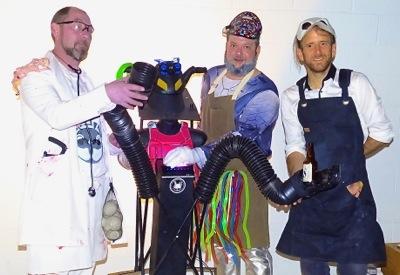 Coming off the elevator I had no idea what to expect. As I entered the party there were two reception desks - one staffed by folks working with the organizers of the event, the 733 Collective. And the other staffed by a Laughing Rabbit representing the Twisted Toy Factory. Given the party name - I decided to go with the rabbit.
As I approached the rabbit's desk Grace Jones emerged, taking a spot alongside the twisted toy figure. She was accompanied by an Asian Athena, who had a hand in bringing the crafty long eared mammal to life. They gave me my press credentials without saying a word. Rabbits may laugh, but they don't talk a lot.
I headed into the building, passing one of the toy stores along the way. There were several large platforms of figures mounted on the large boards, which I'll come back to a bit later in this report. I was on a mission - to find Hannibal ... not Lektor, but one of the founders of the 733 Collective with whom I had arranged my visit.
Like so many highly paid workers these days, he wasn't working, but rather talking things up with his pals. I asked him if he could spare a few moments of his break time to chat. He didn't seem to mind.
I'll have the rest of this hopefully tomorrow = Tuesday, 10/30/18.
---
Bronx St Patrick's Day Parade in Throgs Neck
20th Annual St Patrick's Day Parade in Throgs Neck, Bronx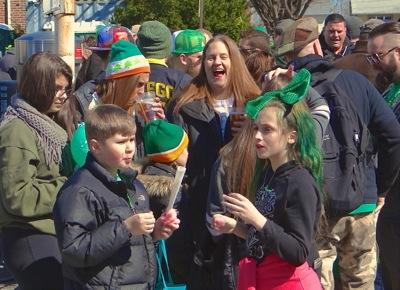 March 12, 2018 / Throgs Neck Neighborhood / Bronx Neighborhoods / Bronx Parades / Bronx Buzz NYC.
On Sunday I made my way north into a southeastern neighborhood in the Bronx, to attend the 20th annual St Patrick's Day in Throgs Neck. It's worth mentioning that the Throgs Neck neighborhood is also known as Throggs Neck, and apparently while the double g is the correct name and only spelling of the bridge [Throggs Neck Bridge], the Throgs Neck neighborhood uses both spellings.
It was a chilly Sunday morning, following the switch to Daylight Savings Time, so I began the day running a bit behind schedule, made worse by repair work being done along the #7 subway line in Queens.
The photo to your right shows folks milling along East Tremont where there's an Throgs Neck St Patrick's Day Parade after parade party.
Public Transit Between Flushing Queens & Throgs Neck Bronx
In the downtown section of the Flushing neighborhood of Queens I had planned to take the 44 SBS bus, but was [wrongly] advised to wait for the Q50. The Q50 came far less frequently, but it did get me there. That said, it's worth noting that the 44 SBS would have been faster, because four of them passed me while I was waiting for the Q50.
I departed the bus just off the Hutchison River Parkway at Lafayette Street and started walking east passing St Raymond's Cemetery. St. Raymond's Cemetery is one of the largest cemeteries in the city and associated with St. Raymond's Schools [one for Boys and another for girls] in Parkchester. Click here to see an earlier report we did regarding St. Raymond's Schools in nearby Parkchester, which is only a neighborhood [Schuylerville] away.
---
NYC Holidays & Parades in New York City Related Info
$element(adman,groupad,Catgry Foodwine)$
Click this link for promotions, discounts and coupons in Manhattan.
New York City Related Links
Click for Manhattan Restaurants
Click for Manhattan Neighborhoods
Click for Manhattan Things To Do
Click for Gramercy Park Restaurants
Click for Manhattan Hotels
Click for New Years Parties & Restaurants
Click for Manhattan Furniture Stores
Click for Manhattan Street Fairs
Click for Manhattan Professional Services
Click for Manhattan Farmers Markets
Click for Manhattan Real Estate
---
Archives - TBD
---
$element(adman,groupad,Catgry Rest)$
Site Search Tips. 1) For best results, when typing in more than one word, use quotation marks - eg "Astoria Park". 2) Also try either singular or plural words when searching for a specific item such as "gym" or "gyms".
---
$element(bwcore,insert_search,N)$
Click this link to search for something in our Manhattan Business Directory.
---
$element(adman,groupad,Sectional2 Ad)$
Click the log in link below to create an ID and post an opinion.
Or send this story to a friend by filling in the appropriate box below.
---