Arts, Culture, Food, Shopping & Restaurants
November 2019 / NYC Neighborhoods / NYC Culture / Gotham Buzz NYC.
This section is dedicated to the Arts & Culture in all five boroughs of New York City.
---
$element(bwcore,article_picker,1516-1515-1514,Y,N,page_title_home,N)$
Empire State of Mind at Global Citizen Concert in Central Park
Thousands Came Together for the Global Citizen Concert in Central Park Saturday Night
October 1, 2019 / UES & UWS Neighborhoods NYC / Manhattan Things To Do / Manhattan Buzz NYC.
I attended the Global Citizens Concert in Central Park Saturday night. It was a beautiful evening and thousands had come to enjoy the music and performances of famous musicians and groups including Queens, Alicia Keys, H.E.R., Pharrell Williams, John Batiste & Stay Human, Carole King and emcees like Hugh Jackman. And all for a good cause, as Global Citizen seeks to support positive change in society for all people on the planet.
---
Snug Harbor Fence Show on Staten Island
69th Annual Art Show Organized by the Staten Island Museum
October 1, 2019 / Randall Manor Neighborhood Staten Island / Things to do on Staten Island / Staten Buzz NYC.
I attended the 69th Annual Snug Harbor Fence Show on Staten Island on Saturday. The show included about 150 exhibiting artists, primarily from Staten Island, but also neighboring NYC boroughs and New Jersey. There were food and beverage vendors, an accomplished jazz group - the Musical Chairs Chamber Ensemble - as well as plenty of interesting artworks that ranged from ceramics, to clothing and jewelry, to all sorts of art on canvass and other materials. The crowd the show attracted was also an eclectic group of art lovers, art exhibitors and curious Staten Islanders [it's free admission]. See video to take in a couple of minutes of the ambiance of the show.
---
Casa Belvedere and the Festa & Motori D'Italia
9th Annual Festa & Motori D'Italia Keeps the Engine Running on All Cylinders
September 23, 2019 / Grymes Hill Neighborhood Staten Island / Things to do on Staten Island / Staten Buzz NYC.
I attended the Festa & Motori D'Italia at the Italian Cultural Foundation at Casa Belvedere on Staten Island. The following video captures most of what I experienced - save for the delicious aromas floating in the air.
---
How We Hear @ Rough Draft Theater Festival
New Play Explores the Changing Nature of our Political Dialogue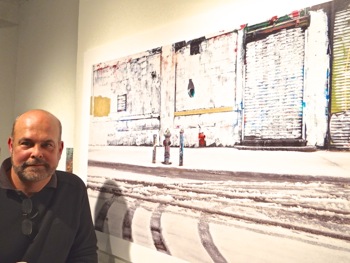 April 9, 2018 / Long Island City Neighborhood LIC / LaGuardia Performing Arts Center / Experimental Theater in Queens / Queens Buzz NYC.
Last weekend I had an opportunity to watch one of the new plays performed at the 5th Rough Draft Festival at the LaGuardia Performing Arts Center in LIC. The play was entitled How We Hear by Emily Lyon.
It was an exploratory exposition of what how the American national dialogue has changed over the past century and a half [158 years] and it was as much an experience, as it was a performance.
What Lyon did with the next hour and half of our time was an interesting journey through selected excerpts of our national debate. But even more importantly, Lyon took us on an exploratory journey - including some real time processing - of how new forms of mass media, with the incredible proliferation of information venues and access, impacts our ability to have a honest dialogue about important issues facing our society in a way that everyday Americans are able to process.
Lincoln Douglas Debates @ LaGuardia Performing Arts Center
I arrived shortly before the performance began and found a seat not far from the stage. The performance was given a short introduction by Handan Ozbilgin, the Rough Draft Festival Director and shortly thereafter, one of the seven Lincoln-Douglas debates of 1858 [August 21 - October 15] began. The debates were the first ever between two Senate candidates vying to for a U.S. Senate seat [Illinois]. They became an instant sensation, and became the forerunner of the platform upon which Lincoln would run for president in 1860. It's worth noting that at the time the Senators were elected by state legislatures - not by a direct tally of state citizens' votes.
How We Hear by Emily Lyon @ Rough Draft Festival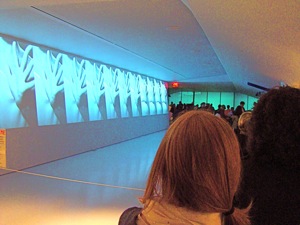 While Triney Sandoval, the Hispanic man who played Douglas, didn't resemble Stephen Douglas facially, he was an actor and orator of the first degree, and comported himself as one might imagine Douglas. His elocution and diction were very precise, cadenced and reminiscent of an earlier age. And his Hispanic heritage, in what was - over a century and a half ago - an Anglicized age, seemed purposeful in adding an ethnic layer and some complexity, to what was possibly a simpler time.
Sandoval, as Douglas, talked about the Lecompton Constitution, which was one of the hot issues of the time. The Lecompton Constitution which was a competing, pro-slavery, constitution for the state of Kansas induction into the United States, which also explicitly stated that only white males would have the right to vote.
Ironically, Stephen Douglas, a Democrat, helped the Republicans defeat the pro-slavery constitution by aligning with the other northern Democrats who were against it. The southern Democrats were supportive of it.
States Rights Vs Human Rights: Early American Hypocrisy or Dialectic?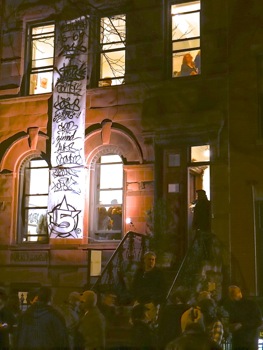 Sandoval, as Douglas, then went on to accuse Lincoln and the Republican Party of that time of being a northern political party - not a national political party like the Democrats were. Douglas then cited excerpts from speeches made by Lincoln which seemed at odds with each other, where it appeared Lincoln appealed to the anti-slavery sentiment while giving speeches in northern cities like Chicago while appealing to the racial prejudice of the south, while in southern Illinois cities like Charleston [which is about the same latitude as St. Louis, Missouri and Kansas City] by stating that he did not support allowing Black men to become whites equals, citing they weren't fit for the role of jurors and what not.
Stephen Douglas was a Democrat, but he wasn't pro-slavery per se. He was for the rights of states to decide for themselves what institutions to create and how they should conduct their business. He noted that all of the Founding Fathers had kept their slaves through the Revolutionary War. And Douglas reminded voters of Lincoln's speech in 1858 in Springfield, Illinois where he said that "A house divided against itself cannot stand." And that one day the United States would either be all slave or all free.
CLICK here to read the rest of our report of the LaGuardia Performing Arts Rough Draft Festival performance of How We Hear.
---
Table of Silence Transcends 911
Lincoln Center Dance Commemoration Transcends Hate through Love
September 11, 2017 / Upper West Side Neighborhood / Modern Dance Manhattan / Manhattan Buzz NYC.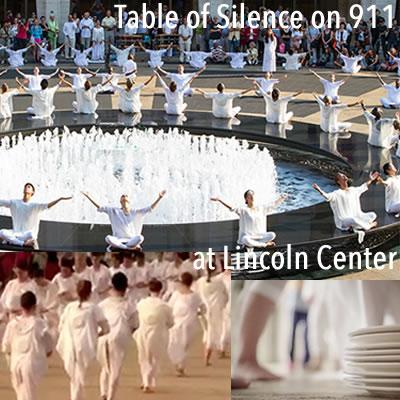 This morning at 8.15 am over one hundred dancers began a spiritual commemoration of the events of 911 with a modern dance performance in the main plaza at Lincoln Center on the Upper West Side. This was the seventh year of the performance, and its meaning seems to grow - rather than diminish - with time. It's about the classic and timeless struggle, between giving into hate, or striving to love.
The dancers were all dressed in white, and they created a resplendent symmetry mimicking nature's own. The performance was accompanied by a bit of minimalist music - originating from a beating drum, the air passing through a conch shell, and the human vocal cords.
The dancers transformed the plaza at Lincoln Center into a table, with the bountiful water fountain in the middle. Plates appeared, signifying the sharing of a feast ... a spiritual feast ... a prayer for all humanity.
We feel a heavenly sharing of being together, in a single place, at a single time. It's a solemn place, a sagely peace, a peace with each other, a peace within, and a peace with all the world ... even as the world continues to swirl around us, as does the NYC traffic ... but we remain centered ... as one.
At exactly 8.46 am the performance stops. All is still in Lincoln Center Plaza as we observe a minute of silence together. It's a silence within, as we are surrounded by the ambient noise of the city during rush hour. Sixteen years ago at 8.46 am the second of two planes struck the World Trade Center wreaking havoc. Taking lives. Creating chaos.
Cleansed of hate and vengeance - we depart to go on with our days. We have defeated the terrorists, by not giving into their desire for an endless cycle of violence and hate.
---
Comic Con at Javits Center
12th Annual Comic Con Attracts Record Attendance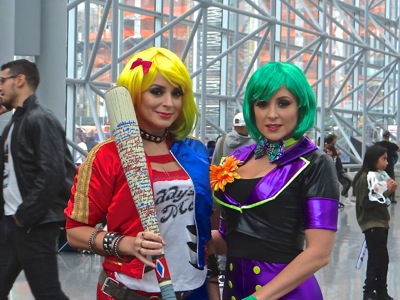 October 7, 2017 / NYC Neighborhoods & Boroughs / Holidays in NYC / Gotham Buzz NYC.
I attended the twelfth annual Comic Con Javits Center in Midtown Manhattan on Sunday. The weekend long event starts Thursday and celebrates the fictional comic characters primarily created in the U.S.
Comic Con has become a sort of pre-Halloween celebration, wherein families with kids and adults who continue to nurture the creative child inside, come out in full bloom as you can see in the photo at right depicting a couple of super heroines.
Tickets generally sell out before the event, so you should start looking in late August or early September. The show is generally the first weekend in October at the Javits Center. In 2017 185,000 people reportedly attended the show. Foto 2016.
---
Panorama Music Fest on Randalls Island
Three Day Musical Festival Strikes a Grammy Chord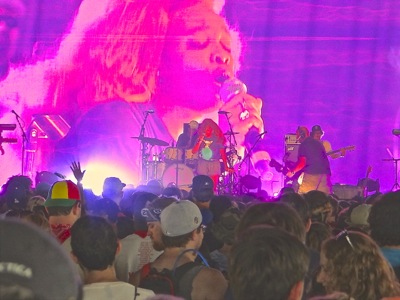 July 25, 2016 / Randall's Island Manhattan / Music in NYC / Gotham Buzz NYC.
I attended the Panorama Music Festival on Randall's Island this past weekend. The music festival featured dozens of top and second tier bands and musicians with the event starting Friday and ending Sunday night. Some of the music festival headliners included award winning groups like Kendrick, Alabama Shakes and the return of LCD after a ten year hiatus. Panorama also featured a number of other highly regarded, well known groups - many of which are likely to continue gaining recognition.
In the photo at right, vocalist Sza, is performing in the Pavilion at the Panorama Music Festival on Randalls Island on Sunday.
The weather over weekend was a very seasonal hot, with temperatures hitting nearly 100 on Saturday [high 98], before descending into the low 90's on Sunday. But the island breeze coming across the East River on Randall's Island and not-too-high humidity, made strolling around the event campus not only doable, but enjoyable. There was also a public water station where you could refill your water bottle [free] and there was ample shade within the tree filled park.
The crowd dressed for Panorama to beat the heat, more than anything else. This translated into a near beach-like scene for people-watching, with many youthful men and women enjoying the glow of their Adonis-like years. In 1992 there was a gender equality lawsuit, which contested women's right to go topless without being arrested - a right men enjoyed in this country since its founding. More than a decade later, in 2015, panhandlers in Times Square began asserting that right by painting their bare breasts with American flags and other designs, while soliciting tips from resident and tourist passers-by, for the pleasure of viewing them. These 'performance artists' were nicknamed the 'Desnudas'.
NYS and NYC Government officials found a way to reign in this practice - as it was creating quite a stir - by confining the solicitations to specified areas within the Times Square Plaza. Fast forward to 2016 and things continue to evolve, with women now wearing swimsuit / lingerie-like tops as fashion statements, some of which were on display at the Panorama Music Festival.
In the photo at right, a woman sports a fashionable swimsuit / lingerie-like top, at the Panorama Music Festival on Randall's Island.
We'll have a bit more later this summer, including video and a discussion of some of the art on exhibit at the Panorama Music Festival on Randall's Island in NYC.
---
$element(bwcore,article_picker,1387-1368,Y,N,page_title_home,N)$
Manhattan: Chinese New Year of the Monkey
Chinese New Year Parade & Brief NYC Chinatown History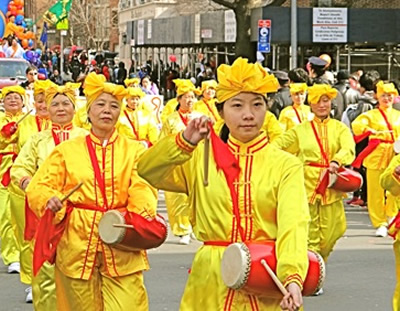 February 15, 2016 / Chinatown Manhattan NYC / Things To Do NYC / Gotham Buzz NYC _ D.
Ancient Chinese Calendar Based on Chinese Zodiac & Study of Planets
This past week Manhattan celebrated the Chinese New Year of the Monkey. The Monkey is fun-loving, curious, clever and mischievous. Those born this year, or five Chinese calendar cycles ago in 1944, are born under the influence of the Fire element. There are five elements, and each influences a 12 year / Chinese calendar cycle. We are currently in a Chinese calendrical cycle that is influenced by the Fire sign. It is believed the 12 years corresponds to the 11.86 years it takes Jupiter to revolve around the sun.
Chinese Five Elements Influence 12 Years of the Calendar Cycle
Every calendar cycle is influenced by one of the five elements: metal, water, wood, fire and earth. And each of these natural elements signifies something. The five elements are associated with the five planets nearest to earth which are: Mercury [water], Mars [fire], Venus [metal], Saturn [earth] and Jupiter [wood]. The five elements are all natural and have transformative influences on each other. For instance water can extinguish a fire, a fire can be created with wood, and fire can melt metal. If you study these transformations you will see that they are all connected, like nature itself, a part of a whole. Thus an entire cycle encompasses the five elements times each calendrical [or zodiac] sign for a total of 60 years.
Click here for a brief history of NYC Chinatown in Manhattan and the NYC Chinese New Year Parade in Manhattan.
---
Architectural Digest Design Show
Provides Vignettes of Living Lovely at Piers 92 & 94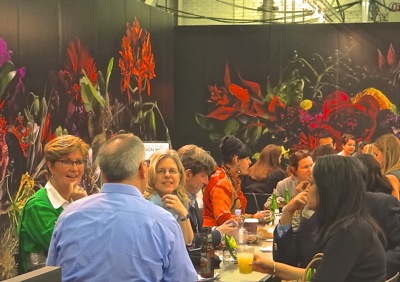 March 21, 2016 / Midtown West Neighborhood / Upper West Side Neighborhood / Fashion & Film NYC / Gotham Buzz NYC _ D.
I attended the Architectural Digest Design Show on Piers 92 & 94 on Thursday afternoon. The show ran through last weekend, providing the public with an opportunity to see the latest and greatest in urban living design and technology.
The show spanned both Piers and included sections dedicated to kitchen, bath, living and dining areas of the home and with a little imagination, possibly the office as well.
The show was well attended by designers, manufacturers, the media, salespeople, buyers and browsers. And the mood seemed buoyant.
Click here to read the rest of our report on the Architectural Digest Design Show incuding the DIFFA on Pier 92.
---
$element(bwcore,article_picker,1348,Y,N,page_title_home,N)$
Midtown International Theater Festival & Short Play Lab 2016
Two Off Off Broadway Theater Festivals Open in Manhattan
March 7, 2016 / Manhattan NYC / Off Broadway Theater NYC / Gotham Buzz NYC _ D.
The Midtown International Theater Festival begins this week and the Short Play Lab begin this weekend. These two incubator theater festivals are the brainchild of John Chatterton, former Publisher of Off Off Broadway World magazine.
Off Off Broadway World magazine was started by Chatterton in 1993, and was published for a number of years in the 1990's, but ultimately didn't survive. Founder, John Chatterton did survive, and he went on to pursue his passion for theater by founding the Midtown International Theater Festival and the Short Play Lab series.
The two theatrical incubators provide a venue for participants to create and produce minimalist performance productions and perform them in front of live audiences, which are oftentimes comprised of many of their fellow participants and peers, as well as those interested in original theatrical works. The Midtown International Theater Festival and Short Play Lab series are both an opportunity to try one's hand at producing and performing an original work in front of a live audience, as well as a good networking venue to meet others aspiring to find their places in the theater business.
I attended a Short Play Lab previously and here's what I found ...
Click here for the full story about the Midtown International Theater Festival & Short Play Lab series both of which begins this week and weekend, respectively.
---
Midoma - Where Hollywood Has Its Hair Done
Fashion, Fine Art, Fotos & Fun at European Style Hair Salon
February, 2016 / Midtown Manhattan / NYC Shopping / Fashion Facts N' Fun Fiction / Gotham Buzz NYC _ D.
It's not often that one gets to view fine art, have their hair done by a talented European hair stylist, pick up a few fashion tips and walk out feeling like they've just returned from Europe. And that is precisely why Midoma is increasingly becoming a not-so-well-kept-secret.
And so it was, one evening late last August, that I journeyed southwest of Times Square into the northern perimter of the Fashion District to view the works of photographer Greg Stowell at the Midoma Hair Salon in Midtown West.
Photographer Stowell's disarming demeanor - "awe, shucks, you're not talking about me are you" - reminded me of Chauncey Gardener's quiet ascent into the nation's rarified political circles, through disarming humility and simplicty, in the movie 'Being There'.
More to come at a later date. That's photographer Greg Stowell, standing next to his empty-headed ex.
---
Designing for Quality Retail & Community Use
Design Trust Unveils 'Laying the Groundwork' at the Center for Architecture
March 1, 2016 / Village NYC / NYC Building Design Issues / Gotham Buzz NYC _ D.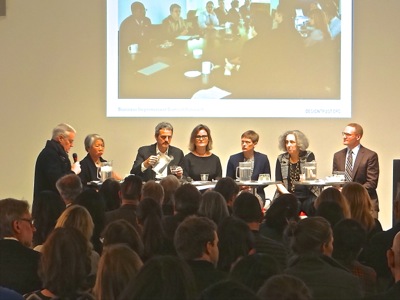 I had an opportunity to attend the introductory presentation of 'Laying the Groundwork', which was heralded as a seminal document put together under the auspices of the Design Trust in Manhattan. The event was held at the Center for Architecture at 536 LaGuardia Place, just south of Washington Square Park.
The Design Trust was founded in 1995 by Andrea Woodner, the daughter of Ian Woodner who founded the Jonathan Woodner Company, which Ian named after his son Jonathan - Andrea's brother. The company was renamed Woodner and is a diversified real estate management [2,500 units] and development company in the Washington, D.C. and New York metro markets.
Andrea was first and foremost a sculptor. She later obtained a Masters Degree in Architecture from Columbia University and then went on to found the Design Trust with the intent to fuse the expertise of designers with the use of public space. She defined public space as "anywhere you don't need a key to get into". Andrea stepped down earlier this year as the Board President of Design Trust and was replaced by Eric Rothman, President of HR & A Advisors, a consulting firm.
The thrust of Design Trust has been to marry private design work with the development of public space to create win / win situations. The following is a summary of some of their most significant achievements since the organization was founded.
We'll post more at a later date.
---
$element(bwcore,article_picker,1361-1390,Y,N,page_title_home,N)$
Frieze Art Fair NYC - Randall's Island
Fun Fair Attracts Artists, Friendly Financiers & Fashionistas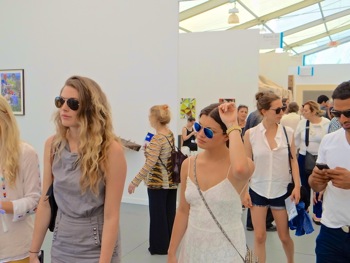 May 12, 2014 / Randall's Island Manhattan / Music in NYC / Gotham Buzz NYC.
The Third Annual Frieze Art Fair turned out to be ... in a word ... FUN.
It was held on Randall's Island, which once one makes the effort, turns out to be an easy and enjoyable get-away from the din of the big city. Traffic thins out and slows down, and one can again see the horizon. With the NYC skyline in the background and the East River water slowly flowing on by, the locale almost seems idyllic.
Inside the white tented structure, complete with flowing ribbons and a lofty airy vaulted ceiling, there were literally tons of people milling about. But the fair managers had done a good job of figuring out how to comfortably accommodate the 8,000 people who passed through daily [except Saturday due to rain].
The fair easily encompassed enough space to hold one or more football fields. The structure was designed as a rectangle with four quadrants. And where the quadrants met, there was a cafe / rest area / and outdoor patio space.
We'll post more at a later date including a photo slide show of the 2014 Frieze Art Fair in NYC.
---
$element(bwcore,article_picker,1388-1391-1389-1362-1392-1384-1386,Y,N,page_title_home,N)$
---
$element(adman,groupad,NhoodUES)$
$element(adman,groupad,Catgry ManWmn)$
---
NYC Related Links
$element(adman,groupad,Catgry Rest)$
Click this link for promotions, discounts and coupons in NYC.
Site Search Tips $element(bwcore,insert_search,N)$
Click for NYC Neighborhoods NYC.
---
$element(adman,groupad,Sectional2 Ad)$
Or send this story to a friend by filling in the appropriate box below.
---