---
---
George Floyd Protests in Brooklyn NYC
George Floyd & Pink Floyd
Trying to Make Sense in a Senseless World
May 28, 2020 / NYC Neighborhoods / CoVid in NYC Special Section / News Analysis & Opinion / Gotham Buzz NYC.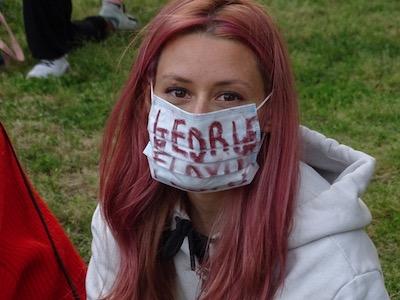 I watched the George Floyd protests unfold on the nightly TV newscasts for a couple of days before venturing out myself to see what I might learn. The protests began on Friday, May 29th in NYC, following the death of George Floyd, an African American who was asphyxiated, apparently due to a Minneapolis policeman holding a knee over George Floyd's neck for nearly nine minutes which was caught on video.
TV News Appears to Sensationalize More than Inform
On Saturday night Fox News ran and reran the same footage multiple times of a car burning, seeming to hype and sensationalize the footage into a full blown 'riot'. The a lot of the Fox footage was taken from the air, in a helicopter which they lease (reportedly) for millions annually, which again repeatedly showed video of the crowd below, which appeared to be mostly our men in blue. So given little good video, they talked about groups dallying into the police and back again - but really didn't seem to have any video to support their claims. The next day Mayor de Blasio reported that there were no deaths and no serious injuries to members of the NYPD or the crowd. But there was some looting.
An NBC news account made the situation seem far more chaotic than it was by shaking the camera, providing the appearance of chaos. And so on.
More Photos & Video Coming Wednesday.
CLICK here to read the rest of our report on George Floyd Protests in Brooklyn NYC.
---
---
Empire State of Mind at Global Citizen Concert in Central Park
Thousands Came Together for the Global Citizen Concert in Central Park Saturday Night
October 1, 2019 / UES & UWS Neighborhoods NYC / Manhattan Things To Do / Manhattan Buzz NYC.
I attended the Global Citizens Concert in Central Park Saturday night. It was a beautiful evening and thousands had come to enjoy the music and performances of famous musicians and groups including Queens, Alicia Keys, H.E.R., Pharrell Williams, John Batiste & Stay Human, Carole King and emcees like Hugh Jackman. And all for a good cause, as Global Citizen seeks to support positive change in society for all people on the planet.
---
Having Made the Greatest Sacrifice, May They Rest in Peace
September 11, 2019 / Downtown NYC / Manhattan Buzz NYC.
---
Greta Thunberg at Climate Strike in Battery Park NYC 2019
Tens of Thousands Showed for the Climate Strike - NBC Estimated 60,000
September 20, 2019 / Downtown NYC / Manhattan Buzz NYC.
I attended the Climate Strike in Battery Park Friday late afternoon. It was a beautiful day and thousands had shown up to rally support for changing how we live in order to avert the disaster of irreparably destroying the ecosystem which supports life on the planet. Swedish teen activist Greta Thunberg was there and spoke at the rally. The video below provides views of the crowd, some of their signs, a poetry performance, a musical performance and some of Greta's remarks. Stay tuned next week as the United Nations meets and Greta visits the U.N. to implore them to take action.
---
U.S. Open
Neighborhood Policing in Queens & NYC
The NYPD Program Helps Build Trust & Stronger Community Relationships
August 28, 2019 / Long Island City Neighborhood / Queens Community Issues / Queens Buzz NYC.
Last night I attended one of the New York Police Department Neighborhood Policing programs. It was held at the Information and Technology High School on 44th Road in LIC beginning at 7 pm. The NYPD Neighborhood Policing program began in 2015 under the leadership of NYPD Commissioner Bill Bratton and was rolled out under the leadership of NYPD Commissioner James O'Neill who replaced Bratton in 2016. The program became citywide in 2019.
In the photo at right are the two NYPD Police Officers in charge of the 108th Precinct Neighborhood Policing program - Jorge Ozuna and Andrew Ali.
The NYPD Neighborhood Policing program is designed to build trust and a robust two-way communication mechanism between the New York Police Department and the neighborhoods they serve. To that end the NYPD works to enable the same officers patrol the same neighborhoods at the same times / shifts in order to build a consistent rapport between the officers and the neighborhoods they serve. By building this two-way conversation about community safety and other policing issues, the NYPD becomes more aware of the concerns of neighborhood businesses and residents. Conversely, the folks living in a neighborhood develop a rapport and trust in the NYPD staff who patrol their communities, which enables the residents to collaborate with the police in ensuring community safety.
It makes perfect sense, which causes one to wonder why we're only getting to this place now.
In some of the police journals I scanned a few years back, one of the key concerns of police department professionals, was that generally the only contact / interaction that citizens had with police were largely negative. By this they meant that the police were doing their job of enforcing the laws by: issuing traffic tickets & parking tickets, making theft arrests, or arrests for drunk and disorderly behavior and as well as all sorts of other bad behavior. Thus there was a sort of distrustful relationship developed by many in the community toward the police - who were just doing their job. But for whom many had negative interactions, while few had positive interactions with the police force.
NYPD Neighborhood Policing Program
Enter the Neighborhood Policing program where the police are becoming familiar faces to whom you talk to about issues related to law enforcement within your community. And that is what the program this night was all about. In the photo to your right is a map of the 108th precinct coverage area.
The Neighborhood Policing program began with refreshments at the Information & Technology High School in LIC at 6.30 pm. At 7 pm the police officers in charge - Jorge Ozuna and Andrew Ali - provided a review of the issues discussed at the last meeting and progress made in addressing them. They also highlighted crime patterns the NYPD is seeing in the area, which in this case is the theft of motorcycles by folks driving vans, stopping and grabbing the bikes and taking off. They noted that this is a seasonal crime.
After the review of the notes and follow up from the last meeting, the community had an opportunity to raise issues related to law enforcement affecting them. At this particular meeting and some of the past two meetings [the meetings began in January of 2019] the issues included blocked bike lanes, double parking and abandoned vehicles. The Long Island City precinct, the 108th, is a generally low crime precinct encompassing Long Island City, Sunnyside and Woodside.
NYPD Precincts in Queens North & NYC
In the NYPD Queens North section, there are six precincts. They include the 108th described above, as well as Astoria which is the 114th, Jackson Heights which is the 115th, Corona which is the 110th, Flushing which is the 109th, and Glendale / Ridgewood which is the 104th. Jamaica falls into the NYPD Queens South section and is served by the 105th, 107th and 113th precincts. You can look up the precinct in any borough using the website below.
NYPD Neighborhood Policing Program - Build the Block Website
The two NYPD officers in charge of the meeting, Jorge Ozuna and Andrew Ali, told me that residents seem to like the interaction. They noted that while attendance to these quarterly events is fairly small - in this case just less than a dozen residents - as people become more aware of the program, attendance is likely to increase. Also, given that LIC, Sunnyside and Woodside are fairly low crime neighborhoods, there are fewer pressing issues to take up at these meetings.
The meetings are posted about a month or so in advance. You can find the meeting times and locations - which vary - on their website at www.buildtheblock.nyc. The site is a valuable resource as it also has all sorts of other information about the precinct.
---
Congestion Pricing & the Lobbying Apparatus that Won't Take No For an Answer
Congestion Pricing Legislation was being Pushed in Albany over a Decade Ago ... so Who's Really in Charge?
March 26, 2019 / NYC Neighborhoods / NYC Politics & Government / News Analysis & Opinion / Gotham Buzz NYC.
Last week I attended a Congestion Pricing Town Hall organized by Manhattan Borough President Gale Brewer. Earlier in the week City Council Member Helen Rosenthal had organized one along the same lines because legislation is percolating in Albany.
Governor Cuomo appears to be itching to pass the Congestion Pricing legislation, likely so he can get his hands on more taxpayer money, while satisfying a whole host of private industry consultants and corporations. These consultants and corporations would then rake in hundreds of millions of taxpayer dollars thanks to Albany. So then would they recycle a small portion of the funds into the campaigns of the folks who supported it?
These days that seems to be the campaign funding cycle - where the voters get left out because they aren't minding the store. A government of the people, by the people and for the people doesn't work if the people aren't paying attention. Jefferson said, "Those who believe they can be ignorant and free, believe in something that never was and never shall be."
I. Congestion Pricing is a Very Expensive Taxation Plan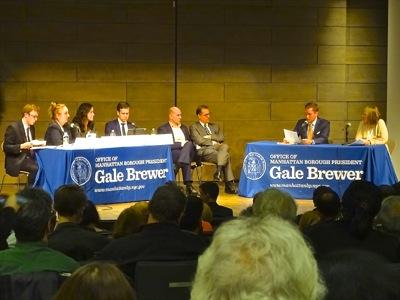 Let me start by outlining what the Congestion Pricing legislation really is, versus the myriad of narratives they've used to sell this pig. While they have said it will reduce congestion, reduce carbons, increase cycling, increase safety - note that all of these claims are highly debatable. Based on the research I've done, the Congestion Pricing Plan seems quite simply to be a very, very expensive means of taxation.
In London, where they implemented Congestion Pricing over a decade ago, as of a few years ago, only about half of the revenue made its way into public transit development. The other half was used to install and operate [and god knows what else] the new infrastructure. Click here to read a prior report we did which includes lots of facts, figures and the history and effects of congestion pricing in the U.S. and Europe.
It's worth noting that London decided NOT to go forward with the second proposed phase of Congestion Pricing. And it's worth mentioning that I found a lot of 'authoritative looking' disinformation out there regarding the London results, which one can surmise was encouraged - if not funded - by those who so handsomely profit from this sort of legislation.
If the government officials in Albany are going to increase our taxes, the least they could do is make it such that the taxation revenue that is collected is 100% usable, not 50% usable.
When you take away the incremental revenue generated by the Congestion Pricing Plan, you will clearly see that it DOES NOTHING TO SOLVE THE NYC MASS TRANSIT PROBLEM and there are far less expensive / more efficient / more beneficial means of taxation.
II. Congestion Pricing is Burden Shifting Legislation that Aids the Rich and the Pols, While Punishing the Middle & Working Classes
The Congestion Pricing Plan is essentially a burden-shifting plan, whereby the burden of traffic congestion during rush hour, is shifted from being all car commuters' problem, to easing the burden on those who can afford to pay the new tolls, while making life more difficult for those who cannot.
So essentially Congrestion Pricing makes life harder / more expensive / more time consuming for people who are middle and working class - while making life easier for the rich folks by asking them to pay a few more dollars to get back more of their high dollar time. It's like the Trump Tax plan which shifted about $1.5 trillion from America's children and unborns, to the richest people on the planet. Life is made easier for those who already have so much, while being made more difficult for those who don't.
That seems simply un-American.
Remember, as stated above, a government of the people, by the people and for the people doesn't work if the people don't pay attention. Voters need only blame themselves if they allow the representatives they elected, to betray them, in favor of the rich consultants and corporate campaign donors, who will profit at the voters' expense.
III. Congestion Pricing Doesn't Solve Anything - Carbon
In one of the spin cycles, the Congestion Pricing proponents claimed that Congestion Pricing would reduce carbon emissions. And yet in a study done on time shifting pricing done in the NYC metro area showed that Congestion Pricing did little to reduce the influx of vehicular traffic. The study found that the pricing formula only shifted the volume of traffic at a given time, but did not significantly reduce traffic over the span of the day. I'll get more into some of the Congestion Pricing particulars when I post the report on Gale Brewer's Town Hall, where other / more efficient means of taxing / limiting vehicles coming into Manhattan were discussed.
IV. Follow the Money: Why is Congestion Pricing Still Around & Why Aren't There Any Other Alternatives Under Discussion?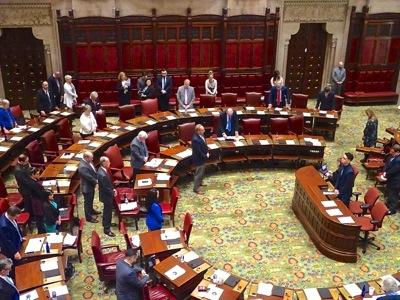 Congestion Pricing has been floating around the halls of Albany, dating back to the Bloomberg Administration's push for it in 2007 and 2008. The legislation has been killed at least twice previously. Perhaps Albany will do the right thing and kill it again.
But then again, the NYT indicated that maybe the Democrats in Albany will pass Congestion Pricing this time around, because Mayor de Blasio isn't opposing it. Did the corporate lobbyists and consultants finally win de Blasio over, because it's still a bad plan.
The fact that a bad plan - Congestion Pricing - is back again, is yet another symptom of what's wrong with our society and government. What do I mean by this? I mean that this is the ONLY NYC public transit plan I've seen floating around the halls of Albany over the past decade, since I began reporting on NYC social and political issues. And the state of NYC's mass transit system is one of the biggest single issues of the time.
Congestion Pricing is one bad plan, that keeps coming back at the initiative of the private industrialists who will profit from it, while it appears that NOTHING HAS BEEN DONE at the State level to come up with a plan of their own. A plan that would have at its core serving the public good - not serving the good of a few private interests. This is what broken, inept government looks like.
Quite frankly, I could come up with a better plan to solve NYC's traffic problem than Congestion Pricing, on the back of an envelope, in an hours time.
The Real Solution to Traffic Congestion is Expanding Mass Transit Infrastructure
The real problem, which I pointed out in the report I first did on NYC Congestion Pricing Plan, is that the city is operating its mass transit using a system designed and built between 80 and 100 years ago. Things have changed and the system hasn't.
Building and maintaining infrastructure costs money, and unfortunately Albany with its cast of political characters, is going about addressing the problem backwards.
Albany wants to raise money first - and then figure out how it's going to spend the money later.
As any savvy investor knows, that's almost always a bad deal.
I'll post more at a later date on Gale Brewer's Town Hall on Congestion Pricing.
What's expressed above may reflect the overall sentiment [it was generally negative] expressed at the Town Hall - but the particulars above are mine.
---
What I Found: Unite The Right Rally in D.C.
Media Reality Distortion - How Out of Whack is America's News / Information System?
August 13, 2018 / Government, Media & Politics USA / Washington, D.C. / Gotham Buzz NYC.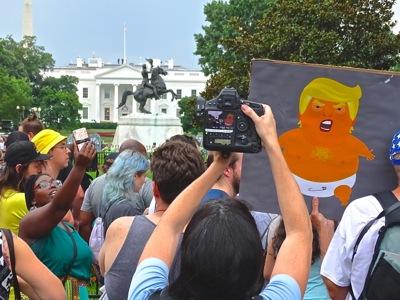 Just over a week ago, I made the decision to travel down to Washington, D.C. to cover the Unite The Right Rally scheduled Sunday, August 12th, on the anniversary of the same rally organized by the same group in Charlottesville, Virginia. Charlottesville is located about 100 miles south / mostly west of Washington, D.C.
In the rally a year ago, White Supremacists, Ku Klux Klansmen, neo-Confederates and neo-Nazis participated in the rally and it became violent. One person was killed in the event when an alleged neo-Nazi drove his car through the crowd, and two officers monitoring the event in a helicopter died, when the aircraft crashed [I believe it was an accident]. And somewhere between 19 and 34 people were injured in clashes between the Unite The Right rally participants and Antifa along with other counter protesters.
The D.C. event was scheduled in D.C. because Jason Kessler, the Unite The Right Founder, couldn't get a permit in Charlottesville for the first year anniversary of the Unite The Right event. After some skirmishing over the permitting with the local Washington, D.C. authorities, Kessler prevailed and was given a permit to hold a march and rally ending in Lafayette Park, just south of the White House.
At one point there were discussions about arranging separate public transit buses for the Unite The Right rally members from their staging area a several miles west of the White House, to the march starting point at Foggy Bottom Metro Station. But the D.C. public transit union resisted, as the majority of their members are African Americans, and the union reportedly opined that they didn't want to do anything to facilitate the Unite The Right rally.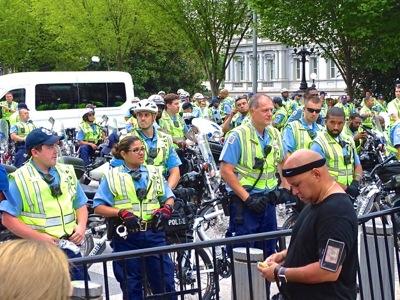 Meanwhile there were somewhere between a half dozen and dozen counter protester groups that organized to protest the Unite The Right rally. Several of them also sought and received permits.
On Friday Christian and Jewish groups joined forces for an interfaith teach-in and interfaith vigil. This was according to The DCist, which I found to be the best source of information regarding planning / preparing to cover the event on Sunday. The DCist also noted that Black Lives Matter DC in collaboration with several other activist groups held a workshop at an Episcopalian Church.
On Saturday, a Presbyterian Church held a prayer service at Foggy Bottom Station in advance of the rally, where they prayed and chalked some of the sidewalk where the Unite The Right marchers would begin on Sunday.
On Sunday a counter protest, Shut It Down DC, organized a permitted counter protest in Freedom Plaza a few blocks east of Lafayette Park, from where they would march to Lafayette Park beginning at 3 pm. The DCist reported that the Shut It Down DC group included the D.C. Antifascist collective, Hoods4Justice, March for Racial Justice, and others.
Black Lives Matter DC organized to meet a couple of blocks north of Lafayette Park, and would then march south to the park. A group from NYC began their march on August 3rd to D.C. where they planned an event at the MLK monument from 12 noon to 4 pm on Sunday [#AgapeMarch]. And a group, The Real White People's Rally, led by a local tour guide, Tim Krepp, was scheduled to counter protest at Lafayette Park from 1 to 4 pm.
The DCist also mentioned about a half dozen other counter protest group events, but for the most part those noted above, were the ones most relevant to my planned coverage.
I headed down to D.C. a bit anxious, given the violent skirmishes that occurred at the rally a year ago in Charlottesville, and the following instructions on the unitetherightrally.com website.
Do NOT bring these items:
-Guns
-Pepper spray, clubs, knives or other weapons
-Shields
-Non-approved flags
ALWAYS Be aware of your surroundings. Do not talk to the media.
Do not engage in any fighting.
ALWAYS be a good representative for our cause.
My thoughts were that if you have to provide instructions like these to the people you expect at your rally - there's a good likelihood that some of the unwanted weapons will be there. I had read that last year people brought guns to the rally in Charlottesville - but I also reasoned that in Washington, D.C. the gun laws are likely far less permissive than in Charlottesville, Virginia. And there were reports that the D.C. police were preparing for the worst.
Anyhow, I arrived at Union Station in Washington, D.C. Sunday afternoon at about 3 pm. It was hot, humid and rain was in the forecast for later in the afternoon. I took the Metro subway from Union Station to the Metro Center stop, which was only a few blocks away from Freedom Plaza. Once on the street, as I began to get my bearings, I asked a young woman if she could tell me in which direction Freedom Plaza was. She was also headed to the counter protest, so we walked over there together. Ironically, her name was Hope.
CLICK here to read the rest of my report about covering the Unite The Right Rally in Washington, D.C. on August 12, 2018. COMING THIS WEEKEND 8/18 - 19/18. The story has become something bigger than I first envisioned. It's in a rough draft which I hope to finish, edit and add photos to this weekend.
---
NYC Landlord Harassments Continue
NYCCM Helen Rosenthal Hosts Housing Clinic to Inform Renters of Their Rights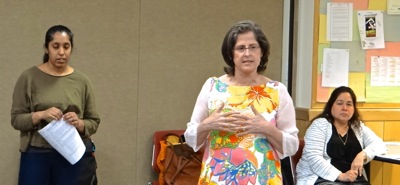 May 29, 2018 / Upper West Side Neighborhood / Manhattan Real Estate / Manhattan Neighborhoods / Manhattan Buzz NYC.
On Wednesday, May 25th I went to the Goddard Riverside Community Center on Columbus Avenue at 88th Street to attend a housing clinic designed to inform renters of their rights.
***The following introduction is based on prior research done by me, and was not information provided at the housing clinic. I'll let you know when I segue out of my preamble and into the housing clinic.***
Over the past decade landlords appear to have become increasingly aggressive in trying to wriggle out of NYC and NYS rent stabilization regulations, that govern the rental payments under which about two million New Yorkers live.
It is my understanding that the government contributed land and / or financing to build or repair the buildings governed by NYC / NYS rent stabilization laws in exchange for the pricing rights on rent stabilized units. Many of the new landlords who have acquired rent stablized buildings, may possibly be in violation of approaching their business contract(s) in good faith, as the definition of good faith according to Wikipedia is:
"In contract law, the implied covenant of good faith and fair dealing is a general presumption that the parties to a contract will deal with each other honestly, fairly, and in good faith, so as to not destroy the right of the other party or parties to receive the benefits of the contract. It is implied in every contract in order to reinforce the express covenants or promises of the contract. A lawsuit (or a cause of action) based upon the breach of the covenant may arise when one party to the contract attempts to claim the benefit of a technical excuse for breaching the contract, or when he or she uses specific contractual terms in isolation in order to refuse to perform his or her contractual obligations, despite the general circumstances and understandings between the parties. When a court or triar or fact interprets a contract, there is always an "implied covenant of good faith and fair dealing" in every written agreement."
What is at stake, throughout the city, is literally hundreds of millions and more likely billions of dollars in - rental benefits or rental income streams - depending on which side of the struggle you're on. The landlords appear to be trying - using the torturtous side effects of construction including noise, health risk dust [inhalation], privacy loss and apartment functional loss - to wrest away the billions of dollars of rental pricing rights benefits from tenants to be pocketed by the landlords themselves. Given the high dollar value of what's at stake - including people's homes - this seems like attempted grand larceny, especially in cases where landlords are breaking the law to achieve their goals.
This will be continued at a later date. Including the segue into the information provided by the Housing Clinic to inform tenants of their rights.
Tenants' Rights March & Rally - June 14th Midtown at 4.30 pm
P.S. There's a March & Rally scheduled for June 14th, beginning at 4.30 pm, at the NY Public Library at 5th Avenue and 40th Street. They plan to march to Governor Cuomo's office at 3rd Avenue and East 41st Street. For details contact info@realrentreform.org or call 212.979.6958. All but one of the No IDC NY senatorial candidates have been invited to participate, and there's a possibility that NYS gubernatorial candidate Cynthia Nixon will be there too - as this seems to coincide with her reasons for challenging Governor Cuomo.
---
Hundreds of Thousands March in NYC
Women's March Appears to Approach 21st Century NYC Protest Record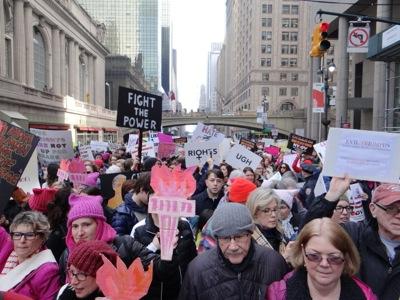 January 21, 2017 / Midtown Manhattan Neighborhoods / Manhattan Government & Politics / Manhattan Buzz NYC.
I headed into Manhattan around noon on Saturday. The #7 subway line was packed, even more than during rush hour on a weekday morning. There were protesters wearing pussy hats, bearing protest signs and placards, and generally in pretty good cheer as they headed into Manhattan for the Women's March in NYC.
I got off the subway at Grand Central Station along with the crowds of protesters, and made my way up to the 42nd Street exit. Out on the street there was a moving mass of marchers making their way down to Fifth Avenue where they would turn north to march up to Trump Tower along Fifth Avenue at 57th Street.
I have to admit I was surprised by the massive turnout. One person told me that over 50,000 people had signed up for the event on Eventbrite. But it would become obvious to me as the day wore on that the crowd had easily exceeded that number.
The event was planned to begin at 11 am in Dag Hammarskjold Plaza at Second Avenue and 47th Street. There would be a few speeches, followed by a march down Second Avenue to 42nd Street, then west to Fifth Avenue and then north up Fifth Avenue ending at Trump Tower at 57th Street. It was scheduled to end at 4 pm and waves of protesters had been choreographed to leave Dag Hammarskjold Plaza in 15 minute intervals.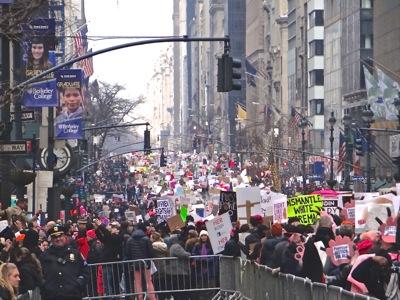 I had listened to Donald Trump's Inauguration speech the day before [Friday] and there didn't seem to be anything in there that struck me as very objectionable if one didn't read anything into it. So I kind of thought the march might be a bit premature given he'd just assumed office and hadn't really done anything yet.
I asked one woman if I had missed anything in Trump's speech, that she / others found objectionable. She told me no, he hadn't said anything objectionable, but she went on to say that she didn't believe anything he said. I asked another woman why she'd come out to protest today. She told me that she wanted to stand with other women in making a statement to Trump that they weren't going to passively stand by and allow him or the Republican Party to roll back their hard fought equal rights.
There was a festive mood throughout the day. I occasionally asked policemen keeping the peace how things were going. Many smiled and said it was going well and that they hoped it would continue that way.
I'll have more on this, including some details of how the protest morphed throughout the day, as well as a photo slide show and some video, sometime in the next week.
---
United Nations: Cultural Influences on Gender Roles
Women's Groups Discuss Cultural Influences on Gender Equality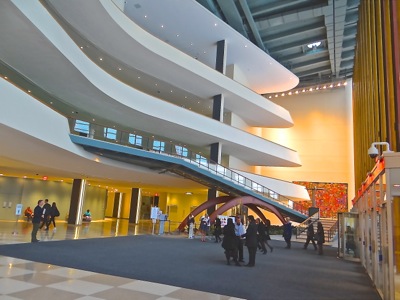 April 4, 2016 / Midtown East Neighborhood / NYC Social Issues / Gotham Buzz NYC _ D.
On March 17th I attended a series of lectures entitled, The Role of Culture in Women's Empowerment: Possibilities and Challenges. The lectures were given to a standing room only audience in Conference Room 7 on the lower level.
The five member speaker panel was comprised of women from Liberia, Nigeria and Thailand. And each speaker came from a different walk of life including law, government, education and social work.
The program was organized by the United Nations Mission from Gambia in collaboration with a number of other groups. The intent of the program was to disseminate information to help those in attendance understand the role in culture in defining gender roles, and how to go about dealing with embedded cultural biases.
We'll have more at a later date. The photo at right was taken in the United Nations lobby.
---
NYC Crime Continues To Drop, Breaking Records
Mayor de Blasio & NYPD Discuss City Safety & Ongoing Improvements
February 7, 2017 / NYC Neighborhoods / NYC Government / Gotham Buzz NYC.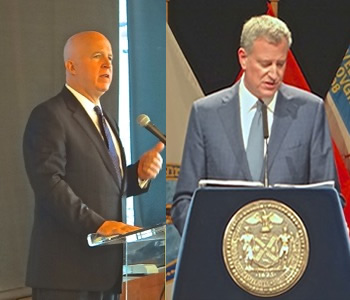 This just came in on the heels of our coverage of the Public Safety discussion below. Mayor de Blasio and NY Police Commissioner O'Neill spoke in the Bronx regarding ongoing efforts and results in improving safety in the city. The following are some of the crime statistics noted in their meeting taken directly out of a press release sent by them.

Chief of Crime Control Strategies Dermot Shea, NYPD: Thank you, Mr. Mayor. Good afternoon, everyone. As you've heard, we have begun a strong start to 2017 in terms of overall crime reduction. Strategies that have been put in place to address repeat offenders, illegal gun possession and gangs are having the desired effect. We're building on the momentum of the last few years.
So, some of the highlights for crime statistics from this January - overall index crime is down 0.2 percent for the month of January. When you carry it over to this morning, we are now down 2.7 percent in overall index crime in New York City.
To note - with the overall index crime, January marks the tenth consecutive month of reduced index crime. That's the momentum we've been talking about. Currently, four out of five boroughs in New York City - all but Queens - are down to start the year.
Homicides - we recorded 20 homicides in January. That's down two from 22. That 20, as the Mayor alluded to, is the lowest January that we have ever recorded going back a minimum into the 1960s.
Shooting incidents - down 1.7 percent in January. Last January we hit the modern mark with 59 shooting incidents. We came in with 58 this January.
Talking about momentum again - nine of the last 13 months we've had a reduction in shooting incidents. Nine of the last 13.
Three months in a row we've had a reduction in shooting incidents in New York City. We have now, when you look at New York City as a whole, we now have 24-hour periods where we do not record a shooting incident in New York City. That kind of thinking was impossible in the not too distant past.
This is the new normal. We want to build on it and we feel that we will build on it but there's still plenty of work to do.
Stabbings and slashings for January - down 7.2 percent.
Robberies - down 7.5 percent. Lowest January robbery number we've seen.
Felony assaults in New York City - down 5.4 percent.
Burglaries tied the lowest mark set last year.
Transit crime - down 1.4 percent.
And housing crime - not to be outdone - down 1.9 percent.
Clearly, a wide breath of crime across New York City - property and violent crime, down.

But there is, I alluded to, there is still work to do - three categories we saw increases in January.
Grand larceny, specifically, credit card related skimming and forging of checks - those two drove grand larcenies. And grand larceny was up for the month of January 4.7 percent.
And lastly, rounding out the crime totals - stolen vehicles which we have seen drop to unprecedented lows saw an increase of ten cars for January. So, that's 480 versus 470 - a two percent increase.
Commissioner O'Neill: Okay, thanks, Dermot. We'll take your questions.

Question: Do you think it's possible, really to keep driving crime down further at this point? And how could you achieve that?
O'Neill's response was yes, with some added context.
---
$element(bwcore,article_picker,1379,Y,N,page_title_home,N)$
Trump Election Victory Protests Continue
The Democratic Way to let off Steam, While Coming to Grips with an Unexpected Outcome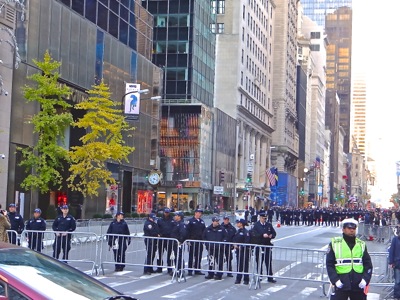 November 13, 2016 / Upper West Side Neighborhood UWS / Manhattan Politics / News Analysis & Opinion / Manhattan Buzz NYC _ M.
Like most folks, I had seen and heard the protests that sprung up around the city and country in defiance of the Trump election victory. On Saturday I received an email about the one of the upcoming protests from a number of small, civic-minded non-profit groups that wanted to make a statement in favor of respecting women and minorities, and immigrant rights. The protest was being held on Sunday at 2 pm at the Trump International Hotel on Columbus Circle near the Upper West Side, so I decided to attend it to get a closer look as to what was going on.
I came up from the subway in Midtown Manhattan and began making my way toward the Trump Hotel at 57th and 5th Avenue. At the Tiffany's corner there were marchers and protesters chanting and singing, while waving signs with slogans, and encouraging passing pedestrians to join in the effort.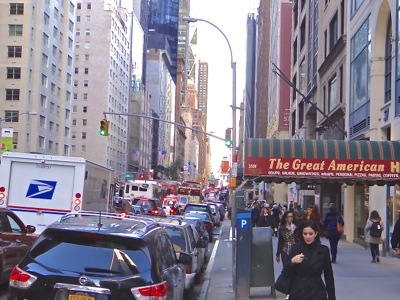 The NYPD seemed to have everything under control. They had their hands full with gnarly traffic and gated walkways, which herded holiday visitors and New Yorkers alike through snake-like pedestrian paths in Midtown. I asked one officer how things were going and he said they were going well enough. I asked him how long things had been this tied up and he said since Tuesday, the night of the election. I asked him how long he thought this would continue and he said until the protesters had let off enough steam.
On election night I had visited both the Trump campaign at the Hilton Hotel Ballroom in Midtown, and the Clinton campaign at the Javits Center. Trump appeared fully prepared for defeat, given the space he booked only accommodates about 1,000 or more guests; while Clinton appeared to be counting her chickens before they had hatched given she'd booked the Javits Convention Center where thousands had gathered in anticipation of seeing her announce to the world that females had finally broken through the ultimate glass ceiling. Clinton's expectations were dashed and Trump's were never came to pass, as he is now destined to become the 45th President of the United States of America.
Trump Defeats Clinton - a Brief Explanation of What Happened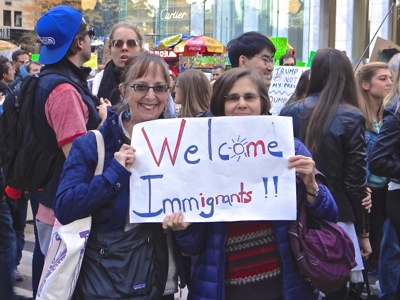 While plenty of pundits have weighed in on what happened, I'll give you a short snapshot from a man on the street. While more people voted AGAINST Trump than Clinton, it was by only a very narrow margin. And enough of those voters were from the more sparsely populated white rural and manufacturing states, which is what enabled Trump to claim the electoral college win and the presidency.
On my way out of the Javits Center election night, I spoke with a young man who was dumbfounded that Clinton had lost. He could not imagine what those who voted for Trump were thinking. I suggested he take a look at Michael Moore's video piece, created early this year, predicting a Trump win. In the piece Moore comments on the huge jobs losses and the general disenfranchisement felt by large swaths of the middle class. These were sentiments that both the Clintons and the national broadcast & print media, had largely ignored.
Click here to view more photos of the protests in NYC of the Trump election victory, as well as snippets from several conversations I had with people on the street.
---
Floating Peace Lanterns
Harbor LAB Organizes Floating Peace Lantern Event on East River to Celebrate UN International Day of Peace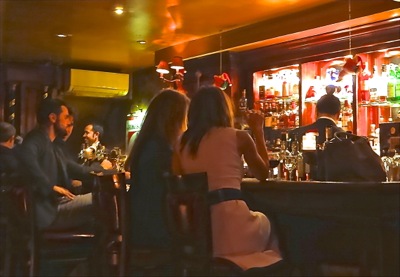 September 25, 2016 / LIC Neighborhood / Queens Social Events / Queens Buzz _ Q.
Last Sunday evening I made my way down to the East River waterfront in Gantry Park to observe a celebration of the UN International Day of Peace.
Harbor LAB [Learning / Adventure / Boating], an environmental educations non-profit whose activities center around East River & Newtown Creek kyaking and canoeing, had organized the event.
The celebration started in the afternoon along the East River waterfront at Gantry Park and lasted well into the evening. Activities began at 2.30 pm with public paddling of kyaks and canoes, while simultaneously there were meditations, yoga exercises and the preparing of the peace lanterns.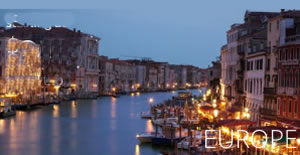 By sundown several speakers for interfaith and peace addressed the crowd before beginning the floating peace lanterns ceremony. The keynote speaker was Ambassador Anwarul K. Chowdhury High Representative for the United Nations, Retired UN Under-Secretary General.
The peace lantern event began with a drum beating by about a half dozen Buddhist monks dressed in traditional bright orange garb. Several hundreds lined up along the shoreline to observe the solemn ceremony and enjoy sunset along the East River.
The first such event was organized by Harbor Lab Founder Erik Bard in 2002. This year Harbor LAB organized the event in conjunction with the Buddhist Council of New York, and the Interfaith Center of New York, Global Movement for the Culture of Peace, and New York Office of Parks, Recreation and Historic Preservation.
---
United Nations: Cultural Influences on Gender Roles
Women's Groups Discuss Cultural Influences on Gender Equality
April 4, 2016 / NYC Neighborhoods / NYC Social Issues / Gotham Buzz NYC.
On March 17th I attended a series of lectures entitled, The Role of Culture in Women's Empowerment: Possibilities and Challenges. The lectures were given to a standing room only audience in Conference Room 7 on the lower level.
The five member speaker panel was comprised of women from Liberia, Nigeria and Thailand. And each speaker came from a different walk of life including law, government, education and social work.
The program was organized by the United Nations Mission from Gambia in collaboration with a number of other groups. The intent of the program was to disseminate information to help those in attendance understand the role in culture in defining gender roles, and how to go about dealing with embedded cultural biases.
We'll have more at a later date. The photo at right was taken in the United Nations lobby.
---
$element(bwcore,article_picker,1377-1354-1321,Y,N,page_title_home,N)$
Newspapers, Magazines, Television Producers, Filmmakers, Artists, Photographers, Journalists, Actors, Musicians, Writers & Software Developers
Copyright Law Change Alert: Pending Legislation May Curtail Your Ownership Rights
July 5, 2015 / News Analysis & Opinion / Gotham Buzz NYC.
Click the Queens Notices link to view proposed overhaul of copyright laws which would significantly curtail the ownership rights one has to their own work. It includes a bit about how you can help by sending a notice to the government regarding this effort to overhaul copyright law.
According to the report, the law would weaken content creators' ownership rights and thus their ability to monetize their creations. They also allege that the big internet companies are pushing this. We surmise that this is because the big internet companies are using everyone's content, collecting revenue for organizing and distributing it, and not compensating the content creators for the use of it. This may leave a huge outstanding, unestimated legal liability on their balance sheets.
The weakening of copyright laws has disturbing societal implications as well, as it completely destroys the economic incentive for artists, filmmakers, writers, journalists, photographers, actors, recording artists and software developers to invest their time and resourcess in the creation art, film, journalism, photography, music, software and other media content and entertainment. And in doing so, paves the way for considerable consolidation and control over freedom of speech and what media and entertainment content we as a society consume.
The net effect of the law is to curtail content creator ownership rights, and thus in some good measure transfer the ability to monetize content from the content creators to the content distributors. But it's not too late for you to do something about this.
The deadline for comment is July 23rd, 2015. Click Queens Notices and scroll down to first notice. There are links there to the authors of the report, as well as instructions and links to making a comment to government officials. Is retaining ownership rights to your work worth 10 to 15 minutes of your time?
"Many hands make light work." Chip in and make your concerns heard.
---
Albany Legislative Session To End Friday
Pending Bills: Public School Funding & Rent Stabilization Law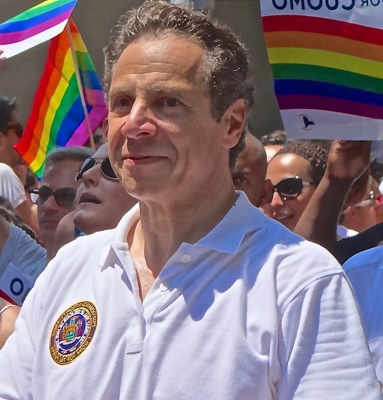 June 15, 2015 / NYC Neighborhoods / NYC Government & Politics / Gotham Buzz NYC.
There are two important bills expected to be finalized by the New York State Legislature this week: 1) one having to do with taxation and funding for the public schools and 2) the second having to do with NYC rent stabilization law.
I've been paying some modest measure of attention to both of these bills, and the following is a brief snapshot of a critical talking point in each bill.
Use Public Money To Fund Private Education?
From what I can gather, perhaps the most contentious item in the public education funding bill is the provision for sizeable tax deductions for those who choose to send their children to private, not public schools.
As I understand it, these tax deductions would be included as part of the funding for the public schools budget and therefore will reduce what's left for the NYS / NYC public school systems.
It's worth noting that private school tuition in NYC can cost in the range of about $5,000 to $30,000 per year per student. And that there are about 900 private schools in NYC alone, so depending on how these proposed deductions are ultimately structured, the funds reallocated from the public schools to private individuals would be in the tens to hundreds of millions of dollars and possibly more.
You might want to contact Governor Cuomo's office at 1.518.474.8390 to let him know you support or oppose the measure, since we understand that he's been the major force pushing for this public school funding change. You can also send him an email via the Governor's contact form.
Albany & Expiring Rent Stabilization Laws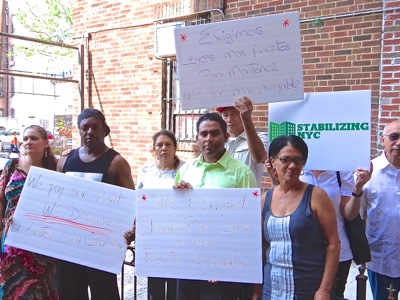 The Rent Stabilization Laws are due to expire tonight, June 15, 2015.
There was talk earlier this year that there would be a push to expand or strengthen the Rent Stabilization Laws given the rapid growth in homelessness in New York City. The NYC homeless population is currently estimated at over 60,000 or nearly 1% of the entire NYC population. About 70% of New York City residents are renters, of which about two million of less than eight and a half million residents, live in rent stabilized apartments.
Over the past decade or so, the Rent Stabilization Laws have been curtailed in the favor of the free market and landlords. The curtailment of rent price control legislation is believed to have spurred additional real estate development investment, as the profits of most new buildings are no longer affected by rent stabilization laws.
Much of the rapid growth in homelessness over the past decade is believed to be the result of tenants losing their rent stabilized apartments, as new owners of buildings have found ways to circumvent the laws. A recent NYU Furman Center Study has shown the loss of over 330,000 unsubsidized affordable apartments since 2002, due in part to the rent stabilization legislative changes referenced above.
NYS legislative insiders told me that tenants rights supporters were hoping to make legislative gains this year, but that the NYS Assemblypeople and NYS Senators opposing the changes, were going to allow the rent stabilization laws to expire as a negotiating tactic.
Vicki Been, Commissioner of NYC Department of Housing Preservation and Development, informed us that the current rent stabilization laws remain in effect through the term of existing leases and leases up for renewal that are already in the hands of the tenants. She also said that tenants should call 311 with any questions or problems.
Cuomo & NYS Officials - Quinnipiac Poll
On June 3, 2015 Quinnipiac released a poll showing voters are feeling negatively about the NYS Legislature as a whole, while continuing to favor their local representatives. In the poll Governor Cuomo has only a 2% margin of those favoring him.
Governor Cuomo had a 44% approval rating versus 42% disapproval rating, as voters are not satisfied with his handling of the corruption scandals that have plagued Albany this year. In February 2015 Assembly Speaker Sheldon Silver [Democrat Manhattan] was indicted on federal corruption charges. And in May 2015 NYS Senate Leader Dean Skelos [Republican Long Island] was indicted by a federal Grand Jury.
Less than a year ago, NYS gubernatorial candidate Zephyr Teachout, a law professor at Fordham University surprised polls by garnering nearly 2 votes for every 3 won by the governor in the NYS Democratic primary. Ms. Teachout did not have much in the way of significant private backing or union support, but won nearly 40% of the vote waging an online campaign.
According to the Quinnipiac poll, voters by a margin of 52% - 32% said that with respect to Albany's corruption problem:
"... the Governor is part of the problem, not part of the solution."
As for the NYS Assemblymembers and NYS Senators the Quinnipiac Poll reported the following:
"Voters disapprove 60 - 26 percent of the job the State Legislature is doing, but approve 44 - 37 percent of their own Assembly member and approve 54 - 31 percent of their own state senator."
"At the same time, 45 percent of voters say their state senator should be thrown out in a general house-cleaning, while 40 percent say their senator deserves reelection."
"Voters are divided 41 - 41 percent on whether their Assembly member should be reelected or thrown out."
As you can see, the sentiments collected in the Quinnipiac poll seem a bit contradictory, as the answers received depend on how the questions are stated. Nonetheless, this looks to be an interesting legislative week as things wind down in Albany, and as the 2016 election cycle begins to ramp up.
---
NYS Medical Marijuana Law & DPA
Drug Policy Alliance Reports First Deadline For Submissions Passes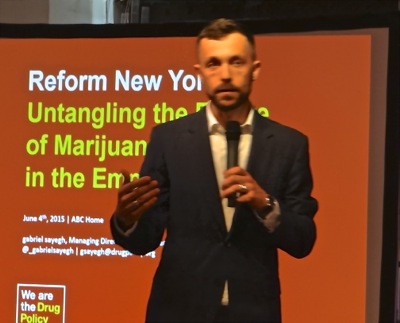 June 8, 2015 / NYC Neighborhoods / NYC Healthcare / Gotham Buzz NYC.
I attended a forum on medical marijuana last week. It was sponsored by the Drug Policy Alliance, a non profit group, whose mission is to promote
"drug policies that are grounded in science, compassion, health and human rights".
During the course of this forum I found that there's a lot going on in this area - not just with regard to implementing the legalized use of marijuana for medical use - but in going signficantly beyond that milestone, to making it available to the general public by regulating it in a manner, of which the options range in similarity to: pharmaceuticals, alcohol or tobacco.
To be sure, as public perceptions and policy change, there are important concerns and issues associated with these changes that must be properly managed, or the results of these changes won't be beneficial to the community as the marijuana legalization advocates suggest - but rather could be just the opposite.
We'll have more on the Drug Policy Alliance forum held last week at ABC Carpets on Broadway.
Click here for things to do in Midtown NYC.
---
De Blasio's State Of The City Address
NYC Mayor Maps Out A Framework To Tackle NYC's Affordable Housing Crisis
Real Estate Lobbyist: "Zoning Is The Equivalent Of Minting Money"
February 9, 2015 / NYC Neighborhoods / NYC Government & Politics / Gotham Buzz NYC.
Mayor Bill de Blasio sent the NYC political, media and real estate worlds abuzz on Tuesday, February 3rd, 2015 when he laid out his administration's plan to solve one of the severest shortages of affordable housing in the history of New York City. It seems everyone had something to say in response to it - from the folks on the street to the NYS Governor. NYC Mayor Bill de Blasio is shown standing in the bottom left corner of the photo, after giving his first State of the City Address.
The housing crisis in New York City reached crisis proportions during the Bloomberg Administration. Former Mayor Bloomberg's approach to the issue was to let rent regulated apartments expire or become transformed to encourage investment, provide generous tax incentives and city land deals to real estate developers to build luxury high rise apartments, and build more homeless shelters.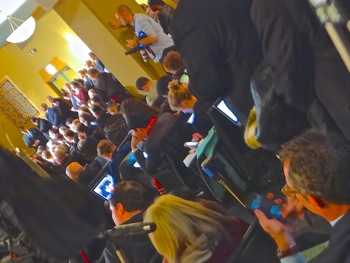 A severe shortage of affordable housing was lurking in the background, as candidate Bill de Blasio began running for the office of mayor with the theme of "the tale of two cities". His campaign keyed into the pinch being felt by the 70% of New Yorkers who rent.
Thus one year later, while giving his first State of the City Address, the 109th Mayor of New York City put the affordable housing problem front and center for his Administration in a manner similar to what he had done on the campaign trail.
And in doing so, the Mayor set afire talk about affordable housing by city and state pols, the media and city real estate developers.
Click here later in the week to read the rest of our report about Mayor Bill de Blasio's State of the City Address, including reactions by banking and real estate executives, members of labor unions and other government officials. By Michael Wood.
---
Organic 469 /
$element(bwcore,article_picker,1104-1033-700,Y,N,page_title_home,N)$
---
Manhattan & Queens NYC
$element(adman,groupad,Catgry Foodwine)$
Click these links for promotions by advertisers in NYC.
Click this link to go to the NYC Neighborhoods.
---
$element(adman,groupad,Catgry Finance)$
Site Search Tips. 1) For best results, when typing in more than one word, use quotation marks - eg "Midtown Neighborhood". 2) Also try either singular or plural words when searching for a specific item such as "gym" or "gyms".
$element(bwcore,insert_search,N)$
Click this link to search for something in our Manhattan Business Directory which will soon contain hundreds of listings.
---
$element(adman,groupads,Sectional Ad)$
---
Click the log in link below to create an ID and post an opinion.
Or send this story to a friend by filling in the appropriate box below.
---
---
NYC Related Links
Click for Manhattan Restaurants NYC
Click for Manhattan Neighborhoods NYC
Click for Manhattan Things To Do NYC
Click for Manhattan Hotels NYC
Click for Manhattan Street Fairs NYC
Click for Manhattan Farmers Markets NYC
---