Presidents Day Weekend Things To Do in Brooklyn NYC
UPDATED FOR COVID 2021 - Things To Do in Brooklyn over the Presidents Day Weekend
Updated February 10, 2021 from 2/9/21 / Brooklyn Neighborhoods NYC / Things To Do in Brooklyn NYC / Brooklyn Blvd NYC.
Presidents Day Weekend Weather. The Temperature highs will be around 30 throughout the three day weekend beginning on Friday, dropping to the high teens nightly, except on Saturday when the low temperature will also be around 30. Precipitation - There's an 80% chance of about two inches of snow late Saturday / early Sunday morning as of this post. Winds will be relatively stable hovering around the 10 mph range throughout the long weekend. The Humidity will range between 60% - 75% throughout the weekend. Click for Brooklyn Weekend Weather.
The photo at right depicts George Washington in an annual reenactment of the Battle of Brooklyn, also known as the Battle of Long Island, which was one of the first American Revolutionary War battles. Washington lost the battle, but managed to keep his army intact, winning enough battles to stay in the game long enough to wear down the British monarchy. The reenactment occurs in August at Greenwood Cemetery.
Presidents Day is a time to reflect on the performance of our current presidents and legislators, and how they stack up against their historical peers. And in that reflection it's worth asking ourselves what we've done to contribute or detract from the national conversation.
A Few Valentines Day / Presidents Day News Items - Indoor Dining Resumes, Folks with Co-Morbidities become Vaccine Eligible, Vaccine Production & 2nd Trump Impeachment Trial Begins Today
Governor Cuomo announced that indoor dining in NYC resumes on Friday, February 2, 2021 at 25% capacity. NYS positivity rate is about 4%, while the NYC positivity rate is about 8% - but both have been declining since the Thanksgiving / Christmas / New Year surge began in late November / early December of 2020.
This past weekend, Governor Cuomo announced that folks with CoVid comorbidities will be eligible to receive vaccinations effective Monday, February 15, 2021. According to the Governor's website, the CoVid co-morbidities [say that fast five times] include the following:
"... Cancer, Chronic Kidney Disease, Pulmonary Disease, Intellectual and Developmental Disabilities, Heart Conditions, Immunocompromised State, Severe Obesity, Pregnancy, Sickle Cell Disease or Thalassemia, Type 1 or 2 Diabetes Mellitus, Cerebrovascular Disease, Neurologic Conditions and Liver Disease Will Be Eligible ..."
Vaccine production for the U.S. is nearing the 1.5 million doses daily required to meet Biden's upwardly mobile 100 million vaccinations in the Biden Administration's first 100 days. As of this writing about 10% of all New Yorkers as well as 10% of all Americans have received at least one CoVid vaccination dose.
Trump's Failed Capitol Riot of 2021 Seems Not Unlike Hitler's Failed Beer Hall Putsch of 1923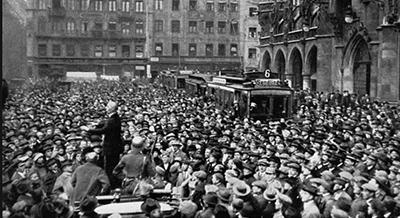 The second Trump impeachment trial began today, Tuesday, February 9th, 2021. Generally I find the rushing of the trial to be an insult to the American people, and the U.S. Constitution philosophies of due process and rule of law. The government officials prosecuting and managing the trial should take all the time required to educate the American people about who Donald Trump really is - not who he says he is.
They need to use the Impeachment Trial to highlight how Trump has significantly battered our democratic processes, undermined Americans' faith in our democratic institutions, personalized the power of the presidency, breached the rule of law, and appears to have colluded with the Russians to undermine our government over the past five years. Oh, yeah, and it all culminated in that lame Capitol Riot Insurrection which was not unlike and had striking similarities to Hitlers' lame / failed Beer Hall Putsch in Germany in 1923.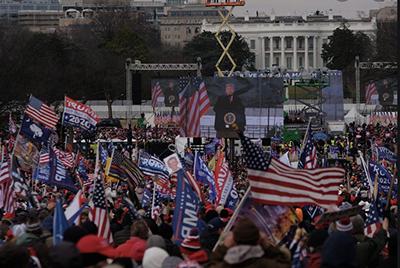 Ten years later Hitler rose to power as the Nazi Party leader and proceeded, like Trump did during his presidency, to usurp and personalize the power of the state thanks in part to the Goebbels / Murdoch/propaganda machines which misled the citizenry in each nation about who these two leaders were, and also victimized minorities in both nations. In the Beer Hall Putsch, 16 Nazis and four policemen died. In the Capitol Riot four Trumpsters and one policeman died.
Hitler was found guilty of treason following the Beer Hall Putsch, but still rose to power. Will the Senate take the precaution of sanctioning the Donald, or continue to enable the dysfunctional democracy damager - possibly destroyer?
Brief History of Presidents Day Holiday in NYC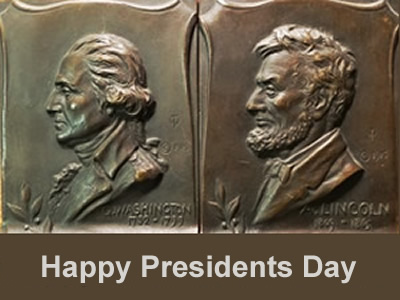 A day commemorating Lincoln's birthday was first passed in Buffalo, New York in the early 1870's. Presidents Day originated as Washington's Birthday which was a holiday narrowly prescribed for federal government offices in Washington, D.C. in 1879. The holiday was dedicated to honoring the memory of the first American president, George Washington who was born on February 22, 1732.
In 1885 the holiday was expanded to include all federal government offices around the nation. In 1951 there was a push to create a Presidents Day holiday [vs a George Washington's birthday holiday] to include President Lincoln whose birthday is February 12, 1809 and was also celebrated by localities, but it didn't pass.
In 1971 the holiday was moved off of George Washington's birth date to being the third Monday in February. Thus while it never falls upon Washington's birthday 2/22, the official name of the holiday remains Washington's Birthday. But today, most folks refer to it as Presidents Day and to recognize the presidents who honored the U.S. Constitution and served the interests of the people.
---
Presidents Day Weekend Things To Do in Brooklyn NYC
UPDATED FOR COVID 2021 - Things To Do in Brooklyn over the Presidents Day Weekend
Updated February 10, 2021 from 2/9/21 / Brooklyn Neighborhoods NYC / Things To Do in Brooklyn NYC / Brooklyn Blvd NYC. Continued.
Rsvps & Compliance w/ CoVid Safety Protocols Required
Presidents Day Holiday Special Events in Brooklyn NYC
CLICK the header above on Friday to see Presidents Day Weekend events in Brooklyn NYC.
TBD & fotos. Hist Soc / Transit / Wyck / Marine / Ft Ham
Presidents Day Special Events in Brooklyn NYC
NOT 2021 EVENT - On Monday, the Brooklyn Academy of Music in Fort Greene, is hosting a Presidents Day event. There will be musical performances, a speech by a modern day civil rights activist, and a film screening [culture / free].
NOT 2021 EVENT - On Monday the Prospect Park Alliance is hosting a Presidents Day event at the Lefferts Historic House in Prospect Park [culture / history / free but $3 donation suggested].
NOT 2021 EVENT - On Monday in Crown Heights the Brooklyn's Children's Museum is hosting a day celebrating the life the presidents. There will be arts and crafts, games and storytelling.
NOT 2021 EVENT - On Monday the Brooklyn Society for Ethical Culture at 53 Prospect Park West in Park Slope is hosting a day of cultural activities celebrating the life of the presidents.
The photo at right shows the rag tag band of American colonists, serving under George Washington, in a reenactment of the Battle of Brooklyn / Battle of Long Island that takes place at Greenwood Cemetery every August.
---
---
Art Exhibits in Brooklyn NYC - Presidents Day Weekend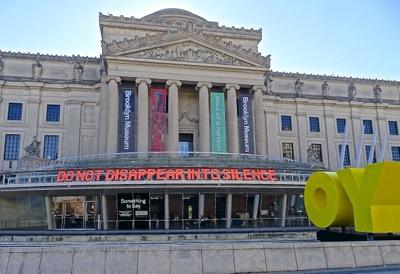 The following venues are hosting art exhibits in Brooklyn this Presidents Day weekend.
The Brooklyn Museum is located at 200 Eastern Parkway along the northeast section of Prospect Park along the Eastern Parkway in the Prospect Heights neighborhood of Brooklyn.
COVID. They are open through the weekend, but closed on Monday & Tuesday including Presidents Day.
https://www.brooklynmuseum.org/
The Brooklyn Historical Society is located at 128 Pierrepont Street in Brooklyn Heights neighborhood and they opened a second location within the past year or so in Dumbo at 55 Water Street.
COVID. They are open weekdays for grab n' go books, but closed Monday and Tuesday including Presidents Day weekend.
COVID. The Brooklyn Botanical Gardens in Prospect Park is open through the weekend, but closed Monday Presidents Day. The Brooklyn Prospect Park Zoo is also open through the weekend and possibly also open on Monday, Presidents Day.

COVID. See - https://www.bbg.org/ for Brooklyn Botanical and see - https://prospectparkzoo.com/ for the Brooklyn Prospect Park Zoo.
In the photo to your right is the Brooklyn Museum located along the Eastern Parkway in Prospect Park.
Dance, Theater & Music in Brooklyn NYC - Presidents Day Weekend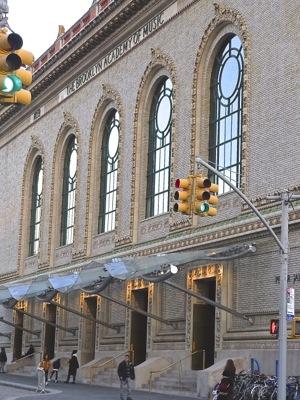 Click here to view the Theatre section of the Brooklyn Events Calendar to see what's doing Presidents Day weekend in the theaters in Brooklyn NYC.
The Brooklyn Academy of Music is located at 30 Lafayette Avenue off Atlantic Avenue near the Fort Greene / Prospect Heights neighborhoods. They're not far from the Barclays Center and the Atlantic Terminal.
COVID. Their facilities remain closed but they are doing online programming. See https://www.bam.org/
The Barclays Center is located at 620 Atlantic Avenue at Flatbush Avenue in Prospect Heights, near Fort Greene, not far from Cobble Hill and Boerum Hill. They have nationally famous performers and sports events running throughout the year, so this may provide an entertainment option over the Presidents Day weekend.
COVID. The Nets Basketball team to allow limited seating at Barclays beginning February 23rd. See - https://www.barclayscenter.com/ for details.
Kings Theatre is located at 1027 Flatbush Avenue in the Flatbush Ditmas Park neighborhood of Brooklyn.
COVID. They usually host entertainment events over the Presidents Day Weekend, but not this year. Their next live event is scheduled for March 21, 2021. See - https://www.kingstheatre.com/ for details.
The New York Transit Museum located at 99 Schermerhorn Street in Downtown Brooklyn is always worth a visit, though unlikely to have any special programming dedicated to the Presidents Day Weekend given it's focus is NYC metro transportation.
COVID. All NY Transit Museum locations are closed due to the CoVid pandemic. They are offering a number of online programs at - https://www.nytransitmuseum.org/
An example of an interesting performing arts venue is shown in the photo to your right, where the Brooklyn Academy of Music is shown.
Shopping in Brooklyn NYC - Presidents Day Weekend
This is a great weekend to do a bit of shopping. Brooklyn is a fun place to shop, as it offers a variety of shopping venues from the big box chain stores to the unique boutiqes. Click here to view our section about Brooklyn shopping.
Several of the most prominent and well traveled shopping areas include near the Barclays Center at the Atlantic Terminal near the Fort Greene and Prospect Heights neighborhoods. There you'll find the big box retailers.
Industry City is a relatively new addition to the retail scene in Brooklyn. It's a collection of renovated industrial buildings, which house a collection of boutique shopping venues, mixed with some discounters, located along the Gowanus Expressway between 37th and 33rd Streets in Sunset Park / Greenwood Heights along the waterfront just south of Park Slope.
And there's plenty of neighborhood shopping. For example there's a vibrant shopping district in the Greenpoint neighborhood, where the locus is at Greenpoint and Manhattan Avenues. Here you'll find some of the unique, made in Brooklyn, items to purchase.
In the photo at right is one of the local stores located in the Greenpoint neighborhood of Brooklyn. Greenpoint and Williamsburg have become what SoHo was decades ago in Manhattan.
Presidents Day Weekend - Dining in Brooklyn NYC
Brooklyn Restaurants for Valentines Day. We recommend you check out our suggestions for dining on Valentines Day at restaurants in Brooklyn. This has been updated to reflect individual Brooklyn restaurant changes due to the CoVid pandemic, except we've not yet changed the Governor's guidance for a Valentines Day reopening for indoor dining, to the revised guidance allowing Brooklyn restaurants to reopen for indoor dining at 25% capacity on Friday, February 12, 2021.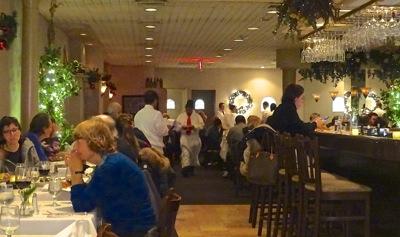 The food in Brooklyn has always been good. The variety of restaurant choices is difficult to match anywhere, and if you look carefully, you can find good food at reasonable prices too.
There are still some old style, family-run, Italian restaurants in the Park Slope and Cobble Hill neighborhoods of Brooklyn [other neighborhoods too]. And some Polish restaurants in Greenpoint / Williamsburg neighborhoods. I think the most authentic soul food can be found in Bedford Stuyvesant, Crown Heights and Prospect Heights.
We'll have more on these going forward, but in the meantime, one restaurant we've tried that provides a good, old-fashioned Italian meal, family-style [since about 1958] is Queen restaurant at 84 Court Street in Downtown Brooklyn. At present, during the CoVid Pandemic, they remain closed.
Click here to view the Brooklyn Restaurants NYC section of the site, which includes reviews of the restaurants we've selected to review. As of this writing, we've identified some of our old favorites, but haven't done the deep dive yet.
You can also visit Brooklyn farmers markets, attend events at Brooklyn theaters, performing arts & art museums, go shopping in Brooklyn NYC, and eat out at one of the Brooklyn Valentine's Day restaurants or New Years party restaurants in Brooklyn.
Presidents Day Weekend Events in Brooklyn NYC
Click here to obtain information about things to do Presidents' Day Weekend in Brooklyn. And our things to do / Brooklyn events calendar is updated monthly with between 50 - 100 different Brooklyn fun / cultural events.
Presidents Day Things To Do Manhattan / Queens / Staten Island / Bronx
And if you feel the urge to visit another borough, here's a list of:
---
Click here for other things to do in Brooklyn NYC this month, updated monthly.
---
---
Brooklyn Presidents Day Weekend Things To Do - Brooklyn Events - NYC Related Links
Click for Brooklyn Neighborhoods - Brooklyn NYC.
Click for Brooklyn Schools & Brooklyn Public Education NYC. gb
Click for Brooklyn Street Fairs NYC.
Click for Brooklyn Politics & Government NYC. gb
Click for Brooklyn Farmers Markets NYC.
Click for Brooklyn Things To Do Brooklyn NYC / Arts & Culture / Real Estate & Business / Shopping / Banks & Loans & Mortgages / Restaurants.
---
Site Search Tips. 1) For best results, when typing in more than one word, use quotation marks - eg "Astoria Park". 2) Also try either singular or plural words when searching for a specific item such as "gym" or "gyms".
Click this link to search for something in our Bronx Business Directory - TBD.
---
Click the log in link below to create an ID and post an opinion.
Or send this story to a friend by filling in the appropriate box below.
---