---
K. Rupert Murdoch & the Rise of the Propaganda Press
This Section is Dedicated to Preserving One Man One Vote Democracies by Exposing What Appears to be Murdoch's Life's Work in Propaganda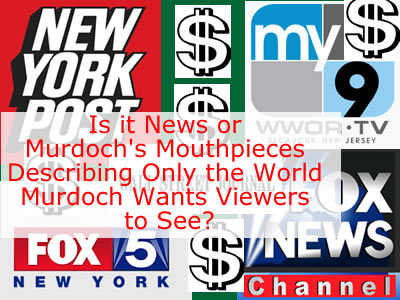 Updated December 26, 2017 / NYC Neighborhoods / NYC Politics / News Analysis & Opinion / Brooklyn Blvd NYC.
In the Spring of 2016, while watching the Bernie Sanders campaign unfold, I noticed that the 'mainstream media' was showing what seemed to be tangible bias in favor of Hillary Clinton. This prompted my first story about the Bernie Sanders campaign & phenomenon, and made me aware of how the mainstream media appeared to treat him unfairly.
After the New York Primary, I noticed a relentless onslaught of attacks by Rupert Murdoch's NY Post on Mayor de Blasio. The attacks were based on allegations and innuendo, and sometimes included as many as five attack stories per day. Their relentless attacks based on allegations and innuendo outraged my sense of decency and fair play, so I began a study of the NY Post reporting bias which resulted in the second story of this series.
While doing the de Blasio / NY Post story, I couldn't help but notice a wide ranging pattern of what appeared to be a rampant abuse of First Amendment power by Keith Rupert Murdoch and his organization, including breaking laws, invading people's privacy, and bribing public officials. While these activities were uncovered in Britain, it's not a stretch to think that given the same man, Murdoch, is controlling the Newscorp & 21st Century Fox global media empire, that these same sorts of nefarious activities might be going on here as well. In fact, people responsible for management oversight of the tainted operations were subsequently given high ranking positions in this country.
As the Republican and Democratic Conventions of 2016 approached, I decided that the time period surrounding the political party conventions, up through the general election in November, would provide me with a good case study period to evaluate whether and how Murdoch's Fox News, NY Post and other assorted media properties, including the Wall Street Journal and the National Geographic, might be used as propaganda outlets.
In doing the context research, I found America's and Britain's media laws had been rewritten and loosened over time. In numerous cases I noticed that Keith Rupert Murdoch, all too often appeared to be in close proximity to the politicians changing those laws - almost always having supported them with his media properties - and at least in one case - even making personally direct donations to their campaigns.
I dug a bit further and found that there are few 'real' media laws of the books in Australia, where Murdoch is no longer a citizen. In spite of his status as a foreigner he reportedly owns 64% of that nation's daily newspapers and has a controlling interest in the nation's satellite TV system. I did some cursory research and it's not a stretch to think that Murdoch may have gotten his start influencing the re-writing of a nation's media laws there.
I also found what appeared to be a striking pattern of Murdoch manipulations and moves that seemed to come straight out of the political and propaganda playbook written by two of the earliest, most successful, and most evil practitioners of modern mass market propaganda - Adolph Hitler and Joseph Goebbels.
Hitler and Goebbels came to my attention because I found that I really could not even begin to understand modern propagandist techniques without studying Hitler and Goebbels in Germany in the 1930's. Hitler's skillful use of propaganda appears to have hastened his ascent to power, and enabled him to keep his grip on it. These two men are the fathers of modern propaganda, and it appears that Keith Rupert Murdoch has adopted and updated their propagandist techniques to serve his own interests.
Those who do not learn from history are doomed to repeat it. So please read on.
Click here to view our report about the state of media coverage of the 2016 election.
Or click here to continue on with this story about Keith Rupert Murdoch & the rise of the propaganda press / media madness/ corrupt Fox News / NY Post.
---
K. Rupert Murdoch & the Rise of the Propaganda Press
This Section is Dedicated to Preserving One Man One Vote Democracies by Exposing What Appears to be Murdoch's Life's Work in Propaganda
Updated December 26, 2017 / NYC Neighborhoods / NYC Politics / News Analysis & Opinion / Gotham Buzz. Continued.
King Rupert & the Rise of the 21st Century Propaganda Press - 2019
Murdoch and the Rise of the 21st Century Propaganda Press - 2017
Murdoch Media Madness - 2016
---
$element(bwcore,article_picker,1488,Y,N,page_title_home,N)$
---
$element(bwcore,article_picker,1491,Y,N,page_title_home,N)$
---
$element(bwcore,article_picker,1502,Y,N,page_title_home,N)$
---
$element(bwcore,article_picker,1492,Y,N,page_title_home,N)$
---
$element(bwcore,article_picker,1444,Y,N,page_title_home,N)$
---
$element(bwcore,article_picker,1442,Y,N,page_title_home,N)$
---
$element(bwcore,article_picker,1447,Y,N,page_title_home,N)$
---
$element(bwcore,article_picker,1429,Y,N,page_title_home,N)$
---
$element(bwcore,article_picker,1398,Y,N,page_title_home,N)$
---
$element(bwcore,article_picker,1378,Y,N,page_title_home,N)$
$element(bwcore,article_picker,1438,Y,N,page_title_home,N)$
---
$element(bwcore,article_picker,1437,Y,N,page_title_home,N)$
---
$element(bwcore,article_picker,1436,Y,N,page_title_home,N)$
---
$element(bwcore,article_picker,1435,Y,N,page_title_home,N)$
---
$element(bwcore,article_picker,1359,Y,N,page_title_home,N)$
---
$element(bwcore,article_picker,1439,Y,N,page_title_home,N)$
---