This Weekend Things to Do NYC
Mothers Day Weekend, Cannabis Parade, Indian Film Festival Begins, AIDS Walk in Central Park, TEFAF Show at the Armory, Municipal Art Society Janes Walk in all 5 Boros, Bronx Week & Piazza Belmont Returns, Arts & Craft Show & Carnival on Staten Island & Spring Festival at the LeFrak Center in Brooklyn, Mothers Day Stroll & Jackson Heights Orchestra in Queens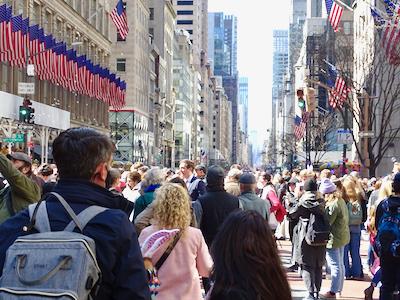 May 6, 2022 / Things To Do NYC / NYC Neighborhoods / Gotham Buzz NYC.
Weather NYC. Cool with some rain and high winds on Saturday and both diminishing over Sunday. Details coming Shortly.
The photo at right was taken along 5th Avenue at about 50th Street during the Easter Bonnet Parade in Manhattan a couple of weeks ago. This week the Cannabis Parade marches down Broadway to Union Square Park.
Details on these and other events coming later today. It's 5.30 pm. I expect to have this completed by about 12 noon Saturday, hopefully sooner.
NYC Things To Do - All Boros
Mothers Day - scroll down for restaurant suggestions.
Saturday & Sunday, May 6 - 8, 2022 - Janes Walk - Various art, culture, history and architectural tours throughout all five boros of NYC. Organized by the Municipal Art Society. See https://www.mas.org/events/ for details.
Manhattan Things To Do
On Saturday, May 7, 2022 - parade from 11 am to 1 pm and after party from 1 pm - 5 pm. The Cannabis Parade festivities begin at 11 am at 32nd Street and Broadway. The parade begins at 12.30 pm from that location, marching south along Broadway to Union Square Park. Then, from 1 - 5 pm, there are performances and talks held in Union Square Park.
Friday - Tuesday, May 6 - 10, 2022 from 12 noon - 8 pm, except May 8 & 10 when it closes at 6 pm - TEFAF - The European Fine Art Foundation - Fine Art Show at the Park Avenue Armory at 643 Park Avenue in the Upper East Side of Manhattan.
Sunday, May 8, 2022 beginning at 10 am - AIDS Walk in Central Park. Their website doesn't give clear guidance on the route [they show a San Francisco map], but it seems to start at the 72nd east side entrance by Summer Stage and end at Rumsey Playfield. It's a four mile walk and you can sign up to run. Donations go to support the Gay Men's Health Crisis [GMHC].
Saturday - Saturday, May 7 - 14, 2022 - Indian Film Festival - At various times, mostly virtually, except the finale. For details see www.nyiff.us/
Janes Walk - see above. For fairs and farmers markets, see below.
Brooklyn Things To Do
Saturday, May 7, 2022 from 12 noon - 10 pm - Spring Fest. Food, music and entertainment. At the LeFrak Center in Prospect Park.
Janes Walk - see above. For fairs and farmers markets, see below.
Queens Things To Do
On Sunday from 11 am - 1 pm there's a Mothers Day Stroll on the 34th Avenue Promenade between 77th and 82nd Streets in Jackson Heights in Queens. Free. Organized by the Jackson Heights Beautification Group in conjunction with local government officials.
The Chocolate Factory theater has reopened at their new location at 38-33 24th Street in Long Island City in Queens. There are performances of Wings of Iron from May 18 - 21 and also of Diptych from May 19 - 21. Tickets are $25 and $20 respectively.
Jackson Heights Orchestra performs on Wednesday, May 11 beginning at 7.30 pm at St. Marks Episcopal Church in Jackson Heights, Queens. Tickets are a suggested donation of $20 / $10. For details see jhbg.org.
Janes Walk - see above. For fairs and farmers markets, see below.
Bronx Things To Do
Friday, May 5 - Sunday May 15, 2022 - Bronx Week - Multiple events at various locations in the Bronx. Details coming, but in the meantime see their website at www.bronxboropres.nyc.
The Stadium Fair usually held in May was moved to later in the season.
May 2022 EVERY weekend from 6pm to 10pm on Fridays and Saturdays, and 1pm to 9pm on Sundays - Piazza di Belmont - Outdoor dining on Arthur Avenue which will be closed to vehicular traffic from East 188th Street to Crescent Avenue during the above mentioned times.
Janes Walk - see above. For fairs and farmers markets, see below.
Staten Island Things To Do
Wednesday - Sunday, May 4 - 8, 2022 there's an Arts & Crafts Show at the Staten Island Mall at 2655 Richmond Avenue in the Heartland Village neighborhood. The show includes ceramics, glass, metal work, wood, jewelry, painting and photos. Current Mall Hours are Monday-Thursday 11am-7pm, Friday-Saturday 10am-8pm, Sunday 11am-6pm - but vendor times will likely vary.
The Heritage Farm Stand Farmers Market opens Saturday, May 7 from 9 am - 3.30 pm near the Botanical Garden at the Snug Harbor Cultural Center in Randall Manor on Staten Island.
Janes Walk - see above. For fairs and farmers markets, see links below.
Scroll down to April 26th story for some restaurant suggestions for Mothers Day brunch or dinner. And some of the seasonal farmers markets reopen this month, so you use these links to find one in your neighborhood - Bronx Farmers Markets NYC, Brooklyn Farmers Markets NYC, Manhattan Farmers Markets NYC, Queens Farmers Markets NYC, Staten Island Farmers Markets NYC. And we'll have the weekend street fairs updated sometime tonight - Manhattan street fairs, Queens street fairs, Brooklyn street fairs, Bronx street fairs, Staten Island street fairs.
Have a happy and healthy Mothers Day weekend.
---
Off the Red Carpet at the Met Gala's Gilded Age
I was on the Street During the Met Gala, with the Regular Folks of NYC
May 3, 2022 / Things To Do NYC / NYC Neighborhoods / Gotham Buzz NYC.
Last night I went to see the red carpet arrivals at the Met Gala. The Met Gala is considered to be one of the most fashionable events of the year. It's by invitation only, costs between $30,000 and $35,000 per ticket. The event is generally said to run from about 6 pm to about 9.30 or 10.30 pm.
This year the fashion theme was of the opulence, fame and excess that accompanied the Gilded Age. But you'd never have known there was a theme, because the rich and famous of today - as back then - pretty much do whatever they want. And many of their outfits said just that.
Many observers think that the red carpet arrivals are the height of the show ... but then many observers likely never make it inside the museum to see how the other half parties.
Since this was my first time covering this event, I arrived unfashionably on time, around 6 pm, taking the subway to 86th Street as my limosine driver had the night off, and it really didn't matter, because my limosine was in the shop for repairs.
I made my way south to 84th Street and headed west toward the museum, where NYPD barricades had cordoned off the area from both automotive and pedestrian traffic. I had a Press Pass, so I was waived through, like the folks who could prove they lived there.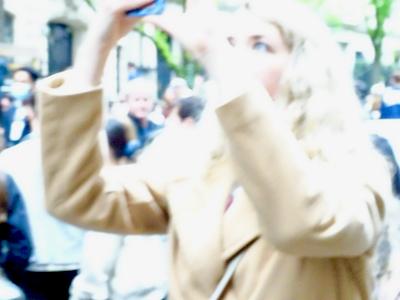 In the photo above right you see the crowd of people along 5th Avenue watching as the celebrity fashionistas strut their stuff prior to entering the Met Gala Monday night. In the photo at right you see a fashionista ingenue taking photos of the celebrity arrivals at the Met Gala.
Along 5th Avenue there was a crowd, of mostly females, generally on the younger side, but of all ages, and some accompanied by men. I believe some of the girls had come from the nearby local private high schools, as they were still wearing their uniforms. All were excited to see the celebrities walk down the red carpet, positioned north of the museum along 5th Avenue with a canopy above them, as the weather today was a bit uncertain.
We were confined to the east side of 5th Avenue, able to see the celebrities strut their stuff across the street, separated not just by the barricades and avenue, but also an intermittent flow of traffic including buses and taxis, which I suspect were filled with folks wanting a closer view - albeit for a very short period of time.
I snapped a number of photos of the red carpet baggers, some of which I'll include in a video later this week. While I didn't get photos of these folks, later on television I saw Kardi B, Pete Davidson with the Kardashian sisters, Sarah Jessica Parker and Matthew Broderick, Billionaire Elon Musk, and numerousothers, as well as the honorary chairs, Tom Ford, Adam Mosseri and Anna Wintour.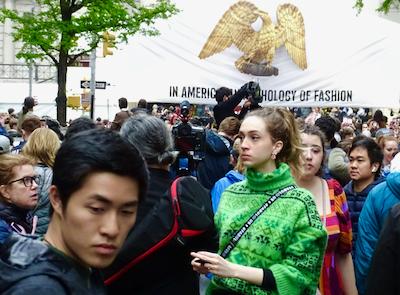 I stayed for a while, before extricating myself from the crowd along 5th Avenue and making my way back to Madison Avenue. I started strolling down Madison Avenue which was also filled with mostly young women and girls. At 82nd Street I was surprised to see that this street - which leads to the entrance of the Metropolitan Museum - was not cordoned off.
A crowd had filled the street, getting tighter and more densely packed, the closer one came to the 5th Avenue entrance. A number of people came dressed for the occasion, including a couple in some Halloween like outfits [not shown here but possibly coming in the video], as well as those showcasing their own sense of style.
In the photo at right, you see the crowd on 82nd Street filled with young New Yorkers interested in fashion and celebrities, who have a bit of fashion sense of their own.
The weather was cool, but not wet, and so it was just shy of a perfect night, depending on what you were wearing. The Met Gala began in 1946. An estimated 400 people attend, and tables cost between $200,000 and $300,000. The proceeds from the fashion event, estimated to be about $60 million, go to the Metropolitan Museum Costume Institute. Not a bad way to spend a Monday evening, even for the very wealthy of New York City.
As it was a nice evening I walked part of the way home, before heading back down into the subway where my chariot awaited, whisking me under the river and through the woods, to Queens.
---
This Weekend Things to Do NYC
Nice Weather Weekend for the 5 Boro Bike Ride NYC, Yankee Peddler Day at Historic Richmond Town Staten Island, Night Food Market & Orchid Show in the Bronx, May Day Festival & BAM Queer Film Weekend in Brooklyn, International Cultural Festival Queens & Dance Fest at Wolman Rink & Met Gala Monday in Manhattan ... and more ...
April 29, 2022 / Things To Do NYC / NYC Neighborhoods / Gotham Buzz NYC.
Weather NYC. The temperature highs will rise from the low 60's on Friday to the high 60's on Saturday and Sunday. The temperature lows will rise from the low 40's on Friday, to the high 40's on Saturday to about 50 on Sunday. The humidity will be very low on Friday, ranging from 10% to 40%, rising to 30% - 45% on Saturday and then 35% to 55% on Sunday. The wind will finally settle down to 5 - 10 mph throughout the weekend. No rain is expected this weekend.
In the photo at right are cyclists participating in the 5 Boro Bike Ride as they make their way through Queens in a prior year. The cycling event returns Sunday. See details below.
Manhattan Things To Do This Weekend NYC
There's a Coney Island Polar Bear Club event on Saturday & Sunday at Wolman Rink in Central Park from 2 pm - 10 pm. It's a charity event and tickets aren't cheap at $191 / person. See www.wolmanrinknyc.com for details.
The 5 Boro Bike Ride returns to all five boroughs of NYC on Sunday. Details in Manhattan street fairs.
The Met Gala returns to the Metropolitan Museum on Monday.
Click here for Manhattan Farmers Markets.
Queens Things To Do This Weekend NYC
Sunday, May 1, 2022 from 12 noon - 6 pm - Steinway Street Cultural Festival along Steinway Street from 28th to 34th Avenue. Sponsored by Central Astoria LDC.
The art show entitled "Blood is Thicker than the Water that Separated U.S.," will be on exhibit at the Lewis Latimer House Museum, 34-41 137th Street in Flushing until July 3rd. Free tickets are available to the public at www.lewislatimerhouse.eventbrite.com.
Click here for Queens street fairs and here for Queens Farmers Markets.
The photo below right was taken on the Upper West Side of Manhattan this week. Folks were wearing coats, as the wind was blustery most of the week, and the temperatures were a bit below normal. Better weather is on the way this weekend.
Brooklyn Things To Do This Weekend NYC
There's a May Day Festival of Resistance is being held in Maria Hernandez Park at Knickerbocker Avenue and Suydam Street on Sunday from 1 - 7 pm by MayDaySpace.org of Bushwick. I think it's free.
In the Peter Jay Sharp Building at the Brooklyn Academy of Music aka BAM at 30 Lafayette Avenue in Brooklyn, they will be showing various films with a queer theme all weekend. Tickets [$16 / $11] may be purchased online at www.bam.org.
Luna Park Amusement Park at Coney Island opened on April 2nd, for the 2022 season.
The Greenpoint Terminal market opens Sunday, as does the Bat Haus CoWorking Space Spring Market - Click here for details - Brooklyn street fairs
Click here for Brooklyn Farmers Markets.
Bronx Things To Do This Weekend NYC
The Bronx Night Market, an outdoor food court, returns Saturday evening. See details in Bronx street fairs.
The Orchid Show at the NY Botanical Garden at 2900 Southern Blvd in the Bronx began in late February and continues through May 1.
Click here for Bronx Farmers Markets.
Staten Island Things To Do This Weekend NYC
Yankee Peddler Day returns to Historic Richmond Town on Sunday from 9.30 am - 3.30 pm. The market generally invites sellers to display goods from early America, as well as other items. See details in Staten Island street fairs.
The Conference House in Tottenville opened for the season on April 23rd and will be open Saturdays and Sundays for tours from 12 noon - 4 pm. They're located at 298 Satterlee Street on Staten Island.
Click here for Staten Island Farmers Markets.
Have a nice weekend.
---
$element(bwcore,article_picker,1486,Y,N,page_title_home,N)$
This Weekend Things to Do NYC
Very Nice Earth Day Weekend Ahead, Orthodox Easter Weekend, Passover ends Saturday, NY Auto Show ends Sunday, Persian Day Parade Sunday, Orchid Show in the Bronx; Luna Park Open at Coney Island, BAM, Andy Warhol exhibits in Brooklyn; Museums in Queens & Earth Day Celebration on Staten Island Saturday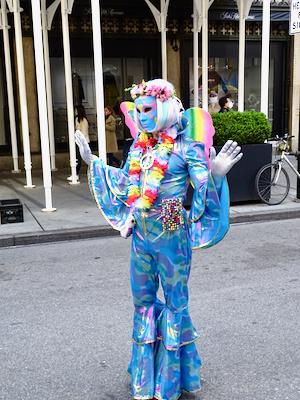 April 22, 2022 / Things To Do NYC / NYC Neighborhoods / Gotham Buzz NYC.
Weather NYC. The temperature highs will be in the 60's and the temperature lows will be around 50. No rain. Humidity will range from 35% - 45% on Friday, 45% - 65% on Saturday and 55% - 65% on Sunday. Winds will be 8 - 12 mph Friday, dropping to 5 - 8 mph for the rest of the weekend.
In the photo at right is a woman dressed up for the annual Bonnet Parade held last Sunday in Manhattan. The event has morphed from a genteel event, where women dressed up fancy for and after Sunday Mass, to something more of a themed costume party, where both men and women dress up in their Easter best.
NYC Things To Do - Earth Day & Greek Orthodox Holy Friday
Today is Earth Day. Early this morning some folks from Extinction Rebellion protested at the printing plant in College Point that prints the NY Post, New York Times and Wall Street Journal. Two of the three newspapers are controlled by Australian born Oligarch and climate information distortionaist and minimizer, Rupert Murdoch, who also controls Fox News and owns a large influential share of ABC News.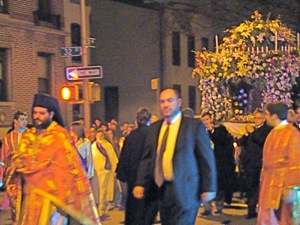 This is also Greek and Eastern European Orthodox Christian Easter Weekend. One of my favorite Greek traditions is where the Greek parishoners reenact part of the Passion of the Christ in a march through the street. A man carries the cross and a number of men carry the epitaphios, which is a flowered funerary cask. You can view this on the streets of Astoria in multiple locations, including near St. Demetrios Cathedral, in Astoria. In Manhattan you can attend a similar event at St. John the Baptist Greek Orthodox Church at 143 East 17th Street only blocks away from Gramercy Park. Generally the masses begin at 7 pm and the processions begin at 8 pm, sometimes a bit later. And then, of course, on Sunday there's an Easter mass.
The photo at right was taken in an earlier year of the Holy Friday procession with the epitaphios in Astoria.
And Passover, which celebrates the Jews freedom from slavery thousands of years ago, ends Saturday.
A number of farmers markets are already open for the season, with many others to open over the coming months. We finished updating them this past week so you can view the markets in each of the boroughs, using the link(s) included in the report below.
Manhattan Things To Do This Weekend NYC
On Sunday, April 24th beginning at 11 am, the Persian Day Parade kicks off along Madison Avenue from 39th Street down to Madison Square Park. Usually there's a festival of sorts after the parade.
NY Auto Show opened at the Javits Center on Friday, April 15th and runs through Sunday, April 24th. Tickets are $17 adult / $7 child at www.autoshowny.com.
There are a couple of street fairs in Manhattan.
Queens Things To Do This Weekend NYC
The photo at right was taken in Queens last week, where you can see the trees - all white - budding. This weekend, they've turned a bright green.
The art show entitled "Blood is Thicker than the Water that Separated U.S.," will be on exhibit at the Lewis Latimer House Museum, 34-41 137th Street in Flushing until July 3rd. Free tickets are available to the public at www.lewislatimerhouse.eventbrite.com.
The Museum of the Moving Image is hosting an exhibit that began December 18, 2021 and runs through May 15, 2022 entitled Deepfake: Unstable Evidence on Screen. The exhibit explores how fact becomes distorted and fictionalized via the moving image screen. At the centerpiece of it all is the distortion of the Apollo 11 moon mission. The museum is open Friday from 2 - 8 pm and Saturdays and Sundays from 12 noon - 6 pm. For details and tickets see www.movingimage.us. Admission $15 / $11 / $9.
There are a couple of street fairs in Queens.
Brooklyn Things To Do This Weekend NYC
The photo at right was taken from the subway in Brooklyn, showing the downtown, where highrise buildings have been rising into the sky like weeds with each passing year.
The Brooklyn Museum at 200 Eastern Parkway has about a dozen exhibits running at present. The two featured exhibits focus on Andy Warhol's Revelation print which explores the artist's religious faith [closes June 19, 2022]. The other is one entitled A Crack in the Hourglass, An Ongoing COVID-19 Memorial which grapples with the incredible loss of life during the pandemic [closes June 26,2022]. Admission is $25 / $16 / $10 and CoVid protocols remain in effect. Details and tickets at www.brooklynmuseum.org.
Luna Park [amusement park] at Coney Island opened a few weeks ago for the season.
In the Peter Jay Sharp Building at the Brooklyn Academy of Music aka BAM at 30 Lafayette Avenue in Brooklyn, they will be showing various films all weekend starting at 1.15 pm, with the last showtime at 9.40 pm. CoVid protocols remain in effect and tickets [$16 / $11] may be purchased online at www.bam.org
Bronx Things To Do This Weekend NYC
The Orchid Show at the NY Botanical Garden at 2900 Southern Blvd in the Bronx began in late February and continues through May 1.
The photo at right was taken of Yankee Stadium in the Bronx on home opening weekend. The season has begun, bringing with it, a certain rhythm to the borough. The Yankees have a 7 - 6 record and are one game out of first place, after Toronto. The Mets meanwhile are in first place with a 10 - 4 record, which is 'amazing'. As there are 162 games in the season, there's plenty of time where just about anything can happen.
Staten Island Things To Do This Weekend NYC
On Saturday there's an Earth Day celebration from 11 am - 3 pm at Fresh Kills Park at 2240 Richmond Avenue on Staten Island. There are a number of activities for both kids and adults including composting, planting, nature walks, yoga and storytimes. It's free. www.freshkillspark.org.
I may find a bit more to add as the weekend progresses, but in the meantime, have a nice weekend.
---
$element(bwcore,article_picker,1454,Y,N,page_title_home,N)$
April 8, TTDo
The Yankees May Have Lost Sunday, but Not Because of Their Fans
I Encountered Yankees Fans on the #4 Train on Their Way to the Game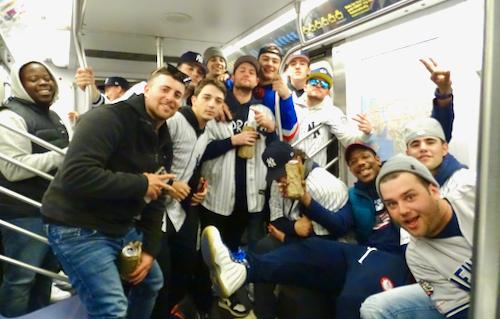 April 13, 2022 / Things To Do NYC / NYC Neighborhoods / Gotham Buzz NYC.
In the photo at right you see a group of Yankees fans on their way to the game on Sunday, April 10th. While the game was scheduled to begin at 8 pm, these super fans were on their way to the ball park at 4 pm.
They were brimming with enthusiasm, as the Yankees' 2022 season was off to a good start, beating their arch nemesis, the Boston Red Sox, in the season opener on Friday and again on Saturday. Unfortunately, the Red Sox rallied late in the game and won 4 - 3.
The video shows a few scenes of this group's talent and enthusiasm for the Yankees.
---
Russia Ukraine War Report Series - March - May 2022
Updated April 4, 2022 / International News NYC / Gotham Buzz.
This section contains our Russia Ukraine War Report Series which we began in March of 2022. We hope it will end by the end of May, but who knows how long it will take the Russian people to rise up against the oppressive Putin dictatorship / regime.
---
How Mentally Ill is the Australian Born Oligarch Rupert Murdoch?
Murdoch & his Rubber Stamp 'WSJ Editorial Board' Continue to Push the Bounds of Indecency with this Image
A Former Prime Minister of Rupert Murdoch's Native Australia called Murdoch a 'Cancer on Democracy', Murdoch was Called 'Unfit to Run an International Company' by a Member(s) of British Parliament, Murdoch's Company was Alleged to have Hacked the Phones of the Victims of 911 for Headlines, as well as the Phone of a Mother Whose Daughter was Murdered [also for headlines], he's been Accused of Government Corruption Many Times, and for Inciting the U.S., Britain & Australia to Invade Iraq for [Oil and] Ratings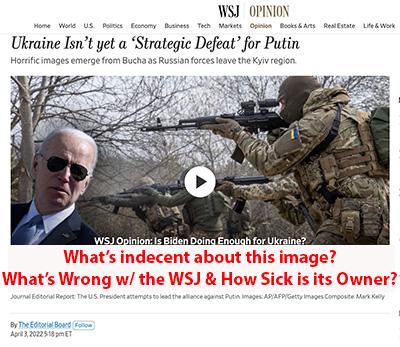 April 4, 2022 / NYC Neighborhoods / News Analysis & Opinion / Gotham Buzz NYC.
You don't have to have a journalism degree to see what's wrong with this image.
You don't have to be a member of an Editorial Board of one of the nation's three daily newspapers to see what's wrong with this image.
You don't need to be an editor to see what's wrong with this image.
What you do need is some sense of decency.
Which is what is totally lacking in the character of the man who controls the Wall Street Journal and it's Editorial Board - Australian born Oligarch, Rupert Murdoch.
After researching and watching him since 2015, I have come to the conclusion that he is easily a sociopath [weak moral compass], and more likely a psychopath [unstable and aggressive personality disorder].
See for yourself on these two WSJ pages before they hopefully have the decency or shame to take it down.
https://www.wsj.com/articles/biden-told-the-truth-putin-has-to-go-russia-ukraine-invasion-leader-free-world-regime-change-11648998065?mod=hp_opin_pos_3
https://www.wsj.com/articles/strategic-defeat-putin-russia-blinken-biden-zelensky-bucha-war-crime-kyiv-mass-grave-atrocities-united-nations-un-human-rights-shelling-odessa-ukraine-11649016865?mod=hp_opin_pos_1
It's worth reminding people that this man, Rupert Murdoch, controls or wields incredible influence in about half of our daily national news media [Fox, NY Post, WSJ & ABC News], which is why things have become so messed up since he arrived on our shores. But the TV newspeople who do and don't work for him, fail to inform the nation, by calling him out.
I believe most Americans don't even know who he is [somebody needs to conduct a poll]. And he greatly influences - if not controls - the national conversation.
Part VI of the Ukraine series coming this week.
---
Weekend Things To Do NYC - March 2022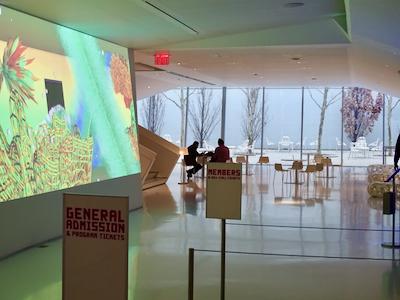 This section contains our Weekend Things To Do reports for the month of March 2022.
---
Ukraine Part V: Adding Context to the Shallow Reporting of TV News
In Part V We Delve into the Russian Politics Leading up to the War in Ukraine, the Role of the Russian Mob and Oligarchs and a Look at NATO Expansion & What's Happening at the Peace Negotiation Table in Turkey
March 28, 2022 / NYC Neighborhoods / News Analysis & Opinion / Gotham Buzz NYC.
To Understand Russia Today, a Little Background is in Order - Unfortunately the Incredibly Lame TV News is Failing Miserably at Providing it
In the graphic at right is the head of the Russian mob, Semion Mogilevich. Mogilevich, a Ukrainian, rose in the criminal world in Russia reportedly starting in the 1980's. In the early 1990's as the government of the Soviet Union was collapsing, Mogilevich and Vladimir Putin became fast friends.
At that time, the Russian mob began spreading like cancer to the nations of Eastern Europe, as well as to Britain and the U.S.. The spread of the Russian mob was fueled by disgruntled Russian veterans from the Afghanistan War, and by ill-gotten gains, some of which allegedly came from an incredibly corrupt Russian government which was first headed by Boris Yeltsin, and then his hand-picked successor, Vladimir Putin.
One of Mogilevich's under bosses met with Donald Trump as early as 1984. According to a January 12, 2019 report by Vox,
"... The very first episode that's been documented, to my knowledge, was in 1984 when David Bogatin -- who is a Russian mobster, convicted gasoline bootlegger, and close ally of Semion Mogilevich, a major Russian mob boss -- met with Trump in Trump Tower right after it opened. Bogatin came to that meeting prepared to spend $6 million, which is equivalent to about $15 million today ... Bogatin bought five condos from Trump at that meeting. Those condos were later seized by the government, which claimed they were used to launder money for the Russian mob ..."
The Primary Differences Between a Free Society & a Dictatorship - Truth & Transparency vs Deception & Corruption
Except for the most corrupt of people, most humans - given the choice - would like to live in a democracy: 1) in a society governed by laws, 2) where free speech doesn't get you 15 years in prison or a death sentence like it does in Russia today, 3) in a nation where you get to choose your leaders, and 4) can non-violently fire your leaders when they implement bad policies for the nation. That's what we have here in America, and that's what most of the other NATO countries offer their people.
At present Russia is the bizarro rendition of the free, democratic nations of NATO. Putin's changing of the Russian Federation Constitution in 2020 essentially enables him to hold government power for the rest of his life [until 2036, when he's age 83]. And the imprisonment and multi-year sentencing of Opposition Leader Alexei Navalny in 2021 / 2022, shows that Russian rule of law is merely a charade. Reportedly between 13,000 and 15,000 Russian peaceful protesters have been jalied since the Russian Invasion of Ukraine began in late February of 2022. Unfortunately, aspirations of becoming a free society, where the people are able to pick and choose their own leaders, continues to elude Russia, as the corruption in the Russian Federation electoral process, makes voting seem a useless waste of time.
For these and other reasons, Ukraine embarked on the path toward joining NATO since the collapse of the Soviet Union. And, as described in Part II of this report series, that's also why the Ukrainians have been seeking independence from Russia for at least a century - if not longer - prior to this most recent Russian invasion.
From Gorbachev to Yeltsin - Before, During & After the Fall of the Berlin Wall
Mikhail Gorbachev was the Secretary General of the Communist Party from 1985 to 1990. During his terms in office, he was a reformer who advocated for glasnost, which was the opening up of Russian society. Through glasnost, the government was more consultative with the people with respect to the policies it pursued, and there was wider dissemination of information. For the first time in about two thirds of a century [since the Russian Revolution] the Russian government loosened its restrictive control over the populace. Gorbachev also decided that Russia needed to withdraw from Afghanistan in 1989 [see our report on Biden's withdrawal from Afghanistan which compares the two], since it was a winless war. In 1979, Secretary General Leonid Brezhnev had also expressed an openness to reforming the Russian government's role in society.
In November 1989, the Berlin Wall fell. Germany and Russia negotiated for East Germany's independence from the Soviet Union. In March of 1990, Mikhail Gorbachev became the first President of the Soviet Union. He continued trying to move Russia into the modern world via Perestroika, which at first was about automation, but grew to entail economic and social reforms. Some of the Eastern European nations, like Lithuania, began to push for greater autonomy from the Soviet Union. To continue on the reform path, Gorbachev needed money, and this is where the west failed Russia during this transition.
By failing to help Gorbachev, by keeping Russia frozen out of the G7 which would have given him access to the liquidity of global markets, things worsened in Russia. Eventually a group of eight leaders of the Communist Party held Gorbachev under house arrest while he was vacationing near the Black Sea, in an attempt to stage a coup. Gorbachev refused to make / legitimize the governmental changes they demanded.
Back in Moscow, Boris Yeltsin, President of the Soviet State [which if I understand this correctly that Soviet state is now Russia], stepped in with troops loyal to him and protesters to stop the storming of the Russian Parliament and to save the government of Gorbachev's Soviet Union [which included all other Soviet republics at the time as well as Yeltsin's Soviet State]. By beating back the coup initiated by the members of Gorbachev's own Communist Party, Yeltsin ascended to the top spot. But not until after some changes were made.
CLICK here to read the rest of our report on the Russian Ukrainian War - Russian Politics after the Fall of the Berlin Wall, Gorbachev, Glasnost, Perestroika, Yelstin, Communist Party, Unity Party, Collapse of the Soviet Union and Independence for Soviet Nations, NATO Expansion, the Emergence of the Kleptocracy, Mogilevich and the Russian Mob, Putin's Wars, Putin's Paranoia, Zelensky Flip Flops in Peace Negotiations & Brings in Russian Oligarch Abramovich, and Freeing the Ukrainian and Russian Peoples.
---
Things To Do in NYC This Weekend
First Day of Spring, Half Marathon, St Pat's Parade & Andy Warhol exhibit in Brooklyn, Astoria Pawrade & Deepfake at the Museum of the Moving Image in Queens, St Pat's Parade, Orchid Show & Storming of the Capitol in the Bronx, Cicadas on Staten Island & Photo Exhibit in Manhattan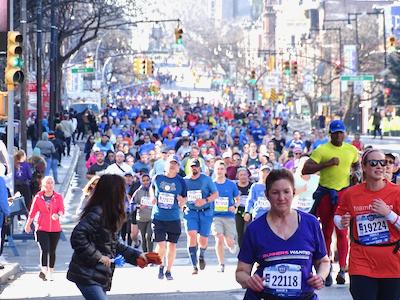 Updated March 20 / March 18, 2022 / Things To Do NYC / NYC Neighborhoods / Gotham Buzz NYC. Report & photo by Michael Wood.
Weather. The temperature high will be 70 on Friday descending to about 60 on Saturday and Sunday. The temperature lows will be 50 on Friday and Saturday, dropping to the low 40's on Sunday. Winds will be 5 - 10 mph on Friday and Saturday, rising to 10 - 15 mph on Sunday. Humidity will range from 60% - 70% on Friday, 80% on Saturday and 60% - 50% on Sunday. About a third of an inch of rain is expected Saturday before 12 noon and after 6 pm. As of this post, during Saturday afternoon the probability of rain falls to 35% or less. The rest of the weekend may have some clouds, but no additional rain.
Sunday is the first day of Spring. Hooray.
The photo at right was taken Sunday morning 3/20/22 along Flatbush Avenue in Brooklyn, as 25,000 half marathoners made their way along the 13.1 mile couse toward the Manhattan Bridge on their way to Central Park. We posted the event below on Friday.
Things to do in Queens This Weekend
There's a pet parade in Astoria on Sunday from 12 - 2.30 pm organized by the Central Astoria Development Corporation in tandem with the Steinway Astoria Partnership along 31st Avenue between Steinway and 38th Street. Free.
The Museum of the Moving Image is hosting an exhibit that began December 18, 2021 and runs through May 15, 2022 entitled Deepfake: Unstable Evidence on Screen. The exhibit explores how fact becomes distorted and fictionalized via the moving image screen. At the centerpiece of it all is the distortion of the Apollo 11 moon mission. The museum is open Friday from 2 - 8 pm and Saturdays and Sundays from 12 noon - 6 pm. For details and tickets see www.movingimage.us. Admission $15 / $11 / $9.
The photo at right was taken at the Deepfake: Unstable Evidence on Screen exhibit at the Museum of the Moving Image in Astoria, Queens. The exhibit is very topical given what's going on between Russia and the Ukraine, as well as generally, on TV and via social media. The exhibit examines the challenges people face in being able to determine whether what they see on screen is real or fake. They start around WWII, include the Kennedy assassination video, a fake video 'proving' the lunar mission was faked, another video 'proving' that 911 was a 'false flag' operation and then a whole group of videos - both real and fake - of events of the past few decades. It's definitely worth the visit before the exhibit ends in May.
---
Weekend Things To Do NYC - February 2022
This section contains our Weekend Things To Do reports for the month of February 2022.
---
Ukraine III: Adding Context to What You're Seeing on the TV Networks
In Part III We Delve into the Threat of WWIII, the Russia / China Pact of February 2022 to Keep Dictators Putin & Xi Jinping in Power is Reminiscent of '1939 Pact of Steel' by Mussolini & Hitler, Putin's Alleged Corruption & Yacht, and the Putin-Pleasing-Propaganda-Press in America
March 14, 2022 / NYC Neighborhoods / News Analysis & Opinion / Gotham Buzz NYC.
Recap of Part I
In Part I, two weeks ago, I looked at the relative sizes of the economy, population and industries of Russia vis a vis Ukraine. This was followed by a very short topline summary of some of the politics, culture and fluctuating borderlines of the Ukraine. And lastly, talked about how Fox News, the Wall St. Journal and the NY Post which are owned and controlled by a fascist-leaning billionaire from Australia [Rupert Murdoch], appears to be aiding and abetting Putin's War by continually bashing the Biden Administration, through his cadre of propagandists.
In the graphic at right, put together by the BBC in London, you can see that western Ukraine has largely been left alone, while the war rages in the East mostly along the Russian border. Western forces should be sure to provide Ukrainian forces with sea and river mines to thwart Russia's water borne assault capabilities along the Black Sea and the Dnieper River. They should also give consideration to bombing Putin's Palace at Gelendzhik on the Black Sea in order to publicize the alleged corruption of Putin and the Oligarchs as one of the reasons that the Russian forces have fared so poorly and why Putin - like Benito Mussolini - is reportedly asking [begging] Xi Jinping for financial and weaponry handouts. Both Putin and Xi deny the reports.
Recap of Part II - Putin's Alleged Palace & Corruption Impact on Russian Military, Morale of Russian Military - Half of Whom are Poor Peasant Conscripts - the Economic & Military Value of the Ukraine to Russia & the Fighting Heritage of the Cossacks
In Part II, a week ago, I talked about how Australian born billionaire, mass media propagandist Rupert Murdoch and dictator Vladimir Putin's tactics share many similarities. They are differentiated in that Rupert Murdoch uses economic muscle and propaganda to get indirect control / influence over the corporations and governments he wants to plunder. While Vladimir Putin also uses economic muscle and propaganda - but enhances it with a Nazi tactic by adding violence and force to the mix - to obtain direct control over the corporations and governments he wants to plunder. All of these tactics were used by the Nazis to gain control - first of Germany and then a significant portion of Europe.
The graphic at right shows Rupert Murdoch and Vladimir Putin during happier times. Eventually Murdoch exited Russian media under duress, likely because Putin realized how Murdoch manipulated his audiences. A Russian Oligarch, Boris Berezovsky, was said to be a Murdoch friend who at one time controlled a lot of Russian media. Berezovsky was believed to have been murdered, but it could not be proven, so the coroner left the verdict open. So why does Murdoch media appear to favor Putin? Fear? Because both have fascist tendencies? Or both?
Then I delved into the importance of the Dnieper River, which flows south from Smolensk in Russia through the Ukraine and into the Black Sea. It's important because currently Russia has limited access to the world waterways via the Baltic Sea which is treacherous for much of the year, and the Black Sea which is a body of water shared by many nations, including many of the former Soviet Republics, including Ukraine.
Conquering Ukraine would give Russia a broader, more defensible / offensible presence on the Black Sea. This is likely of great concern to other Black Sea nations such as Turkey, Bulgaria, Romania, Moldova and Georgia. All but the last two are NATO member nations. And the Ukraine was working toward becoming an eligible member.
I also talked about Putin's $1.4 billion mansion at Gelendzhik, which is a beachside tourist resort in Russia along the Black Sea. Putin denies he built the mansion with public funds, although a number of military observers believe that Putin and the Oligarchs looted the Russian Defense budget, which is why Russia has performed so poorly in this war. Also, about half of the Russians of their 600,000 fighting force were young men conscripted to die for Putin's War in a manner not unlike what happened to the poor Russians during WWI when the Czars sent them to fight for the Czar's throne.
In the graphic at right, an American cartoonist shares a worldwide point of view that Putin is a war criminal.
---
$element(bwcore,article_picker,1483,Y,N,page_title_home,N)$
NYC News Updates, Chinese New Year & Micaiah Carter @ SN37
MTA Ridership & Crime, NYC Vaccination Rates & Some NYS Mask Mandates End & is Biden Doing the Right Thing in Ukraine?
February 22, 2022 / Things To Do NYC / NYC Neighborhoods / Gotham Buzz NYC.
This report is a catch up on some of the key local news items over the past couple of weeks.
MTA Ridership Slowly Inching Back to Pre-Pandemic Levels / Hochul Announces Fare Capping Program / MTA Crime not as Huge as the Corporate Broadcast Media Sensationalizes it
In the photo at right are a number of Chinese American women, who participated in the Chinese New Year Parade celebrating the year of the Tiger in Chinatown in Manhattan, were out to see and be seen last Sunday.
We've been tracking MTA ridership since the pandemic began. The subway ridership plummeted down 90% when the pandemic broke in the Spring of 2020. By the fall of 2020 MTA ridership had risen to a loss of 80%, rising to a loss of 50% - 66% in the Spring of 2021, and then a loss of 35% - 55% in the Fall of 2021. As of this week, the MTA subway ridership losses were in the range of 28% - 43% versus pre-pandemic.
On February 7, 2022, NYS Governor Kathy Hochul announced a new 'Fare Capping Program' whereby passengers would only have to pay for 12 full fare rides in a week [but using the same device / MetroCard] and after which the rides for the rest of the week would be free [Monday - Sunday]. The program begins Monday, February 28th and is expected to run for four months.
The corporate broadcast media seems to sensationalize everything these days in order to ratchet up their ratings, revenue and profit. MTA Ridership during the winter a year ago was about half the pre-pandemic level, and today it's about two thirds the pre-pandemic level meaning it has risen about 50% vs a year ago. According to NYPD Compustat, crime in the subway during the past 28 days is up 33%, so crime isn't rising as fast as ridership.
Nonetheless, crime in the subways is up by about the same percentage versus the pre-pandemic levels, so it's a bigger problem than it was before the pandemic started. It is believed, that the reason for the higher transit crime rate, is that as fewer people rode the rails during the pandemic, the homeless moved in and were able to use the subway as their shelter.
Late last week NYC Mayor Eric Adams and NYS Governor Kathy Hochul announced that the city and the state would collaborate to increase the NYPD presence in the subways to remove and / or assist the homeless from making the MTA their home by offering them an option to leave or an option to get medical, psychiatric and social services help. To that end it was noted that the NYPD upped the deployment of NYPD [about 1,000 officers] into the transit system, focusing - it seems - on the major hubs, and the Governor was working on multi-billion healthcare plans which would include provisions for helping the mentally ill and homeless.
NYC & NYS Vaccination Rates Well Ahead of National Rates
The current NYC vaccination rate is 77%, with another 9% having received at least one dose [86%]. The current NYS vaccination rate is 75%, with another 12% having received at least one dose [87%]. The current U.S. vaccination rate is 65%, with another 12% having received at least one dose [77%].
As a result of the vaccination rates, and with the passing of the Omicron super spreader holiday season, CoVid Omicron new case growth, hospitalizations and deaths have been declining at the NYC, NYS and USA levels.
For New York City the weekly, daily average, test rate of 1.7% for new cases, with only a weekly, daily average new case rate of 707 reported, a weekly, daily average rate of 35 hospitalizations and a weekly, daily average rate of 17 deaths.
For New York State the same weekly, daily average rates are 2% positive new test cases, about 1,750 daily new cases, about 200 daily new hospitalizations and about 35 daily new deaths.
For the United States the same rates are 8% positive new cases [this is a week old number compared to the others herein], about 84,878 new cases, about 8,642 hospitalizations [this is a week old number compared to the others herein] and 1,964 daily deaths.
NYC and NYS are leading the rest of the U.S. in pulling out of the pandemic, as the southern and central states are lagging behind. If you look at a map showing vaccination rates versus a map showing infection rates, you can see that they are inversely related.
Are these maps indicative of the intelligence, or how well informed the people of each state are? Do the smart people live in the states with the higher vaccination rates, or are the people who got infected with CoVid at higher rates [because they didn't get vaccinated], living in states where they have fewer or less reliable information sources, like Fox News? Studies have shown that Fox News enhances people's ignorance of the facts. Look it up.
---
$element(bwcore,article_picker,1480,Y,N,page_title_home,N)$
Honoring the Sacrifice Made by NYPD Officers Mora & Rivera
Mora & Rivera were Policemen, Civilians, Minorities, Immigrant and son of, Husband, Sons, Brothers and Real Heroes
What Can We do to Make Sure they didn't die in Vain?
February 7, 2022 / NYC Neighborhoods / News Analysis & Opinion / Manhattan Buzz NYC.
On Wednesday morning I made my way into Manhattan to observe the funeral of slain NYPD Officer Mora. To be sure, it was a solemn occasion. I got off the subway near 42nd Street and Fifth Avenue. Once above ground, I made my way to Fifth Avenue and 42nd where I came across the largest gathering of police officers I have ever seen in my life [see photo at right].
As I walked up Fifth Avenue, I could hear the eulogies over the loud speakers, echoing in the street. I took a few photos and some video of the gathering which spanned all the way up to 50th Street by St. Patrick's Cathedral. Eventually I had to detour off of Fifth Avenue, make my way down to Sixth Avenue, and then cut back in at 50th Street to get close to the cathedral on Fifth Avenue.
A Communal Gathering of Policemen from the TriState Area and Beyond, at Officer Mora's Funeral at St. Patrick's Cathedral on Wednesday, February 2nd, 2022
As I walked and listened I looked around at all of the policemen gathered in honor of a fellow member of the fraternal order of policemen – not just of New York City but of NYS - and for that matter - the U.S. All of the police men and women were standing, some standing silently listening to the speeches, while others made small talk with each other, between the speeches, about their kids, their families, their jobs, their departments [homicide / detectives / street patrolmen], cars and boats, as well as chatting about which police department or organization they represented.
It reminded me of other funerals I had attended, which it's been said, are for the living – not the dead. Yes, we come to honor the dead, but they have since gone. And it is left to us who are left behind, to make sense of things. It is our job to figure out how to take the lessons their lives and make them work for us, so that they will not have died in vain.
The expansiveness of the showing of support was somewhere between impressive and overwhelming, as I walked silently through this sea of dark blue, which filled over 8 city blocks on a wide avenue - and which spilled well into the cross streets both east and west of the entire eight blocks. There were thousands of police, mostly men with some women, mostly white but also many minorities, who had come to pay their last respects for a member of their ranks who had made the ultimate sacrifice. A sacrifice that all of them know they must be ready to make each day as they don their dark coats to serve and protect the community. Us.
I noticed the badges sewn to their coats, representing Trenton and Teaneck New Jersey, Suffolk and Nassau Counties, New York State, and of course the NYPD, as well as a smattering of policemen from more distant communities. They projected a sense of sadness and courtesy, as I made my way through the crowd. I sensed that they must also have felt some measure of comfort, standing there, side by side with others like themselves, knowing that they are supported by so many others who share their sense of duty, ready to face down danger.
This seemed a bit like a George Floyd like moment for the police in the city and perhaps the nation. These two young officers, were senselessly murdered, while responding to a domestic violence call within a few blocks of the 32nd precinct Harlem police station where the two police officers worked. Shortly after the policemen entered the apartment, the assailant shot them down with a barrage of bullets from a semi-automatic gun which the assailant had stolen in Maryland.
As I came upon St Patrick's Cathedral, surrounded by the police, it seemed like a fortress with its big, thick church doors closed, to keep out the noise and cold air while the mass continued inside. A coterie of media people were on a platform across the street from the front of the cathedral, waiting for the doors to open. The Mayor, Police Commissioner Sewell and Wilbur Mora's brother and sister gave speeches. Karina, Mora's sister, gave her speech in Spanish, as the Moras immigrated here from the Dominican Republic decades ago.
---
Some will Exploit & Distort Crime Stats & Events to Manipulatively Divide Us
They will Seek to Profit from our Divisions, Instead of Helping us to Find Common Ground in an Effort to Fix Things
February 7, 2022 / NYC Neighborhoods / News Analysis & Opinion / Gotham Buzz NYC.
The graphic at right is a Vox headline that asks why the diverging trends in crime vs violent crime.
Australian born billionaire Rupert Murdoch controls about half of our daily national corporate news media, including Fox News, the NY Post, the Wall St Journal and - along with two other Fox News investment funds - controls the largest share of ABC News stock.
For decades now, in English-speaking nations around the world, the propagandists posing as journalists who work for Murdoch, appear to distort the news so that Murdoch's favored politicans will get elected. Once elected, those pols seem to grant Murdoch huge tax breaks, regulatory changes and legislative favors in exchange for his propagandistic support of their candidacies.
The cost to us, the American people [the British and Australians as well] is that many critical issues are never properly addressed by the government officials selected by Murdoch, because his favored pols are generally chosen and supported based on what they will do for the totally self-serving billionaire - not the public. Hence Murdoch pols don't appear to reflect the people's will, but rather are chosen because Murdoch mass media outlets have manipulated the views of enough voters via their distorted daily Murdoch mass media 'news' intake, to enable Murdoch's favored pols to get elected. Nazi propagandist Joseph Goebbels employed these same kind of tactics, on an unsuspecting public, back in the early 1930's, in Germany.
At right is a graphic showing one of Murdoch's mini-Goebbels, pushing a false narrative that is designed to enrich himself and his billionaire boss by demonizing Democrats. The goal seems to use these issues promote false narratives that favor their pliant pols into powerful positions in government so that they can change policies to pump up the billionaire's propaganda profits. One such example is that Florida Governor Ron DeSantis gave ABC / Disney a half billion dollar tax break last summer and thereafter he appeared to have an open mic on Fox News with propagandists like the Tucker shown above.
To Rein in Guns & Violent Crime, We Must First Rein in Murdoch's Fox, WSJ, NY Post & Increasingly ABC News Distortions & Disinformation on the Subject
Reining in the guns used in violent crime in NYC, is one of many such issues that seem to be given Murdoch's special brand of propagandistic 'news' treatment. Murdoch's news outlets' reports appear to pander to gun owners and the NRA [5.5 million members], who are outspoken and generally against gun control. According to a November 13, 2020 report by Gallup, about 32% of Americans own a gun and about 44% live in a household where there is a gun owner. Hence, gun owners represent a fairly sizeable block of Murdoch's mass media audience, and his news reports pander to them, just as the pander to other voting blocks that Murdoch media seek to manipulate.
At right is a map showing which states have the highest homicide rates. Note that the states with the highest homicide mortality rates are governed by the Republicans - the ones who claim they stand for law and order. But what many of the Republicans in these states really seem to stand for, are the special interest groups like the gun-promoting NRA. Urban police forces, which are generally found in Democratically governed cities, are finding that the guns used in the murders in their cities, are coming from the Republican states. Republican governed states have the nation's highest murder rates [see graph above] and most lax guns laws. I don't think it is helpful to policize this issue by demonizing the other side, but given Rupert Murdoch's grip on our national discourse through his ownership, control and influence over half of our daily national corporate media, somebody has got to push back with the truth.
---
$element(bwcore,article_picker,1477,Y,N,page_title_home,N)$
Weekend Things To Do NYC - January 2022
This section contains our Weekend Things To Do reports for the month of January 2022.
---
Do TV Newspeople Tend to Hype Weather to Keep Viewers Inside Watching TV?
Why Would They do that? Maybe because it Generates Higher Ratings, which Increases Revenue & Profits
January 28, 2022 / NYC Neighborhoods / News Analysis & Opinion / Gotham Buzz NYC.
The TV newspeople appear to hype weather systems, to keep viewers inside all weekend, so they'll watch TV, and boost the corporate TV ratings to generate more revenue.
You can see an example of this in the graphic at right which shows a June 13, 2019 Washington Post report where a weatherman was fired by Sinclair Broadcasting, at a Murdoch ABC News station affiliate, because the weatherman wasn't going to use 'Code Red' to hype inclement weather systems, if he didn't think they merited such labeling.
This weekend the weather system coming in this evening is expected to end by about 3 pm Saturday, so while there may be an unknown number of inches of snow on the ground in NYC in January [what a concept], it shouldn't prevent New Yorkers from enjoying at least part of the weekend. But that said, be advised that while the snow should end by 3 pm, the winds die down more slowly, lasting the remainder of Saturday. And these comments apply to activities within NYC [not Long Island nor New Jersey] as public transit may be used in lieu of an auto, and as of this report, the MTA has no plans of shutting down.
The weatherman mentioned in the graphic above, was fired for not distorting the truth, in a manner not unlike what one would expect at a state-controlled media outlet in Russia or China. Hyping weather systems out of proportion, like distorting the proportions of other stories, appears to be one of the Murdoch mass media trademark ploys to deceive / fear monger the viewers in order to win higher rating$$$, take control the national conversation and tip the scales in favor of the pols he favors and against those he does not.
Rupert Murdoch is an Australian born billionaire press lord who controls about half of America's daily national news media including Fox News, the NY Post, the Wall St. Journal and increasingly ABC News where he and two funds control about a quarter of that company's shares.
While Weather Sensationalism is Dishonest Truth Distortion, it's Relatively Harmless vis a vis Most Other News Distortions which can be Dangerous to Democracy
In Australia - where Murdoch has been operating all his life - former Prime Minister Kevin Rudd described, "Murdoch's media empire as a cancer on democracy" because of Murdoch media news omissions and distortions.
And in Britain, a Spring 2012 Parliamentary Report stated that, [Murdoch] "was not a fit person" to exercise stewardship of a major international company] because his company broke the law by tapping British citizens' private phones to get racy stories and the details of their personal tragedies in order to generate higher ratings and sell more newspapers. Murdoch denied he knew anything, blamed his underlings and then reportedly Murdoch's [Fox] Newscorp spent $1.6 BILLION in legal fees and payouts - TO DEFEND THEIR INNOCENCE?
In the graphic at right is a July 28, 2011 Guardian report stating that people working for Murdoch's company were believed to have hacked the phone of Sara Payne to publish her anguish over her daughter's murder at the hands of a pedophile. Murdoch reportedly spent $1.6 billion in settlements and legal fees to extricate the company and its officers from the corruption and scandal. But money can't buy Murdoch out of what Newscorp's actions say about his and his companies' moral compass.
---
Was the Staten Island Ferry Sale a Joke?
Did You Hear the One about a Staten Island Ferry, Two Comedians, an Architect & a Night Club Owner?
Updated January 26 from 1/24/2022 / NYC Neighborhoods / NYC News / Staten Buzz NYC.
Weather. The temperature highs will be within about 5 degrees of 30 throughout the week, except on Tuesday when it will be in the low 40's. The temperature lows will be between 20 and 30 degrees, except on Wednesday, when it will drop to 12 degrees. The winds will be 5 - 10 mph Monday & Tuesday, rising to 10 - 15 mph on Wednesday, before falling back to 5 - 10 mph Thursday & Friday. Humidity will be 50% - 70% on Monday, dropping to 50% - 60% on Tuesday, and then 40% - 50% on Wednesday & Thursday, before rising back to 50% - 70% on Friday. No precipitation is in the forecast until Friday afternoon / evening at which time it looks like we're going to get several or more inches of snow.
As the new year begins to unfold, we encounter a mixed bag of news that has already made it out onto the public stage. Let's start with the purchase of a de-commissioned Staten Island Ferry, the JFK. The photo above right was taken in January 2020, likely near the end of the JFK's life of ferrying passengers to and from Staten Island. You can see the 'JFK' in the upper right corner of the photo below the black circle and with a bit of glare obfuscating part of the 'F'.
They may be Laughing Now, but ...
SNL Comedians Pete Davidson & Colin Jost, Architect Developer & Contractor Ron Castellano and Night Club Owner Paul Italia Buy the JFK Staten Island Ferry Boat
Last week, after several rounds of bidding, a consortium of investors, including SNL Comedians Pete Davidson & Colin Jost; Architect, Developer & Contractor Ron Castellano; and Night Club Owner Paul Italia purchased a 2,100 ton de-commissioned Staten Island ferry boat - the JFK - for $280,100. The purchase prices was only $100 above the next nearest bid, after the price doubled during the bidding process - up from $125,000 - after the starting bid had to be lowered from $250,000 because of a lack of early interest.
At right are Pete Davidson [left] and Colin Jost [right] announcing their new acquisition on SNL's News update. This project is likely to get a fair amount of publicity given the fame of these two owners and Jost's famous wife and Davidson's famous girlfriend.
---
News Updates - De Blasio Announcement & NYC Crime Stats 2021
De Blasio Decides Not to Run for NYS Governor, Hochul's Fundraising Haul, NYC Violent Crime Up Slightly in 2021, but NYC Homicides Still Below the National Average & To Be or Not To Be - do we want to Politicize the Guns / Violent Crime Problem or Solve it?
January 18, 2022 / NYC Neighborhoods / News Analysis & Opinion / Gotham Buzz NYC.
This morning, January 18, 2022, former NYC Mayor Bill de Blasio announced that he will not seek the Governor's office on Twitter.
De Blasio mentioned some of his accomplishments during his eight years as Mayor including Universal Pre-K, building hundreds of thousands affordable housing units, implementing some police reforms at the NYPD to make policing fairer, and efforts to transition NYC to cleaner energy. He didn't say what his future plans were, only that he would be announcing them from his neighborhood in Brooklyn.
Governor Kathy Hochul is well positioned for the NYS Governors race this year. Hochul received the very early endorsement of the NYS Democratic Party Chairman Jay Jacobs in October of 2021, and has raised $21.6 million since she announced her candidacy in August of 2021. It's a record for the five month period, and about the same amount of money that former Governor Andrew Cuomo had to ward off challengers in 2018. NYC Public Advocate Jumaane Williams and 3rd District [Nassau County] Congressman Thomas Suozzi have announced their candidacies. In December of 2021, Attorney General Letitia James withdrew her candidacy, in favor of running for reelection in her current post.
On the Republican side of the race there's former Westchester County Executive Rob Astorino, who is running against newcomer Andrew Giuliani, who's primary claim to fame is that he is the son of Rudy, the former NYC Mayor with the same surname and Lee Zeldin, a Congressman from Long Island.
In fundraising as well as in polling, Hochul seems to have all the advantages at this point in the campaign. Her nearest competitor in polling recently done by Siena would have been de Blasio, who had 12% of the vote versus Hochul's 46%. NYC Public Advocate Jumaane Williams was next with 11% and Suozzi with 6%. The Suozzi campaign has about $5 million in campaign funding, $2 million of which was transferred from his congressional campaign. Republican Astorino has about $1.3 million, and none of the other contestants released their funding.
A number of snide comments were made in the wake of Hochul's record haul and competitive fundraising position for the upcoming June primary. She was compared to Cuomo with allusions to the possibility of corruption, but nothing specific was provided to support those insinuations.
De Blasio's announcement came as I was working on an update report on NYC crime. Unfortunately, the NYPD doesn't publish a December monthly report, like they do every other month, so it's more challenging to do a year end tally. Hence, this report won't be as comprehensive as some of the others I've done the past couple of years, and will instead focus mostly on shootings and the murder rate.
NYC Crime Statistics for 2021
Thefts Down Significantly / Murders Up Slightly & Still Below the National Average / Most Other Crimes up in Low to Mid Single Digits with Some Exceptions ...
The outlier in the year end crime stats, which were up slightly from 2020, was that thefts were down almost 19%. This may have something to do with the fact that fewer people are out and about, so thieves have fewer to prey upon and the victims have fewer distractions and events where thefts may occur.
As for other salient changes in the main categories, Grand Larceny was up about 12% while Grand Larceny Auto was up 14%, Other (than rape) Sex Crimes were up 30%, Misdemeanour Assault was up 10%, and Hate Crimes were up 93%. It's worth noting that only murders and hate crimes are counted in the hundreds - not thousands.
The murders in NYC were up slightly in 2021 versus 2020. Note that the graph at right is for the entire nation and in 2020 - not 2021. The purpose is so that you can have context in evaluating where we are and what's going on.
In 2021 the preliminary murder rate in the U.S. was about 6.6 per 100,000 people [21,750 / 330M], while the murder rate in NYC was 5.5 per 100,000 people [485 / 8.8M]. Prior to the pandemic, in 2018, the murder rate in the U.S. was 4.96 per 100,000 people [WorldPopulationReview.com], and the murder rate in NYC was 289 victims [8.4M population] or 3.4 per 100,000 people, which was the lowest on record. In 2012, during former Mayor Bloomberg's last year as NYC Mayor, the murder rate had fallen to 414 [8.2M] or about 5.0 per 100,000 people.
So with our larger population [8.8M vs 8.2M], NYC experienced a bit higher murder rate in former Mayor de Blasio's last year in office, versus former Mayor Bloomberg's last year in office. And for de Blasio this was in the midst of the pandemic amid record gun sales.
---
$element(bwcore,article_picker,1475,Y,N,page_title_home,N)$
The Great Supply Chain Crisis 2021: Hype vs Reality
TV & Murdoch News Sensationalized the Great Supply Chain Crisis of 2021 - Telling us for Months on End No Pumpkins for Halloween, No Turkeys for Thanksgiving, No Trees for Christmas & No Cream Cheese in NYC
But How Much of that Hyping was a Murdoch Inspired Perspective in Pursuit of Political Profit & Fear Mongering Ratings at the Expense of Reporting What's Really Happening?
January 3, 2022 / NYC Neighborhoods / NYC Things To Do Events / News Analysis & Opinion / Gotham Buzz NYC.
The closer I pay attention to what's happening in our mass media, the more concerned I get. Nearly half of our daily nationally branded news media is controlled by one man, Australian born billionaire Rupert Murdoch - who strikes me as either a sociopath or psychopath. Based on the seven years I've been covering Murdoch, it appears as if he doesn't care about anything other than enriching and empowering himself, even at 90 years of age [his mother lived to 103 so he's likely going to be with us for a while].
What Those Who Know Murdoch Say About Him
In Australia - where Murdoch has been operating all his life - former Prime Minister Kevin Rudd described,
"Murdoch's media empire as a cancer on democracy".
And in Britain, a Parliamentary Report stated that,
[Murdoch] "was not a fit person" to exercise stewardship of a major international company].
Keith Rupert Murdoch, controls the Wall St. Journal, Fox News, the NY Post, Harper Collins Publishing, MarketWatch, Barrons - and along with two of Fox News largest shareholders - Murdoch appears to have a controlling interest in Disney / ABC by virtue of what seems his proximity to their relatively new CEO. Murdoch's influence appears to be manifesting itself in personnel moves being made since he became one of their largest shareholders in March of 2019. The personnel moves are in their news and related programming areas, and ultimately impact what ABC News presents to the public. I just witnessed one of many subtle changes on Sunday, while watching This Week with George Stephanopolous. I'll say more about this at the end of this report.
Fox News Lyin' Laura Ingraham, earned that moniker, as you can see in the image above. Fox News has repeatedly used misleading photos and images to lend deceptive and misleading support to their news accounts, which appear designed to influence the unaware and low information voters, in order to get them to vote for billionaire Murdoch's favored pols and against the very government officials who are trying to help the manipulated victims.
---
New Years Resolutions 2022: The Road Ahead
A Few Axioms To Keep In Mind Throughout The New Year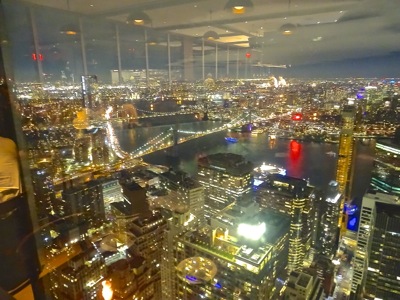 January 1, 2022 / NYC Neighborhoods / NYC Holidays / Gotham Buzz NYC.
For all of us, today starts the beginning of a new year.
If we stay the course with vaccinations, masks, social distancing and hand washing, we should be able to make the transition from pandemic to endemic - at which point things begin to really change to a better normal, but likely not back to a pre-CoVid normal.
A year ago I thought by now we would have mostly normalized, but I had failed to take into consideration the significant resistance to vaccinations by the people who rely upon Rupert Murdoch's overwhelming share of nationally branded daily mass media 'news'.
Rupert Murdoch controls Fox News, the NY Post, the Wall St Journal and he, along with the two largest investment groups owning Fox, control Disney / ABC News. So that's half of U.S. network news and two the largest daily newspapers in the nation. He controls other media outlets as well, like MarketWatch and Barron's and Harper Collins Publishing, but the first four mentioned above are instrumental in shaping Americans' view of things. And the unsuspecting members of Murdoch's audience aren't aware enough, nor paying attention enough, nor educated enough to detect the very sophisticated news manipulations that Murdoch and his minions seem to do every day to sculpt and present the reality they want their viewers to see - which is not reality at all, but a VoldeMurdoch version of it.
Other media outlets and moderate Republicans and pretty much all Democrats need to start calling Murdoch out into the public space so people can see who he is and what he does and what he takes in exchange for it. They need to do it, because regardless of whether they do or not, Murdoch's incessant media attacks will keep coming, so by not addressing him and it, they are only aiding and abetting it, like all those who let Goebbels do the same in Germany in the 1920's, 1930's and 1940's.
The rest of this report is about some of the things you can do personally - not politically - to make 2022 a better year for you.
---
Omicron, CoVid, Omicron, CoVid ... STOP
NYC News Update With as little CoVid Omicron Specific Info as Possible
This Report includes the Over Hyped 'Supply Chain Xmas Tree Shortage', Broadway Show Cancellations & Postponements & Economic Impact, MTA Subway Trains & Airline Flights Cancellations due to Staffing Outages, the Tug of War between Office Workers & their Companies, JFK getting New Terminals & Staten Island getting New Ferries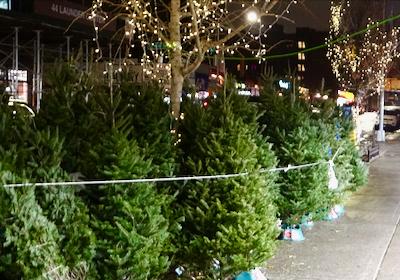 December 27, 2021 / NYC Neighborhoods / NYC Things To Do Events / News Analysis & Opinion / Gotham Buzz NYC.
Weather. Temperature highs are between 40 and 50 degrees each day, and the lows are about 40 each day. Humidity will be between 60% - 80% all week. And the wind will be fairly steady at 5 - 10 mph daily. There's a chance of showers around 8 pm tonight and a chance of a tenth inch of rain on each day - Tuesday, Wednesday and Thursday. Given the low amount of precipitation and that it's spread out over the entire day, each day, I'd say your chances of getting very wet are pretty slim.
CoVid, CoVid, CoVid ... How We Moved Beyond it as a Conversation Centerpiece at an Xmas Party
So I attended a Christmas party a couple of weekends ago, and at one point someone asked is there anything else to talk about besides CoVid? This was near the end of the party, so there were only about a dozen of us there. So, someone asked, how about those Nets? And of course, Kylie Irving soon came up, and his anti-vax stance on CoVid, and that the Nets had to postpone a number of games because of ... CoVid.
Someone else asked, whose traveling for the holidays? As you can imagine, it wasn't long before CoVid came up and how it was going to affect everyones' holiday travel plans. Another asked, whether people were going to see their kids over the holidays. And of course, the discussion about vaccinations, testing and masks ensued. And then someone asked about gifts being given this season, and eventually the impact of CoVid on shipping and supply chain ensued. How about going out to dinner ... and so forth.
Actually, it turned out to be kind of funny, in an ironic sort of way, as the pandemic was still touching most parts of people's lives.
But the good news is that we eventually did move on past CoVid. Onto what? Well that's personal and thus not going to be shared here publicly, but we did eventually make it past the CoVid goal line ... but it wasn't as easy as one would think it should have been.
So the rest of this report is going to be about other things affecting our life, but recognizing that the pandemic and our community health affects just about everything else.
How Real was the TV News Hyped Supply Chain & Xmas Tree Shortage?
Retail Sales Hit a Level Not seen in 17 Years in Spite of "No Supply"?
How is it that network TV news, still a primary source of information in this nation - and the only source by many of the uneducated - can get a story so wrong?
For months they've been hyping the SUPPLY CHAIN SHORTAGE, SUPPLY CHAIN SHORTAGE, SUPPLY CHAIN SHORTAGE. I've seen little on TV news saying anything else to the contrary, and yet somehow, retailers magically had the best holiday sales season in 17 years, with department store sales up 21% [that's huge] and online sales up 8% [also very solid performance].
Did retailers MAGICALLY turn in their best performance in 17 years without any inventory? Come on.
People need to start questioning the information they get on TV, because too often, it's so distorted in order to generate an emotional or fearful response that's good for ratings and profit - but not in the public interest.
A December 26, 2021 report in Politico provided the following update on retail sales,
"... By category, clothing rose 47%, jewelry 32%, electronics 16%. Online sales were up 11% from a year ago and 61% from 2019. Department stores registered a 21% increase over 2020 ..."
---
$element(bwcore,article_picker,1472,Y,N,page_title_home,N)$
Omicron Sweeps NYC & the Rest of the U.S.
NYS Hit its Highest Number of New Cases Friday 12.17.21, Omicron Now Dominant Strain in America [73%], Breakthrough Infections & Need for Boosters, Multiple Measures of Vaccine Effectiveness, NYS Governor Hochul Foreshadows Change to Definition of Fully Vaccinated Likely Coming Soon, NYC Mayor de Blasio Offers $100 to those who Boost Before Year End, False Positives Coming from Some Testing Kits, Hospitalizations Trending Toward Younger Age Groups & Kids Getting Infected at Higher Rates
It's Not the Omicron Virus that is Dividing Us. It's the Manipulative Murdoch Mass Media, that Continually Misinforms its Audiences. The Highly Paid Propagandists do This in Order Enrich Themselves & Empower the 90 Year Old Multi-Billionaire by Undermining the Government Officials who Won't Give Rupert what he wants out of the Public Purse & Domain
December 20, 2021 / NYC Neighborhoods / NYC Things To Do Events / News Analysis & Opinion / Gotham Buzz NYC.
So the Omicron variant represents the third wave of Corona Virus sweeping the land. First it was the original CoVid 19, then the Delta variant and now Omicron.
The Omicon variant spreads far more easily and hence far faster than the prior two variants, which spread around the globe in a matter of months. Omicron is beating them hands down in terms of spreading, even in nations that have some good measure of vaccinations - but nowhere near the two thirds plus needed for 'herd immunity'. Reportedly, the Omicron is spreading 2x to 4x faster than the Delta variant which reportedly spread faster [by about 50%] than the original strain of CoVid. As of the last week of testing, Omicron represents 73% of all new cases in the U.S.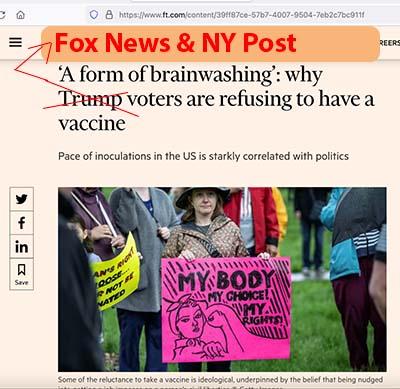 In the graphic at right you see a headline from FT, which is the Financial Times of London, noting how something that should be common sense has become a political hot potato. At the end of this update on the Omicron variant, we'll take a look at how science and the truth are being distorted by millionaires and billionaire(s) in what appears an attempt to manipulate voters perceptions. The goal is to change the perceptions of their viewers enough, so their viewers will vote for the candidates chosen by the propaganda billionaire and his friends. The end game is, of course, getting the billionaire / propaganda machine selected pols into office, so they can fill their pockets with the taxpayers' money, and obtain legislative changes that are anti-democratic.
Oftentimes reports like that found in the Financial Times fail miserably to call out media mogul Rupert Murdoch, who controls an overwhelming share of the daily national news media in the U.S., Britain and Australia. For my money, Murdoch [not Trump] is the root cause of so many of our current problems by virtue of the disinformation he spreads, which is inserted into many of the news reports that his organizations deliver to well over a hundred million people each day. Murdoch hides behind his media brands, propagandists and favored pols, while the other media and government officials seem either: 1) ignorant of his incredible influence on our daily news, and thus a huge swath of American people's views, or 2) are unwilling to do the right thing and call Murdoch out into the open so the public can get a closer look at who's dominating the national conversation.
The last point made is an important one for the Smartmatic and Dominion Voting Systems lawsuits [more on this below]. My advice to their attorneys, is to hire a great public relations firm to publicize the hell out of each case, making damned sure to include Keith Rupert Murdoch in EVERY news release / update as the slithery Murdoch - like Voldemort in Harry Potter - doesn't like the light of day. And then ride the case to the end, because you're in the right, and what you're fighting for is - in part - the heart and soul of America.
NYS Sees its Highest Number of Daily New CoVid Cases Since Pandemic Began
In NYC New Infections Double in 3 Days & in the U.S. Omicron is now 73% of New Cases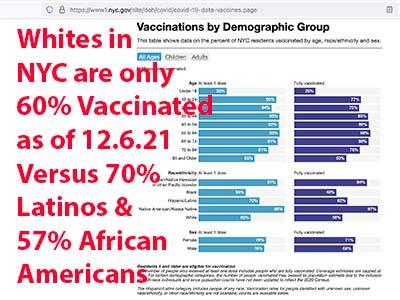 A testament to the Omicron variants transmissibility is that on Friday, December 17, 2021 NYS saw its highest number of new CoVid cases [21,027] in a single day since the pandemic began according to an New York Times report. In NYC the infection rate nearly doubled in just three days, rising from 3.9% to 7.8% from Thursday, December 9 to December 12, 2021 according to a December 16, 2021 NBC report.
I checked the NYC website a couple of weeks ago and found the chart at right, which - to my surprise - showed Whites as the second slowest group to vaccinate. Hispanics were a full ten percentage points ahead of them, and African Americans were only three percentage points behind them. I interpret this as the power of Murdoch's media in NYC as he owns / controls Fox News on WNYW [channel 5], WWOR [channel 9], the NY Post, and the Wall Street Journal.
---
2ND HALF DECEMBER WEEKEND THINGS TO DO NYC
This section contains our Weekend Things To Do reports for the second half of the month of December 2021. Click into this link to see second half of December 2021 weekend reports.
---
CoVid Update – Omicron Variant, Vax Updates, Vax Boosters, Vax Kids & Manipulative NYC Based Disinformation Sources
December 6, 2021 / NYC Neighborhoods / NYC Social Issues Health News / News Analysis & Opinion / Gotham Buzz NYC.
The first Omicron virus case was first detected on November 8, 2021 in South Africa. The first case detected in the U.S. was in San Francisco on November 22, 2021. Four days later, on November 26, 2021, the World Health Organization [WHO] designated Omicron a CoVid variant [B1.1.529]. As of December 5, 2021 there were eight Omicron cases in NYS, most of which were found in NYC.
Early Precautions in the Face of Omicron's Rapid Spread
On November 26, 2021, President Biden instituted a temporary travel ban on South Africa and neighboring countries including, Botswana, Eswatini, Lesotho, Mozambique, Namibia and Zimbabwe. He also shortened the CoVid testing time from three to one days, for those traveling internationally. The passenger must test negative for CoVid. And he extended the mask mandate for those using public transit domestically to March 15, 2021.
The reason for taking these early immediate precautions is that the Omicron variant appears to be spreading at twice the rate of the Delta variant, which overwhelmed this nation within about 3 - 4 months [May - August 2021].
The Omicron variant was also detected in Belgium, Hong Kong, Canada, Australia and Israel at the time the news broke regarding the rapid spread of the new variant at the beginning of the Thanksgiving holiday. As of this writing the Omicron variant has been found in 15 states including, California, Colorado, Connecticut, Hawaii, Maryland, Massachusetts, Minnesota, Missouri, Nebraska, New Jersey, New York, Pennsylvania, Utah, Washington and Wisconsin, according to a Reuters tally on December 5, 2021.
Vaccine Efficacy vis a vis Omicron Variant
The Omicron variant is known to be more transmissible, but it's health impact is still being studied. Most of those who contracted the Omicron variant had been vaccinated, and hence it is believed that most suffered fairly mild symptoms because they had CoVid antibodies in their systems. By the end of this week [12/10/21] or sometime the following week, early test results on vaccine efficacy vis a vis Omicron are expected.
One health official noted that efficacy isn't measured as a simple yes or no, but rather in degrees. The strongest efficacy prevents one from catching the virus, the medium measure of efficacy is how troublesome the symptoms - ranging from mild to hospitalization, and the weakest efficacy – meaning no efficacy is death.
CoVid prognosticators believe that the current vaccines will continue to offer some measure of protection / efficacy, but they caution that at some point it may be necessary to create a separate vaccine for new CoVid variants.
---
$element(bwcore,article_picker,1473-1517,Y,N,page_title_home,N)$
---
$element(bwcore,article_picker,1468,Y,N,page_title_home,N)$
---
Eric Adams Wins in Landslide Defeating Sliwa by More than 2:1
Republican Voter Turnout Was Strong on Long Island, but not in NYC
November 3, 2021 / NYC Neighborhoods / NYC Politics & Government / News Analysis & Opinion / Gotham Buzz NYC.
Moderate Democrat Eric Adams sailed to victory Tuesday to become NYC's second African American Mayor. Democrat David Dinkins was the first. With 78% of the precincts reporting Adams won 676,481 votes to Sliwa's 293,127.
Democrat Jumaane Williams was re-elected Public Advocate, garnering 598,810 votes which was nearly 69% of the total, with 93% of the scanners reporting.
Progressive Democrat Brad Lander won the NYC Comptroller position, winning 604,000 of the votes, or 70% of the vote with 93% of the scanners counted.
And Democrat Alvin Bragg won the Manhattan District Attorney office, garnering 183,000 votes or 83% of the total.
Four of the five Borough Presidencies were won by Democrats. In Manhattan Mark Levine handily won the borough presidency with 181,000 votes or 85% of the total, with 93% of scanners counted. In Queens Donovan Richards handily won re-election, winning 160,000 votes or 66% of the total, with 79% of the precincts reporting. In Brooklyn Antonio Reynoso also won handily, winning 217,000 votes or 73% of the total, with 78% of the precincts reporting. In the Bronx Vanessa Gibson took in 80,000 votes which was 80% of the total, with 72% of the precincts reporting.
And on Staten Island, the only Republican to win a Borough Presidency, Vito Fossella, won 60,000 votes or 60% of the total, with 87% of the precincts reporting.
---
NYC News Round Up Late October 2021
CoVid Vaccination Rates NYC, NYS & USA, Supply Chain Backlog Should Begin Easing Soon, NYC Cultural Institutions are Back in the Business of Welcoming World Travelers, Early Voting has Begun, Sliwa vs Adams, and Will One ill-considered 10 Second Comment Sink a Very Competent Governor Phil Murphy?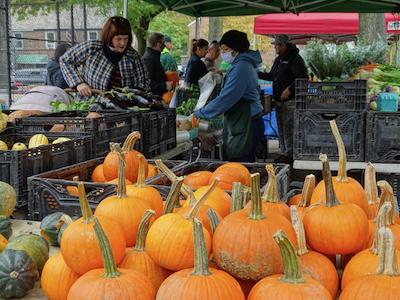 October 25, 2021 / NYC Neighborhoods / NYC Things To Do Events / News Analysis & Opinion / Gotham Buzz NYC.
Weather. The temperature highs will range from about 60, while the lows will range from about 50 throughout the week. Winds will range from 10 - 15 mph Monday and Tuesday, rising to 10 - 20 mph Wednesday, before dropping back to about 10 mph on Thursday and rising again to about 15 mph on Friday. A heavy rain will fall Monday night and most of Tuesday [total 3.5 inches], fading away in Tuesday night. Wednesday and Thursday will be cloudy, but dry. And then another inch of rain returns Friday, decreasing throughout the day Saturday.
The photo at right was taken at the Sunnyside Queens farmers market on Saturday. Fresh air, fresh food produced by local farmers and the opportunity to make some fresh friends in the community. How's that for a recipe to cure those CoVid pandemic blues?
The following is a bit of a news round up the past couple of weeks, and a small look into what's coming.
Why is it Necessary to Legislate Common Sense? Because Rupert Murdoch Controls Far too Much of America's Media.
Mayor de Blasio has issued an Executive Order mandating most NYC municipal employees must have received at least one dose of the CoVid vaccination by November 1st. As of an October 20, 2021 Newsweek report, about 69% of the NYPD were vaccinated, and an ABC News report on the same day said that about 60% of the FDNY has been vaccinated.
It's so sad that here we are in what should be the 'Information Age', and yet because of the dominant share of daily national news media controlled by Australian born billionaire, Rupert Murdoch, we are instead living in the Age of Disinformation. Make no mistake about it - Rupert Murdoch's mass media propaganda outlets [Fox, WSJ, NY Post, Harper Collins Books & ABC News] are at least - if not more - dangerous than anything that happens on Facebook.
Nationally 58% of the population has been fully vaccinated and about 67% has received at least one dose. In both NYC and NYS 66% have been fully vaccinated, while 73% have received at least one dose. Neanderthal Governor Greg Abbott's Texas by contrast, has 53% fully vaccinated and 61% have received at least one dose. When I look at the vaccination rates state by state in the U.S. I see two things - one is what is essentially a state by state comparative I.Q. test and the other is a state by state prevalence of Fox News TV stations. The two generally go hand in hand. The lower the I.Q., the higher the prevalence of Fox News. I could be wrong, but based on studies done in the past, I don't think so.
---
---
NYC & NYS Continue to Have Lower Murder Rates Than the Rest of the Nation
The Past Couple of Months, NYC Murders have been Below 2019 Levels, and NYC Shootings are Down Double Digits versus 2020, While Gun Arrests Have Doubled vs 2020
August 31, 2021 / NYC Neighborhoods / NYC Crime & Law Enforcement / News Analysis & Opinion / Gotham Buzz NYC.
This is news you're not likely to find in Australian born billionaire Rupert Murdoch's NY Post, Wall St. Journal nor Fox News because it doesn't fit with Murdoch's self-enriching, propagandistic narratives of blaming Democrats for the increase in violent / gun crimes. He appears to use such narratives to get the politicians who will give him tax breaks, and allow him to continue deregulating his industries, so he can make ever more money at the expense of American Democracy.
The NYPD has been working hard to rein in the out-of-control sales and trafficking of guns in the nation, because of the absence of an intelligent debate on national gun control legislation to combat the growing gun violence, and in particular the mass shootings, that started rising again during the Trump Administration and continued rising in the wake of the CoVid pandemic.
Year To Date Murders in NYC are Below the National Average & Have Begun Falling Versus 2020
So we're going to take a look at a number of the NYC crime statistics, and then follow up with an analytical look at some of the issues driving gun related violence, before closing with a look at the distorted, deceitful and destructive coverage provided by Murdoch's Fox News & Propaganda.
As you can see by the chart at right, with the exception of GLA or Grand Larceny Auto and YTD / Year To Date Shootings, all NYC crime is either in the single digits or down, versus last year. It's important to note however, that in July shootings dropped by 35% versus prior year [up 17% YTD], while gun arrests were up 134% versus the prior year [up 68% YTD], so the NYPD continues to make good progress in this regard. And murders were down 49% in July versus prior year and down 10% year to date.
The chart at right shows the NYPD Crime statistics for the month of July 2021 and Year To Date 2021. I have also included comparisons to 2019 as 2020 was an unusual year all the way around - including for NYC crime.
The Iron Pipeline - Interstate 95 - is used to Transport Guns from Primarily Red Republican States with Lax Gun Laws
The graphic at right shows what is called the 'Iron Pipeline' which is Interestate 95 which runs from New York to Florida. This interestate highway is used to transport guns / weapons across state lines from mostly red Republican controlled states with lax gun control laws to blue states that have passed stronger gun control laws.
Once the guns arrive here, they are illegally sold and are the root of the gun violence and murder problem in New York City and New York State. Thankfully, Mayor de Blasio, Commissioner Shea and the NYPD are on top of things, and have been working hard to rein in the problem, even in the absense of national legislative help.
I think President Biden should look into the possibility of using federal powers regulating interstate commerce, to curtail the transport and sale of guns into states that have tighter regulatory frameworks surrounding the sale of murder weapons. And perhaps the district attorneys in our city and state should consider naming the people who sell these guns, as accessories or even accomplices, to the crimes committed with them.
---
Next Gen & CoVid - Still the Talk of the Town
This Report Provides an Update on Why the Downward Trend in CoVid Infections Swung Back Up, the Science Behind the Vaccine Breakthrough Infections, the Lamda & Delta Variants, the Precautionary Wisdom of Continuing to Wear Masks & the Impact of Murdoch Controlled News Outlets Continuous Stream of Mass Media Disinformation
Is it the Patriotic Duty of Every Eligible American to Get Vaccinated?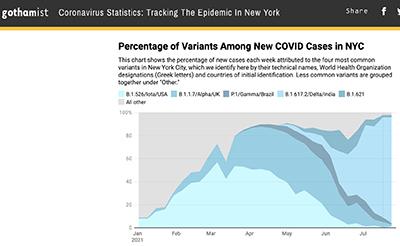 August 9, 2021 / NYC Neighborhoods / NYC during the CoVid Pandemic / News Analysis & Opinion / Gotham Buzz NYC.
I reckon we all wish it weren't so, but CoVid 19 has been resurging with a vengeance these past couple of months, fueled largely by the Delta variant, which at the beginning of May 2021, accounted for less than 10% of U.S. new cases, while today it accounts for more than 90% of all new U.S. CoVid infections. What's most disturbing about this new trend is that even fully vaccinated people can catch the Delta variant, which was largely NOT the case with the original strain [alpha] of CoVid. The infections that are picked up by fully vaccinated people are called 'breakthrough' infections, because they have broken through the immunity protection provided by the vaccines.
In the graphic at right, note the large light blue at the right of the graphic, which denoted the Delta variant of CoVid which grew from almost nothing in May, to almost every new CoVid case in the U.S. in August.
The Delta Variant has Changed So Significantly, Hence the New CoVid Reign of Terror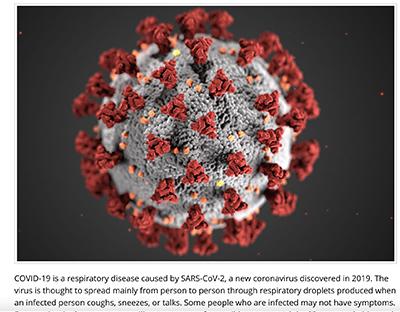 I found a chart that I found of great interest in an August 5, 2021 story in the Gothamist, which was acquired by NPR in 2018. The chart shows how the original CoVid is almost non-existent in the U.S. today, while the Delta variant has risen to represent over 90% of all new cases.
The vaccines were developed to address the original CoVid stain, as the Delta variant - as noted above - didn't become a real factor until about May of this year. Thus, the vaccines efficacy in preventing CoVid has been significantly reduced, but thankfully the vaccines are still very effective in preventing the worst possible outcomes which are hospitalizations and death.
---
The Trouble, Fear, Pain & Relief of My First CoVid Vaccination
As More New Yorkers are Vaccinated, the Pressure Grows on Those Who've Not Yet Received a Shot, Also the Role of Limiting Eligibility in Effecting a Smoothe Transition & Effective Tuesday 3/23/21 Folks Aged 50 plus Become Eligible for the CoVid Vaccination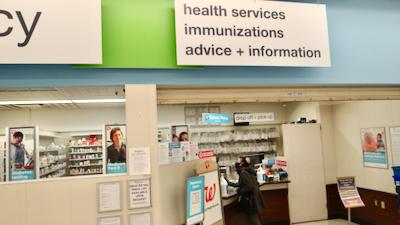 March 22, 2021 / NYC Neighborhoods / NYC Corona Virus / Gotham Buzz NYC.
So I've been putting off getting a CoVid vaccination ever since I became eligible earlier this year. At first I held off was because there were intermittent shortages of the vaccine, then rumors of long lines to get them, and finally I had to wrestle through the various websites offering a shot, at a time and place that 'easily' worked for me.
Finding a Vaccination Center Near You in NYC
But this past week I hit the proverbial CoVid vaccine jackpot, after spending what was probably a couple of hours online trying to navigate my way to an appointment. One of the issues are the numerous websites out there, offering vaccines. There's both NYC and NYS vaccinations centers and I waded through each looking for specific locations, specific vaccinations [J&J, Pfizer & Moderna] and specific times.
Let me make it simple for you, as I oftentimes ended up on this site.
https://vaccinefinder.nyc.gov
---
$element(adman,groupad,Sectional2 Ad)$
---
---
$element(bwcore,article_picker,1466,Y,N,page_title_home,N)$
$element(bwcore,article_picker,1486,Y,N,page_title_home,N)$
$element(bwcore,article_picker,1483,Y,N,page_title_home,N)$
$element(bwcore,article_picker,1477,Y,N,page_title_home,N)$
QUEEN ITALIAN RST
$element(bwcore,article_picker,1509,Y,N,page_title_home,N)$
---
---
Brooklyn Farmers Markets & Street Fairs
This Year's Season Winding Down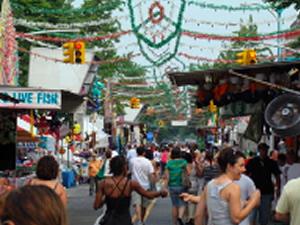 November 8, 2021 / Brooklyn Farmers Markets / Brooklyn Street Fairs / Brooklyn Blvd NYC.
A few Brooklyn farmers markets may be open year round, but most of them are seasonal. Some of the seasonal Brooklyn farmers markets usually begin opening in May, with the rest of them opening in June or no later than the first couple of weeks in July. The Brooklyn farmers markets begin winding down, some as early as September, a few in October and by the end of November all but the full year farmers markets have closed. Click here to view the schedules of many of the farmers markets in Brooklyn.
Brooklyn street fairs generally begin opening in April, although a rare one or two open as early as March. They run through the summer and generally close in the October / November time frame. The number of Brooklyn street fairs rise during the late spring and continues through the dog days of summer [July / August], including into the late part of the Fall. By late October / the end of November the Brooklyn street fairs go on hiatus. Click here to view a full schedule of the Brooklyn street fairs. 2019.
---
$element(bwcore,article_picker,1454-1453,Y,N,page_title_home,N)$
Click here for Brooklyn tile stores. Brooklyn Blvd
---
---
Economic Snapshot NYC & US
In spite of Non-Vaxers' Negative Impact on the Recovery, Generally the Economy Appear to be Steadily Improving
September 21, 2021 / NYC Neighborhoods / NYC Business & Economy / News Analysis & Opinion / Gotham Buzz NYC.
It's been a while since I have done an economic update, and as we head into the Fall, it seems a good time to look through the tea leaves to figure out where we are and what risks lie ahead between now and the New Year.
The graph at right, created by the Federal Reserve Bank of St. Louis, shows employment in the U.S. from 1940 to date. To the far right of the graph, you can see the huge dip in employment in the Spring of 2020, as the pandemic hit. Since then U.S. employment has recovered, but not yet completely.
Unemployment Back to Normal Levels & Stimulus Winding Down
Unemployment continues to decline, and the unemployment rate reflects a growing economy and a tight labor market. One debated theory about the tight labor market, is that it was fueled in part by some of the generous government spending programs, designed to cushion folks from the pandemic, which some believed kept workers out of the employment market. As of this posting, we've not seen any good study that proves or disproves that hypothesis. So for now, I recommend you consider that hearsay, at least until you or I find one or more reliable studies that proves or disproves that hypothesis.
In any event, a good measure of both the federal and states stimulus programs have begun to wind down. Beginning in late Spring / early Summer, both states and the federal government began reducing or withdrawing the funding for extra [federal] and extended [states] unemployment benefits.
---
NYC Landlord Harassments Continue
NYCCM Helen Rosenthal Hosts Housing Clinic to Inform Renters of Their Rights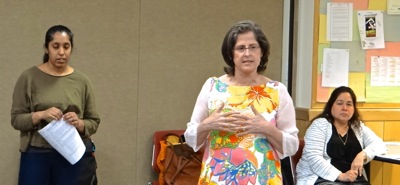 May 29, 2018 / Upper West Side Neighborhood / Manhattan Real Estate / Manhattan Neighborhoods / Brooklyn Blvd NYC.
On Wednesday, May 25th I went to the Goddard Riverside Community Center on Columbus Avenue at 88th Street to attend a housing clinic designed to inform renters of their rights.
***The following introduction is based on prior research done by me, and was not information provided at the housing clinic. I'll let you know when I segue out of my preamble and into the housing clinic.***
Over the past decade landlords appear to have become increasingly aggressive in trying to wriggle out of NYC and NYS rent stabilization regulations, that govern the rental payments under which about two million New Yorkers live.
It is my understanding that the government contributed land and / or financing to build or repair the buildings governed by NYC / NYS rent stabilization laws in exchange for the pricing rights on rent stabilized units. Many of the new landlords who have acquired rent stablized buildings, may possibly be in violation of approaching their business contract(s) in good faith, as the definition of good faith according to Wikipedia is:
"In contract law, the implied covenant of good faith and fair dealing is a general presumption that the parties to a contract will deal with each other honestly, fairly, and in good faith, so as to not destroy the right of the other party or parties to receive the benefits of the contract. It is implied in every contract in order to reinforce the express covenants or promises of the contract. A lawsuit (or a cause of action) based upon the breach of the covenant may arise when one party to the contract attempts to claim the benefit of a technical excuse for breaching the contract, or when he or she uses specific contractual terms in isolation in order to refuse to perform his or her contractual obligations, despite the general circumstances and understandings between the parties. When a court or triar or fact interprets a contract, there is always an "implied covenant of good faith and fair dealing" in every written agreement."
What is at stake, throughout the city, is literally hundreds of millions and more likely billions of dollars in - rental benefits or rental income streams - depending on which side of the struggle you're on. The landlords appear to be trying - using the torturtous side effects of construction including noise, health risk dust [inhalation], privacy loss and apartment functional loss - to wrest away the billions of dollars of rental pricing rights benefits from tenants to be pocketed by the landlords themselves. Given the high dollar value of what's at stake - including people's homes - this seems like attempted grand larceny, especially in cases where landlords are breaking the law to achieve their goals.
This will be continued at a later date. Including the segue into the information provided by the Housing Clinic to inform tenants of their rights.
Tenants' Rights March & Rally - June 14th Midtown at 4.30 pm
P.S. There's a March & Rally scheduled for June 14th, beginning at 4.30 pm, at the NY Public Library at 5th Avenue and 40th Street. They plan to march to Governor Cuomo's office at 3rd Avenue and East 41st Street. For details contact info@realrentreform.org or call 212.979.6958. All but one of the No IDC NY senatorial candidates have been invited to participate, and there's a possibility that NYS gubernatorial candidate Cynthia Nixon will be there too - as this seems to coincide with her reasons for challenging Governor Cuomo.
---
NY Real Estate Expo
NYC Professionals Discuss Manhattan & NYC Metro Real Estate
April 23, 2018 / NYC Neighborhoods / Manhattan Real Estate NYC / Brooklyn Blvd NYC.
I attended the 10th annual NY Real Estate Expo at the New York Hilton last week. The event was well attended by hundreds of real estate, development and financial professionals from the NYC and metro area. Anthony Kazazis, Director of the event, had organized a series of panels to discuss key aspects affecting the real estate market ranging from software platforms, to financing, to NYC real estate market assessments.
Generally the mood was upbeat, but not without some concern about the future, given changes in the tax laws, foreign interest in NYC investment, interest rates forecasts and technological challenges facing the industry. But, I thought, that is why everyone is here. To find out what's going on so they can navigate the market changes - rather than be surprised by them.
While I had intended to stay only a short while, I found the topics and panelists too interesting to leave, so I stayed most of the day. I started with a discussion of a new information technology platform called Blockchain, which is intended to serve as an information clearing house, and it includes some artificial intelligence capability. I then found my way into a discussion about New York City versus Silicon Valley with respect to attracting large technology companies like Amazon, Facebook and Google. And I ended my visit after listening in on a discussion by NYC and metro area realtors discuss the residential real estate market in Manhattan and outer boroughs.
Sound like an interesting NYC real estate conference? It was. In the photo above you can see the audience at the well attended panel discussions at the NY Real Estate Expo this year.
I'll have more on this later in the week.
---
---
$element(bwcore,article_picker,1490,Y,N,page_title_home,N)$
$element(bwcore,article_picker,1489,Y,N,page_title_home,N)$
$element(bwcore,article_picker,1513-1510,Y,N,page_title_home,N)$
$element(bwcore,article_picker,1480,Y,N,page_title_home,N)$
$element(bwcore,article_picker,1475,Y,N,page_title_home,N)$
---
---
911 / The War in Afghanistan is Over - but the War on the Truth that put us there - Continues
TV News People Provided Superficial, Dimwitted, Gossipy Accounts of the Withdrawal, & Unfortunately, Far too many of the Print Reports Weren't Much Better
September 7, 2021 / Fox News Fakes the News / U.S. Politics / News Analysis & Opinion / Gotham Buzz.
Somehow amidst the din of Murdoch mass media hyped criticism, the real headline was buried.
"The War is Over. The Twenty Year War in Afghanistan is Over. "
This was one of two Murdoch Wars - So his Outlets Seemed to Disminish or Ignore the Human & Taxpayer Costs - Over 170,000 Human Lives & Over $2 Trillion and Counting - and so did the Knuckleheads at the Other News Outlets
Where are the parades? Where are the celebrations? Where are the Congressional and Senate committees and hearings to investigate how we got into the Afghanistan war in the first place? And then why we stayed so long? Who incited this war and then profited from the $2 trillion in spending that the U.S. taxpayer took out loans to pay?
About 2,461 American soldiers died in the Afghanistan War. According to an August 17, 2021 report by the Associated Press, another 3846 American contractors lost their lives, as well as 72 journalists. The Afghanis suffered significant fatalities as well, as 66,000 Afghani military and police died, 47,000 Afghani civilians and 51,000 Taliban fighters.
TV News Provided Scant Real Insight, Information or Understanding Surrounding America's Withdrawal from Afghanistand to the Viewer
In the reporting over the past month or so I DID NOT SEE EVEN ONE REFERENCE TO THE RUSSIAN WITHDRAWAL from Afghanistan in the 1980's. NOT ONE! Why does that matter?
Because if you're going to evaluate how effective the U.S. withdrawal from Afghanistan was, you MUST look at prior history, and the Russian withdrawal is the closest, realistic assessment of what the costs of withdrawal from Afghanistan could, would or should be. I watched with something bordering between disgust and horror, as the gutted out nationally branded TV 'news' organizations 'informed' the American people as to what was happening as the American withdrawal from Afghanistan took place before our eyes in real time.
I. The Pied Piper Framed a Dishonest & Negative Narrative about President Biden's Handling of the Withdrawal via his WSJ, then Echoed it with the Nearly Half of the Nationally Branded U.S. Daily Media he Controls, which the Lazy and / or Incompetent Competition then Parrotted
Australian born billionaire, Rupert Murdoch - as is too often the case - led the rest of the mindless mass media, like the Pied Piper. On August 15, 2021, the Wall St. Journal published an OpEd by the 'Editorial Board'. The 'Editorial Board' appears to be the pen name of billionaire Rupert Murdoch who owns and controls the paper. The 'Editorial Board' said published the narrative that Biden was incompetent and had messed things up, with scant reference to history or a holistic presentation of the facts.
Ever since that narrative was published, it has been used by many of the rest of the mass media, to contextualize or frame presentations made by the corporate press in discussing the American withdrawal from Afghanistan. Not everyone in the mass media was so incompetent or so lazy that they used the mendacious Murdoch's narrative – thankfully. But eyeballing things, I'd estimate that more than half of them did. I suppose the good news is that there are still a few real, independent-minded journalists operating in our midst.
Murdoch used his Wall St. Journal brand to lead the narrative, because it has a history as a respected publication. Even though respect for the brand seems to have been diminishing ever since Murdoch's took control of the paper in August of 2007. After the announcement many of the real journalists who could leave, did. Barron's was included in the acquisition and remains a Murdoch brand today.
---
A Look Back at the NYC Municipal Primary Election Results of 2021
Females Won Big, But Because of Ranked Choice Voting, the Results Trickled in Over the Past Month, & Real Assessments of the Changed Landscape have yet to Follow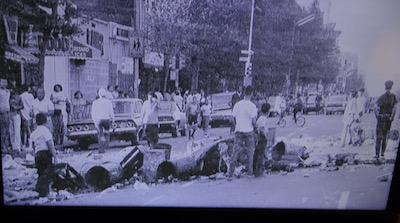 August 3, 2021 / NYC Neighborhoods / NYC Government & Politics / News Analysis & Opinion / Gotham Buzz NYC.
The June 22nd election primary for NYC municipal offices has long passed, but a solid look at the overall results of the election has not yet followed. What I will attempt to do today, is to offer provide a top down summary of the results, along with some interpretation of what this means going forward.
Women Won Big in the New York City Council Democratic Primaries
One of the biggest changes to municipal government likely to occur following the November election is that the NYC Council will move from less than a third women, to over half women for the first time in NYC history. This assumes most or all of the Democrats win their seats in the general election. This usually happens in a heavily blue state like New York, just as Republican primary winners in Alabama become the likely winners of the general election in that heavily red state. Somewhere between 29 and 31 of the Democratic primary winners in the NYC Council races were women out of a 51 member municipal legislative body.
---
NYC Mayoral Race - Kathryn Garcia
Garcia has Emerged as One of the Two Leading Females, with Momentum in an Evolving & Very Undecided NYC Mayoral Race
May 24, 2021 / NYC Neighborhoods /NYC Politics / News Analysis & Opinion / Gotham Buzz NYC.
Weather. The temperature highs will rise into the mid 70's on Tuesday, mid to high 80's on Wednesday and Thursday, and then drop into the 60's for the Memorial Day Weekend. The temperature lows will be in the mid 60's on Tuesday and Wednesday, dropping into the mid to high 50's the rest of the week, including the Memorial Day Weekend. There's a 50% chance of about a third of an inch of rain Wednesday and 65% chance of about three quarters of an inch of rain on Friday, but otherwise it should be clear sailing ahead for the entire week and weekend. Humidity is 50% - 70% on Tuesday and Wednesday, falling into the mid 40% range on Thursday, and climbing back to the 70% range on Friday. Humidity will be in the 40% - 50% range through the weekend. Winds will be 5 - 10 mph except on Saturday.
Will Kathryn Garcia Break Some Glass & Kick Some A_s?
If the ads shown by the NYC Mayoral candidates were a proxy for what we're gonna get, then - by a long shot - I would have to go with Kathryn Garcia.
Most of the ads run by NYC's mayoral candidates smell like the same warmed over hash we've been watching for decades. Scott Stringer's ads tell us that he's a family man like one of us. Eric Adams tells us he'll be tough and fair like he was a a policeman. Andrew Yang, who broke through the noise for a brief period in the Democratic presidential primary, also seems to pursue the theme that he's one of us. It's worth noting that part of Yang's breakthrough in the Democratic candidate national field was due in part to the fact that he was reportedly the first Asian American to run for president on the Democratic ticket [Bobby Jindahl ran as a Republican before him]. Maya Wiley is running ads that tell us she's a Mom [one of us] who will fight for our kids.
And then there's Kathryn Garcia's ad.
What it tells us about her. Cut the crap. Short and not so sweet. A touch of underlying humor. Connecting to the modern era of comic book heroes, or maybe even Austin Powers, breaking out of a fire cabinet that looks a lot like a superman / superwoman phone booth. Not so vaguely blasting the historical gender bias, that looks like a glass ceiling, in the two centuries old NYC Mayoral Office.
It's a ten second commercial that's fully loaded. It says a lot about her. Creative, unabashedly female but with the swagger of a man, and a terribly efficient well messaged commercial because her campaign is only funded at what I would call the second tier of candidates. But with nearly a quarter of voters still undecided, and perhaps even some of the decideds trying to make up their mind, Garcia's chances of becoming the next NYC Mayor seem to grow daily.
---
How Would a Mayor Eric Adams Govern?
He Seems to Favor Charter Schools & They Seem to Favor Him, He's Pulled in the Most Real Estate Cash & He has Indicated He'll Reverse Course a bit on Police Reform & ...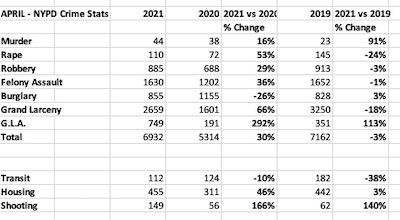 May 17, 2021 / NYC Neighborhoods / NYC Politics / News Analysis & Opinion / Gotham Buzz NYC.
Eric Adams isn't Scott Stringer
Last week I did a report snapshotting what I know about Scott Stringer's political career that leads me to think he's not to be trusted.
Stringer takes big public stands on what I would call generic Democratic issues over which he has little influence - gender equality, race and climate change - while speaking with forked tongue on issues over which he has considerable influence - like real estate developments, local education, public libraries and the pension fund investments - that significantly impact the local communities, neighborhoods and unions.
In that report I also noted how Stringer seems opportunistic in compromising his stances [for example in education and the public library system] in order to capitalize on what he seems to think are self enhancing career opportunities. And Stringer also seems to have used the power and authority of government positions entrusted to him by the people, to aid those who fund his campaigns, possibly trading what's good for the people, in exchange for what's good for Scott Stringer.
Stringer hit my radar nearly a decade ago, while Eric Adams only hit my radar a few years ago. So I'm less familiar with Adams career than Stringer's. But in doing the research, I found that Eric Adams appears to be a slow steady hand, whose positions have evolved over time ... and I would add that generally they appear to have evolved carefully.
1. Eric Adams - Public Schools & Education
Pro Charter Schools & What that Means
FOR PROFIT Charter Schools, don't seem to solve the failing schools problem, but rather split and shift the problem burdens, while privatizing and gutting a significant portion of the public school system. I began reporting on education during the Bloomberg era, wherein Bloomberg's Administration seemed to split public schools into two smaller entities, and then parcel out the achieving students / families via charter recruitment to the privately run for profit charters, while leaving the lower performing students / families in the care of unions and the general public. It seemed to me they didn't really solve anything, and sucked needed capital out of the public school system, putting it in the hands of the venture capitalists who were funding them.
This situation appeared to me not unlike what the insurance industry had done prior to Obamacare - whereby the insurance companies recruited healthy people for health insurance, and avoided signing those who weren't healthy in order to enhance their economic performance. To me this goes against the grain of what America is all about - which is equal opportunity for all. The privatization of the public schools by the predatory for profit charters would turn the public education system into the haves and have nots.
*** It's worth noting that NON-PROFIT CHARTERS evolved for different reasons and provided a healthy challenge to the union run public education system and I view far more favorably than the for profit charters.
---
Weekend Update & A Different Perspective on Andrew Cuomo's Troubles
The Weather Returns to Seasonal, Daylight Savings Time Springs Ahead Sunday, People Vaccinated Growing Rapidly & Has Raging Rupert Incited Another Rioting Mob?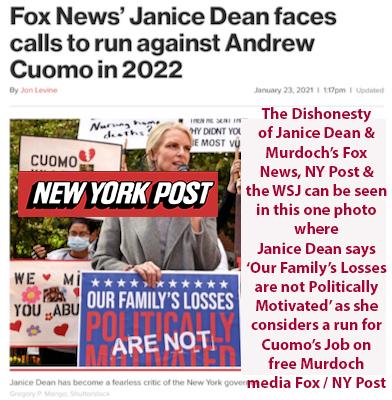 March 12, 2021 / US Politics / NYC Neighborhoods / News Analysis & Opinion / Gotham Buzz NYC.
This past week, we experienced a few enjoyable weather days this week, with temperatures in the 60's and 70's. But alas, all good things must come to an end, so starting tonight the temperature will fall back into the 30's and we'll return to seasonal weather for the next week or so.
Weather. The temperature high will be about 70 on Friday, returning to the 50's on Saturday and Sunday. The temperature lows will fall to the mid 30's tonight and Saturday and then fall to the mid 20's on Sunday night. No rain is in the forecast and the humidity will remain low at about 30% throughout the weekend. The wind will range from 10 - 18 mph on Friday, 5 - 10 mph Saturday and rise back up to 18 mph on Sunday.
Daylight Savings Time, where you 'spring ahead' by setting your clock ahead an hour ahead, begins early Sunday morning at 2 am. At present it gets light about 6 am, so following the change it will become light out around 7 am, and currently it gets dark around 6 pm, and following the change it will then get dark around 7 pm.
The number of New Yorkers and Americans vaccinated continues to grow quickly. As of this post some 65 million Americans or about 20% of the nation has received at least one shot. New York is staying abreast with the rest of the nation, with four million New Yorkers [state] having received at least one shot, which is 20% of the state population of about 20 million. New York City has vaccinted 1.8 million people which is also about 20% of the 8.4 million New York City residents.
And the pace of vaccinations continues to accelerate, because just this past week, in New York State over a million doses were administered. President Biden wants everyone to be eligible to receive the vaccine by early May, so that come Independence Day, we can celebrate together is a post pandemic normalcy. The nation's production of vaccine continues to grow, and the vaccine distribution / administration capability which is handled at the state and municipal level, appear to be in place to handle the growing demand.
Children are not among those eligible to be vaccinated. This is because most children do not appear to become severely ill. There are tests being conducted on vaccinating younger children ages 16 - 18, as well as some kids as young as 12, and plans are being discussed regarding vaccinating children 5 - 11.
Did Raging Rupert Murdoch's Mass Media Riot Machine Incite Another Mob by Distorting & Using #MeToo?
March 12, 2021 / US Politics / News Analysis & Opinion / Gotham Buzz NYC.
While watching the story of Governor Cuomo's troubles unfold, they triggered my 'spidey sense', or as it used to be called, my newsman's nose. In either case something smells rotten in NYS and as oftentimes is the case, it seems to be coming from Rupert Murdoch's 21st Century & Newscorp - which includes the NY Post, the Wall Street Journal, Fox News, his Harper Collins Publishing Company and possibly with an assist from Disney / ABC News where he has become the largest shareholder and where he seems to be making behind-the-scense personnel moves in the news division.
Even more than Trump, Rupert Murdoch is a trojan horse threat to our democracy. He has already turned both Australia and Britain into banana republics where he appears to change prime ministers at the drop of a hat and unfortunately most of the natives of those lands don't even seem to be aware that they're living in a mediacracy - which is a state controlled by one man's mass media holdings. Both Britain and Australia have been through at least four prime ministers within the past five years, because it seems Murdoch couldn't get exactly what he wanted on the first three tries.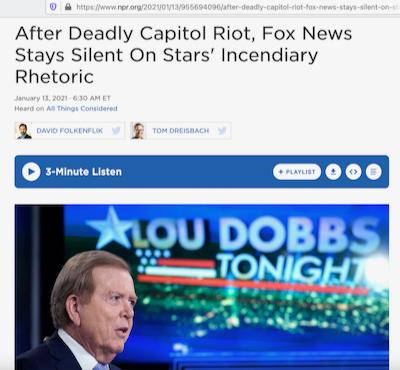 Why do I think the stench is coming from Murdoch's 21st Century & Newscorp and not the Governor's mansion? Because Murdoch's gang of mendacious multi-millionaire minions too often seem not to give a damn about reporting the truth - but rather about distorting and even fictionalizing it to stoke the ratings busting fires of discontent - by attacking government officials who seem not to give Murdoch what he wants from them.
Murdoch's portfolio of wealthy teleprompter actors and actresses, seem to feign anger and outrage, in order to stoke the hyper ventillating audiences of reality contortionists Hannity, Ingraham, Pirro and Tucker into a ratings driven profit frenzy ... which the Australian born billionaire cashes in on, but also uses to brow beat those government officials who won't obey him and use our governmental apparatus to enhance Murdoch's wealth and power.
Earlier this year Murdoch's mass media appeared to help stoke the mob that stormed the U.S. Capitol by feeding their audiences misinformation about the integrity of the election results and of the voting apparatus. Murdoch's mendacious minions did such a colossal job of disinforming the American public, that they are now the defendants in a $2.7 multi-BILLION dollar lawsuit filed by Smartmatic, one of the voting machine companies.
Murdoch appeared to fire Fox News host Lou Dobbs in order to pretend Fox News doesn't tolerate that sort of thing [disinforming their audience], just like they fired Bill O'Reilly and Roger Ailes - BUT only after years of reported sexual harassment transgressions when it became too big to ignore, and activists started boycotting Fox advertisers and the greedy 'little man' billionaire started losing money on them. Then came the "I didn't know" and yet another Murdoch inspired phony act of the most insincere contrition.
Remorseful Rupert Murdoch's quintessential phony act of contrition was performed in Britain in 2012, during the investigation into his company's [or ies'] phone hacking of ordinary British citizens for sadistic pleasure and profit. Murdoch's company reportedly hacked the phones of private citizens in order to sensationalize their personal trauma and tragedy on the front pages of Murdoch's British tabloids and TV outlets. Revealing the personal and private pain of private citizen(s) appeared to be great for Murdoch's newspaper sales, great for Rupert's TV ratings and great for rapacious Rupert Murdoch's insatiable appetite for ever more money. It was all part of his life-long, predatory power grab from the ignorant people who get their 'news' from his outlets, and make their voting decisions based on it.
So let's take a look at how the Cuomo story / stories unfolded, in search of truth - not ratings, and in search of a more behind-the-scenes account of things [also known as asking why] - not by partaking in a superficial, broadcast mass media induced, modern day virtual mob lynching, which is what appears to be happening as we speak. The virtual mob won't hang Cuomo's real life carcass like a Mussolini, but rather they will hang his reputation out to dry, based entirely on - as of yet - unsubstantiated allegations made in some cases by people who haven't even revealed themselves and to date have remained fully anonymous. The broadcast TV mass media induced mob will leave Cuomo for politically dead ... which appears exactly what the perennially angry, mean, old man - Rupert Keith Murdoch - wants. Assuming of course, that the actions and words of so many of Murdoch's apparently dishonest minions, represents his the 'Triump of the Will' or the Goebbels-like Media Fuhrer's wishes.
Step aside Atticus Finch - there's a new mindless mob in town - and it appears to be incited by the Australian born propagandist, Herr Rupert Murdoch, America's 21st century Goebbels.
---
How the President, a Former NYC Mayor and Murdoch's Fox News Seemed to Incite the Capitol Insurrectionists
Rudy Giuliani, Nicknamed America's Mayor by Murdoch's Fox News, Appears to have Helped Incite the Band of Simpleminded Trumpsters to Insurrection
Updated January 11, 2021 from 1.8.21 / US Politics / NYC Neighborhoods / News Analysis & Opinion / Gotham Buzz NYC.
Rising Film Star [Barat2] and Former NYC Mayor, Rudy Giuliani, appears to have devolved into something of a national freak show or farce over the past five years. Perhaps longer. But in the past few months, he's become something of a national disgrace.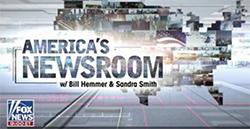 Fox News seems to use nicknames for their propaganda assets, like referring to British Prime Minister Margaret Thatcher as the 'Iron Lady' and President Ronald Reagan as the 'Gipper'. Rudy Giuliani seems to be yet another Fox propaganda asset and, as such, is oftentimes referred to as America's Mayor by Fox pundits.
This is not unlike how Murdoch's Fox News nicknames themselves America's Newsroom. This was a trick used by Hitler and Goebbels, using words and images to create the illusion that they, the Nazi Party [in this cae the Fox Nation with red, white and blue colors] was the same as the state - and thus represented all that was right and just. But remember - just because Murdoch's Fox News says it's so - doesn't make it so [like they used to call themselves 'Fair & Balanced' before they started fearing a lawsuit for false advertising]. But, the Australian born billionaire's overwhelming control and / or ownership of America's television media [see our special section on Murdoch and the 21st Propaganda Press on Gotham Buzz] does give him a leg up in attaching and making both good and bad labels stick to people, places and things.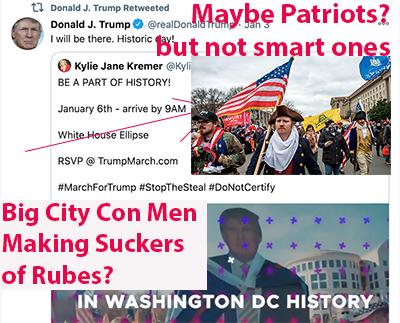 On Wednesday, January 6, 2021, Rudy Giuliani joined Donald Trump and Donny junior at a Trump rally in Washington, D.C. near the White House. The Donald had promoted this gathering as something 'wild' and related to his seemingly phony stop the steal / election fraud fundraising claims. At the rally Trump told his supporters, numbering about 5,000 [per the park permit] to march down to the Capitol and that he'd be there with them.
I think it's safe to say that the Trump supporters who came to this event came prepared to continue to be misinformed and misled by the con men standing on the stage in front of them. After the speeches the audience mindlessly did as Trump had instructed them, and began marching toward the Capitol - but without their fearful leader [bonespurs acting up again?]. The Trumps and Giuliani were not to be found when the group arrived at the Capitol. What a surprise!
When the Trumpsters reached the barricades in front of the Capitol, the police in charge of protecting it, seemed to give way. What exactly transpired at this juncture we'll find out eventually, but one thing we do know for certain is that Trump didn't deploy as many of the National Guardsmen as he did for his tear gassing photo op with the Bible last summer. So Vice President Mike Pence had to step in to call up more National Guardsmen who eventually secured the Capitol - but not until after it had been ransacked [including one report of defecation].
---
$element(adman,groupad,Sectional Ad)$
---
Triumph of The [Rupert's] Will: How Murdoch Manipulates Voter's Perceptions & Public Policy
Australian born Billionaire Appears to use his Media Outlets to Shape Voter's Views, Loading them with Misconceptions, So They'll Elect Compromised Fox Nation Pols, Who Upon Assuming Office, Seem to Reward Murdoch's Media Support, by Crafting Public Policy to Conform to Murdoch's Will, Favoring his Business Interests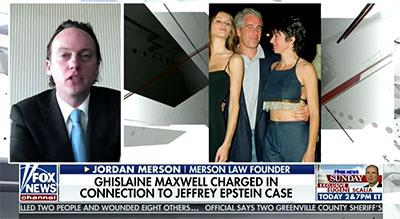 September 4, 2020 / NYC Neighborhoods / U.S. Politics / News Analysis & Opinion / Gotham Buzz NYC.
As mentioned previously, I've been doing a fairly deep dive into learning as much about the Third Reich and Nazi Germany as time permits, in order to more fully understand what's happening in present day events.
Media Manipulation for Fun & Profit
I began noticing similarities between Australian born billionaire Rupert Murdoch's manipulative use of his large share of Amerian media in 2016, to what Joseph Goebbels, the Reich Minister of Propaganda for the Nazis, did beginning in the 1920's until his end in 1945. On May 1, 1945 Goebbels poisoned his children, his wife and himself as the Allied forces neared his home. Hitler and his companions had committed suicide the day before, as Allied forces invaded Berlin. None of them had the courage to stand trial for their crimes against humanity ... although like Mussolini, they may not have made it to court.
1. Did Fox 'News' Attempt to Protect the Reputation of a Propaganda Asset via Omission?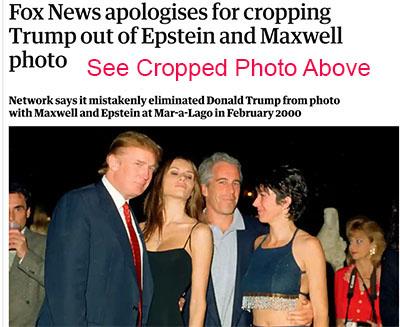 So today, we're going to look at just a few of Murdoch's media manipulations made in just the past couple of months - and I'm nearly certain that this is just the tip of the iceberg. Unfortunately, I don't have the resource to fact check what is the largest misleading news content producing organization in the nation, and possibly the free world.
Let's start with the first two photos on this page. This story broke in the Guardian on July 7, 2020.
The first photo shows Fox News 'reporting the news' regarding the sexcapades of Jeffrey Epstein and Ghislane Maxwell. In the first photo, Fox News conveniently cropped out Donald Trump. In the second photo [at right] we have the 'full picture' aka the truth.
The man who calls everyone else a 'sleezeball' is seen with Melania 'being best', and two of the people alleged to be among some of the sleeziest on the planet [Jeffrey Epstein and Ghislane Maxwell]. Do birds of a feather flock together?
So we must ask why Rupert Murdoch would crop Donald Trump out of the photo? Is it to avoid portraying the Donald in a negative light in order to keep him - a Murdoch asset - in office?
Trump appears to have been a boon to billionaire Murdoch through massive billionaire tax cuts funded by debt to be paid for by America's children and unborn? Or is because Trump's actions in the Middle East vis a visIsrael seemed to serve to legitimize Murdoch's investment in Genie Energy in the illegally occupied Syrian Golan Heights? Or was it because Trump loosened up the FCC ownership limits for mega media companies like Murdoch's thus allowing the few to control our media, which givens them the power to influence the national democratic conversation - and in Murdoch's case - it seems the power to corrupt it in order to profit from it. Or was it because Trump famously fired all U.S. Attorneys, including Preet Bharara - who was investigating Murdoch's companies for sexual harrassment and phone hacking - less than 24 hours after Sean Hannity on Fox News told him to do just that? Perhaps most importantly, Trump's Attorney General Bill Barr, greenlighted the merger of Disney / ABC, which was an inverted takeover resulting in Rupert Murdoch becoming Disney / ABC's largest shareholder.
---
NYS Primary Today & the Irony of Brooklyn Politics
The Presidential and Congressional Primaries are Today
June 23, 2020 / NYC Neighborhoods / News Analysis & Opinion / Gotham Buzz NYC.
The long delayed NYS primary election is today. On the ballot is the presidential primary featuring Joe Biden and a number of other candidates - all of whom have suspended their campaigns. And Joe Biden has already won enough electoral votes to secure the nomination. So in the presidential primary you can strengthen Biden's hand by casting your vote for him, or strenghten someone else's hand in influencing the Democratic platform that Joe will run on.
Political Calculus 7th District Congressional Race
The 7th Congressional district stretches as far east as Woodhaven in Queens, as far west as the East Village and the Bowery in Manhattan, and including the area in between from Brooklyn Heights to Bushwick and then south along the East River as far as Sunset Park which is also in Brooklyn. The incumbent is Nydia Velazquez who has held the Congressional seat since 1993 and raised nearly $600,000 in contributions. Nydia is being challenged by Paperboy Prince, a rapper who doesn't appear to have raised much in contributions. Another challenger, Iroghama Omere, didn't make the ballot.
Political Calculus 9th District Congressional Race
There are also a number of congressional races including in the 9th Congressional District in Brooklyn. The 9th Congressional District runs from Crown Heights and Prospect Park through Park Slope, Midwood and Flatbush, down to Sheepshead Bay and Marine Park. The incumbent is Yvette Clarke who has held the seat since 2006, including through a redrawing of the district in 2013.
There are four other candidates vying for the seat - three of whom are people of color like Yvette [her parents were Jamaican immigrants]. Two of the candidates, Lutchi Gayot and Isiah James - seem long shots. Lutchi challenged Clarke in 2018 when he ran as a Republican and won only 10% of the vote. And Isiah James is an Iraq War veteran who is now a community organizer.
The next two challengers may stand better chances than the first two challengers referenced above, but each for different reasons.
Adem Bunkeddeko is one of four candidates of color running for this seat. He challenged Clarke in the primary in 2018 and won 47% of the vote. Bunkeddeko is backed by the Progressive wing of the Democrats, has an MBA from Harvard, and a mix of experience in various government positions. In Bunkeddeko's challenge in 2018, when he was the only challenger, he narrowly lost. But this time there around there are three other challengers to siphon away votes.
Chaim Deutsch is the only white person in the race. He's a law and order City Councilmember representing a conservative Orthodox Jewish community that reportedly went 70% for Trump in 2016. But a good portion of Deutsch's City Council district isn't included in the 9th Congressional District which works against him - but there are four people of color vying for a lot of the same voters - which works in his favor.
Additionally, according to a June 10, 2020 report in The City, Deutsch has focused attack ads at Clarke, seeming to indirectly blame her for all that's wrong in the world. They reference his attack ad telling us that,
"... It features apocalyptic images of recent looting, assaults on the NYPD, coronavirus victims' stacked body bags, and anti-Semitic violence on the streets of Brooklyn ... [and then he concludes] WE WON'T TOLERATE THIS ANYMORE ..."
The Irony of Brooklyn Politics
The impact of the Progressive challenge, likely intended to pull a liberal Democratic Congressional seat further left, may have just the opposite effect - as it could enable a very conservative Democrat to win it. This is the irony of Brooklyn politics.
Click on the image above to access the poll finder website, so you can easily find where to vote in your neighborhood. Remember this is the land of the free and the home of the brave and many of our ancestors died for our right to vote. So try to be brave, but also be careful as the CoVid pandemic isn't likely to end anytime soon.
The New York City election is Tuesday June 23rd and polls are open from 6 am - 9 pm.
---
$element(bwcore,article_picker,1476,Y,N,page_title_home,N)$
---
---
Democracy in Action: Blue Lives, Black Lives, All Lives Matter in Queens & NYC
A Blue Lives Matter Parade Met by a Black Lives Matter Protest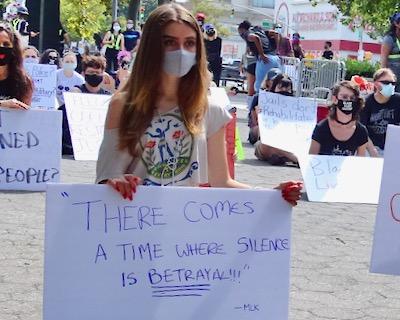 August 23, 2020 / NYC Neighborhoods / Social Issues NYC / News Analysis & Opinion / Gotham Buzz NYC.
On Saturday morning around 11 am a Blue Lives Matter parade began on Greenpoint Avenue and 39th Street in Sunnyside Queens. I arrived shortly after it began and followed it up to Joseph Sabba Park where several people were to give speeches to the parade participants and attendees.
As the parade arrived at Joseph Sabba Park they were met by a group of Black Lives Matter protesters who were kneeling on the sidewalk holding placards making Black Lives Matter statements. The Blue Lives Matter parade participants paused as they came in direct contact. As I sat there video recording the 'confrontation' I wondered whether things might take a turn for the worse and go badly.
Blue Lives Matter Parade & Speakers Queens NYC
Whoever was leading the Blue Lives Matter parade, wisely led the Blue Lives Matter parade around the Black Lives Matter protesters - rather than risking walking through them - where someone on one side or another might have escalated the tension to a higher level.
The Blue Lives Matter parade participants and attendees settled in the middle of Joseph Sabba Park and the speeches began. The first speaker, whose name I didn't catch, spoke supportively of the police and the important work they do in the community. He struck a human chord, noting that the men and women who serve in the police force are dedicated to serving the community, among whom are their own families and children. He ended saying we're all human.
The second speaker struck a more passionate Blue Lives Matter tone, remarking that the 'Diaphragm' Law hindered police from doing their jobs. The Diaphragm Law allows police officers to be subject to a misdemeanor if they constrict a person's diaphragm in the process of making an arrest.
What I recorded of both of these speeches will be shown in the video.
The signs of the Blue Lives Matter parade participants also showed a range of thoughts and emotions, ranging from striking a supportive and yet harmonious chord, while others were defiantly in support of the police – seeming to ignore the validity of the Black Lives Matter social unrest. They included Enough with the hate, respect goes both ways, to Reform is for criminals, drug addicts and sex offenders.
---
George Floyd Protest Cinematography, Music & Narrative
June 12, 2020 / NYC Neighborhoods / NYC Social Issues & Crime / News Analysis & Opinion / Gotham Buzz NYC.
The video below is an interpretive depiction of a protest event in McCarren Park early last week. The piece is meant to be savored - like food, music and cinematography.
---
---
---
$element(adman,groupad,Sectional Ad)$
---
George Floyd & Pink Floyd
Trying to Make Sense in a Senseless World
May 28, 2020 / NYC Neighborhoods / CoVid in NYC Special Section / News Analysis & Opinion / Gotham Buzz NYC.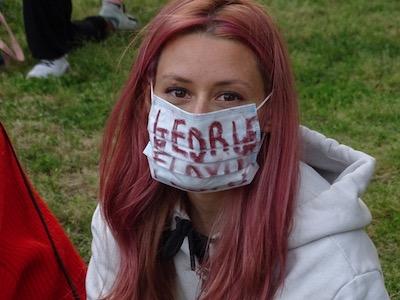 I watched the George Floyd protests unfold on the nightly TV newscasts for a couple of days before venturing out myself to see what I might learn. The protests began on Friday, May 29th in NYC, following the death of George Floyd, an African American who was asphyxiated, apparently due to a Minneapolis policeman holding a knee over George Floyd's neck for nearly nine minutes which was caught on video.
TV News Appears to Sensationalize More than Inform
On Saturday night Fox News ran and reran the same footage multiple times of a car burning, seeming to hype and sensationalize the footage into a full blown 'riot'. The a lot of the Fox footage was taken from the air, in a helicopter which they lease (reportedly) for millions annually, which again repeatedly showed video of the crowd below, which appeared to be mostly our men in blue. So given little good video, they talked about groups dallying into the police and back again – but really didn't seem to have any video to support their claims. The next day Mayor de Blasio reported that there were no deaths and no serious injuries to members of the NYPD or the crowd. But there was some looting.
An NBC news account made the situation seem far more chaotic than it was by shaking the camera, providing the appearance of chaos. And so on.
More Photos & Video Coming Wednesday
Covering the George Floyd Protests in NYC from the Ground - Not from a Cushy Corporate Media Chopper
The 'crisis' seemed to be more manufactured by the TV news, than by what was actually happening on the streets, which is why I decided I needed to cover this myself. Second hand TV news seems increasingly like garbage news, but before I could make such a claim, I had to see for myself.
Having grown up in a newspaper family, I've been watching the news and presentation of it all of my life, beginning with the Kennedy assassination, which my father made all of us watch as he said it was history in the making. Back then the news was owned by dozens, if not hundreds of independent newspapermen and broadcasters, so like social media, there was a variety of news presentations and you could pick from them.
Today large multi-billion dollar corporations control most of the news we see, and it seems their focus is largely centered around profit driven ratings instead of a fair and balanced presentation of the news. This is why they seem to hype, sensationalize and distort Americans' perceived reality in order to keep them glued to the tube. And the hyping and sensationalizing is not getting better – it's getting worse.
No longer can you turn on the TV to be informed, but rather to be scared, angered and far too often – to become disinformed.
---
Greta Thunberg at Climate Strike in Battery Park NYC 2019
Tens of Thousands Showed for the Climate Strike - NBC Estimated 60,000
September 20, 2019 / NYC Social Issues / Brooklyn Blvd NYC.
I attended the Climate Strike in Battery Park Friday late afternoon. It was a beautiful day and thousands had shown up to rally support for changing how we live in order to avert the disaster of irreparably destroying the ecosystem which supports life on the planet. Swedish teen activist Greta Thunberg was there and spoke at the rally. The video below provides views of the crowd, some of their signs, a poetry performance, a musical performance and some of Greta's remarks. Stay tuned next week as the United Nations meets and Greta visits the U.N. to implore them to take action.
---
---
$element(bwcore,article_picker,1504,Y,N,page_title_home,N)$
---
---
$element(bwcore,article_picker,1516,Y,N,page_title_home,N)$
$element(bwcore,article_picker,1515,Y,N,page_title_home,N)$
$element(bwcore,article_picker,1514-1511,Y,N,page_title_home,N)$
Black History Month to End Soon
PBS has been Airing Some Excellent Documentaries about African Americans Role in Our Nation's History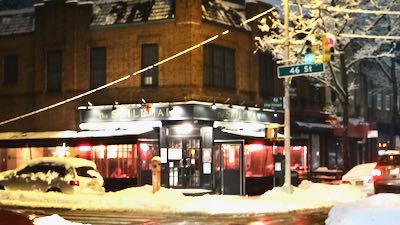 February 22, 2021 / NYC Neighborhoods / NYC History / Gotham Buzz NYC.
Weather. There will be a small bit of rain today between 11 am - 4 pm. Thereafter the rest of the week should be dry. The temperature highs will be in the 40's all week and the temperature lows will be in the 30's. The winds will be 5 - 10 mph except on Wednesday, when it will be a drafty 13 mph. Humidity will be in the 70% range today, dropping into the 60% range on Tuesday & Wednesday, then down into the 50% range on Thursday and Friday.
All tolled, it looks like a pretty fair week.
PBS - Finding Your Roots - Histories
Last night I came upon one of Harvard Professor Henry Louis Gates Jr.'s Finding Your Roots documentaries on PBS. For more info about this series see - https://www.pbs.org/weta/finding-your-roots/
As I watched, I recollected how in my youth, I had considered Black hisotry to be a superfluous extension of American history. That perspective was, of course, born of youthful ignorance. Since then, I have come to appreciate the importance of Black Studies in providing a more comprehensive view of American history over the centuries. In part, I have PBS to thank, because they have aired and I have watched, quite a number of documentaries - some or all of which they funded or produced - particularly since the CoVid pandemic began.
In the program I viewed last night, one of the people on Gates' Finding Your Roots series was being informed about her family's history. It struck me when Gates referenced her great, great, great, great grandfather on a bill of sale by Georgetown University in Washington, D.C.
Over the past decade or so, I've become more interested in my own family's history. We knew a fair amount about those ancestors within temporal reach, going back to our great grandfathers, but little beyond. That was until a couple of summers ago when I found that one of the members of our extended family had a collection of scribbled notes and diagrams that recorded our lineage - some of which appears to date back to colonial times and the Revolutionary War. Up until this discovery, I had thought we had become Americans in the latter half of the 18th century.
But it occurred to me, based on Gates' reference to the great, great, great, great grandfather mentioned above, most African Americans' family histories date back at least a couple of centuries. Gates' documentary series delves into the histories of oftentimes, somewhat famous, African Americans who were descendants of slaves, or famous white Christian or Jewish Americans who are descendants of families that owned slaves.
Gates' geneological and genetic explorations also find interesting tidbits, like the fact that comedian Larry David and Senator Bernie Sanders are distantly related. PBS Producer Ken Burns is a descendant of a slave owner, but also related to Abraham Lincoln. And Brian Gumbel discovered he had some previously unknown Jewish ancestry.
Out of Gates' explorations into the past, we learn many things, not the least of which is that African Americans worked the fields, growing cotton and food that fed and clothed the nation, and provided their 'owners' with a tidy profit. It's worth noting that in the early 1800's about 75% of the nation worked in occupations related to agriculture [today it's about 10 - 11%]. But following the Civil War, African Americans' contribution to the nation went far beyond that, including serving our nation in two world wars, providing needed labor for the auto industry and significantly contributing to our culture and history.
---
$element(bwcore,article_picker,1503,Y,N,page_title_home,N)$
---
Identity Crisis Theater Opens at the Brick in Greenpoint
The Event Included a Rough Draft Festival Preview Coming to LaGuardia 3/11
March 2, 2020 / Brooklyn Neighborhoods / Brooklyn Theater / Brooklyn Blvd NYC.
In early February I attended the opening of a new theater ensemble - Identity Crisis Theater - at the Brick Theater in the Greenpoint neighborhood of Brooklyn.
The theater group is comprised of three Turkish American artists who will "... feature English translations of works from Turkey, the Balkans, the Middle East and surrounding Mediterranean cultures." Their goal is to develop "... a platform for exploration, conversation, revelation and the celebration of our common humanity."
It was a cold, wet, miserable night outside, as I made my way to the Brick, which is located only a couple of blocks from the G line Metropolitan subway stop. As I stepped inside, the atmosphere changed to warm and dry as I took my place amongst a crowd filled with anticipation. The audience had packed the theater in advance to view performances by some of NYC's emerging dance, musical and theatrical artists.
I met the Brick Theater management team comprised of Ryan Downey and Theresa Buchheister. This past year they took over the operation of the Brick Theater, after years of working there. They seemed to have the theater production well in hand, as there are events and performances at this warm, rustic Greenpoint Brooklyn theater every week, and quite often every day.
Identity Crisis Theater Presents 'Triggerman' at the Brick Theater in Greenpoint BK
On the stage at the back of the theater, a performance had just begun. The piece was entitled Triggerman and it was about the step-by-step planning of an assassination, alongside the moral struggle of a young man, trying to wrest himself free from the anger and hate, being imposed on him by a few members of his own ethnic tribe.
---
Rupert Murdoch & the Rise of the 21st Century Propaganda Press
---
$element(bwcore,article_picker,1381,Y,N,page_title_home,N)$
---
The Dysfunctional Presidency of Donald J. Trump
---
The American Presidency & Dysfunctional Donald Trump
This Section is Dedicated to Informing the American Public about the Democracy Destroying Donald
Updated October 10, 2021 from 9/16/20 / NYC Neighborhoods / NYC Politics / News Analysis, Opinion & Satire / Gotham Buzz.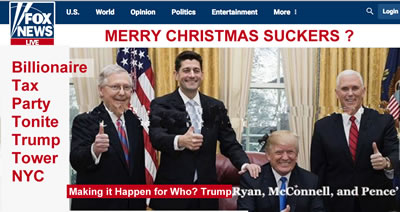 Beginning in late 2016 I began to start paying attention to some of the crazy stories floating around about Donald Trump. At first the stories seemed almost unbelievable tales of someone competing to become president of the United States, but the more I dug, the more I found, and eventually the evidence of who this man was and is, almost frightened me when pausing to consider that he had and still has control of the most powerful government apparatus in the world.
Empires and civilizations come and go because those who worked hard to build them are not the same people who inherit them. And the people who inherit them are oftentimes unappreciative of the hard work and thought that went before them.
We're too close, to my way of thinking, of squandering the gifts that were left to us by our forbears because we have not paid attention to all of the malfeasance and corruption that today is so much a part of government and the media we rely on to inform us. I've began running a series on what I view as the most egregious threat coming from the media in the series on Rupert Murdoch and the Rise of the Propaganda Press, which I had at first titled Murdoch Media Madness.
This series is a compendium of reports I've published on the presidency of the dysfunctional Donald. The graphic above showing Rupert Murdoch's Fox Fake News celebrating the billionaire tax cut of December 2017 includes my take on things in red.
---
Brooklyn Blvd Voluntary Subscriptions
We work very hard to help keep you informed by providing you with independent news coverage, as well as
information about events in the arts, culture and business in the borough.
You can help us continue to provide you with independent, first-person, fact-based, contextural reporting by purchasing an annual subscription. As it's voluntary, there are a variety of price options, one of which should fit within your budget.
Thanks for your encouragement & support.
---
Back To Top