Presidents Day Weekend Things To Do in Brooklyn NYC
Things To Do in Brooklyn over the Presidents Day Weekend
January 29, 2023 / Brooklyn Neighborhoods NYC / Things To Do in Brooklyn NYC / Brooklyn Blvd NYC.
Presidents Day Weekend Weather as of this post 2/15/22. The Temperature highs will be in the high 50's on Friday and Monday, dipping into the 40's on Saturday and Sunday. The temperature lows will be in the mid 20's on Friday and Saturday, rising to the mid 30's and 40's on Sunday and Monday. Precipitation - There isn't any rain forecast for the Presidents Day Weekend, but at present there's an inch of rain forecast Thursday night starting around 9 pm. Winds- on Friday winds will pick up from 10 mph to 20 mph. On Saturday winds will peak at 20 mph and then fall back into the 5 - 10 mph range for the rest of the Presidents Day Weekend. The Humidity will range between 40% - 50% on Friday and Saturday, rising to 40% - 60% on Sunday, and 60% - 70% on Monday. Click for Brooklyn Weekend Weather.
The photo at right depicts George Washington in an annual reenactment of the Battle of Brooklyn, also known as the Battle of Long Island, which was one of the first American Revolutionary War battles. Washington lost the battle, but managed to keep his army intact, winning enough battles to stay in the game long enough to wear down the British monarchy. The reenactment occurs in August at Greenwood Cemetery.
Presidents Day is a federal holiday when all local, state and federal government offices are closed, which generally includes public schools - unless the district uses the holiday to make up a snow day.
Presidents Day is a time to reflect on the performance of our current presidents and legislators, and how they stack up against their historical peers. And in that reflection it's worth asking ourselves what we've done to contribute or detract from the national conversation.
Brief History of Presidents Day Holiday in NYC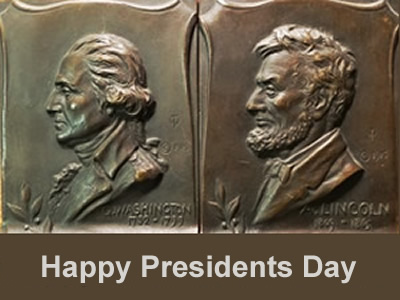 A day commemorating Lincoln's birthday was first passed in Buffalo, New York in the early 1870's. Presidents Day originated as Washington's Birthday which was a holiday narrowly prescribed for federal government offices in Washington, D.C. in 1879. The holiday was dedicated to honoring the memory of the first American president, George Washington who was born on February 22, 1732.
In 1885 the holiday was expanded to include all federal government offices around the nation. In 1951 there was a push to create a Presidents Day holiday [vs a George Washington's birthday holiday] to include President Lincoln whose birthday is February 12, 1809 and was also celebrated by localities, but it didn't pass.
In 1971 the holiday was moved off of George Washington's birth date to being the third Monday in February. Thus while it never falls upon Washington's birthday 2/22, the official name of the holiday remains Washington's Birthday. But today, most folks refer to it as Presidents Day and to recognize the presidents who honored the U.S. Constitution and served the interests of the people.
---