Memorial Day Weekend Things To Do in Brooklyn NYC
Things To Do in Brooklyn over the Memorial Day Weekend
May 26, 2023 / Brooklyn Neighborhoods NYC / Things To Do in Brooklyn NYC / Brooklyn Blvd NYC.
This is a report containing things to do in Brooklyn over the Memorial Day Weekend.
Weather. The temperature highs will be in the mid to high 70's and the temperature lows will be around 60. No rain is in the forecast.
The things to do in Brooklyn on Memorial Day Weekend include art exhibitions, theater, live music, comedy, dance, shopping, outdoor activities such as soccer, kyaking, baseball, parades, street fairs, museums and dining in the Dumbo, Williamsburg, Clinton Hill, Fort Greene, Brooklyn Heights, Park Slope, Greenpoint, Bushwick, Greenwood Heights, Gowanus, Downtown Brooklyn, Sunset Park, Bayridge, Marine Park, Coney Island neighborhoods of Brooklyn NYC.
Be sure to check our Memorial Day Weekend things to do, which we post on the front page on Friday afternoon leading into the Memorial Day Weekend in Brooklyn NYC.
Brief History of the Memorial Day Holiday in Brooklyn
Memorial Day first started out as Decoration Day in Waterloo, New York on May 30, 1866 - a year after the Civil War - to honor those who fought in it. In the 1880's the day came to be known as Memorial Day.
According to a May 25, 2012 report in Time Magazine, ten states - Texas, Louisiana, Mississippi, Alabama, Georgia, Florida, North and South Carolina, Virginia and Tennessee also officially observe some version of a Confederate Memorial Day, sometime between late April and early June [in Texas it's in January]. It's been reported that unofficially most of the former Confederate states still commemorate it, but not without some controversy as to the former Confederate diaspora it's to honor their ancestors, while to the former diaspora of the slaves it seems a remnant of these states racist past.
About ten percent of the nation travels more than 50 miles over the weekend. Memorial Day differs from Veterans Day which is held on November 11th of each year. Veterans Day began by honoring those who fought in World War I which ended on the 11th hour, of the 11th day of the 11th month of 1918. Both honor those who served in the U.S. Military. Veterans Day coincides with a similar holiday in Europe for the same reason, which is called Remembrance Day and Armistice Day.
---
Memoral Day Weekend in Brooklyn NYC
Things To Do in Brooklyn Over The Memorial Day Weekend
May 26, 2023 / Brooklyn Neighborhoods NYC / Things To Do in Brooklyn NYC / Brooklyn Blvd NYC. Continued.
Relative to last year, much more is open and available for the Memorial Day Weekend, including the return of the big parades and events like Fleet Week.
Memorial Day Holiday Weekend Special Events in Brooklyn NYC
CLICK this link to view suggestions, in addition to those below, for things to do this weekend in Brooklyn NYC - this weekend events BK. We're starting to update these weekly, but haven't yet hit full stride.
CARNARSIE _ Saturday, May 27, 2023 from 10 am - 2 pm - Brooklyn Carnarsie Lions Club Memorial Day Parde steps off at the Holy Family Church parking lot at 9719 Flatlands Avenue heading southeast along East 98th Street to Avenue L. It then turns right heading southwest along Avenue L before turning right heading northwest along Remson Avenue, where the parade marches a couple of block before stopping at the Carnarsie Cemetery to honor the fallen. After the ceremony, the parade continues north on Remson turning right onto Conklin Avenue, ending at the American Legion at 1130 East 92nd Street. Memorial Day Parades in Brooklyn NYC.
BAY RIDGE _ Monday, May 29, 2023 at 11 am - The 155th Brooklyn / Bay Ridge Memorial Day Parade steps off on 3rd Avenue and 78th Street in Bay Ridge Brooklyn. The parade proceeds down to Marine Avenue, up to 4th Avenue, then over to John Paul Jones Park for their memorial service which includes bag pipes, flag raising and wreath laying by Veteran Service Organizations. This is followed by a 21-gun salute and the playing of Taps by the Veteran Corps of Artillery. For details see - https://www.brooklynmemorialdayparade.com/
CLICK this link to view a schedule of all of the Memorial Day Parades in NYC - all 5 boroughs that we know about.
CLICK this link to view a full schedule of all of the Brooklyn Parades & large cultural events in NYC.
Also this weekend there are a number of Brooklyn street fairs. All of the big events have returned including a couple of Memorial Day Weekend parades as noted above. Other activities not available last year, like visiting many of the Brooklyn theaters, performing arts & art museums are all now open.
Dining at one of the Brooklyn restaurants is a great way to spend part of the weekend. We posted some restaurants suggestions in our Mother's Day Restaurants in Brooklyn report earlier this month.
Also, shopping in Brooklyn, is another fine way to spend some time, including visiting some of the local Brooklyn farmers markets. The farmers markets openings this year are in line with the traditions of prepandemic years.
You can also go bicycling around Brooklyn but be mindful to observe the rules of the road [click link] in order to ensure a safe outing. The 5 Boro Bike Ride 2023 went off without a hitch, again this year.
Many things are happening right here in our favorite borough - Brooklyn. Click here to obtain information about things to do Memorial Day Weekend 2023 in Brooklyn NYC. This events calendar is updated monthly with about 100 different Manhattan fun / cultural events. Use this link to see our Brooklyn weekend events calendar NYC which we're in the process of bringing back up to date.
Brooklyn Public & Private Parks
Brooklyn has a number of New York City Parks, which will be mostly open / back to normal.
New York City beaches will re-open for swimming on Memorial Day Weekend on Saturday, May 27, 2023 and remain open through September 10, 2023. The city outdoor pools will reopen on Thursday, June 29, 2023.
City playgrounds, golf courses and driving ranges, skate parks and grilling areas are all open. Dog runs, basketball, handball, tennis, bocce, and volleyball courts have also re-opened.
All NYC Parks recreation centers and nature centers are open.
The City's historic houses and museums are open to the public. Check individual house museum websites for updated hours and visitor information. The Wildlife Conservation Society zoos and aquarium are open to the public this weekend.
I spoke to the National Park Service which informed me that the two National Parks in Brooklyn will be open. You can walk, bike, skate board and visit the waterfront. The National Parks Brooklyn include Floyd Bennett Field which is just north of the Rockaways in eastern Brooklyn, and the Sandy Hook, Gateway National Recreation Area.
Click here for a listing of the Brooklyn Parks including maps showing their locations along with a bit of park history - Coming sometime in the not-too-distant future.
NYC Golfing in Brooklyn - Now Open
Brooklyn has two main golf courses which includes the Dyker Beach Golf Course and the Marine Park Golf Course both of which will be open Memorial Day weekend 2023. Click here for details about Queens Golf Courses including maps and links to the operators' websites.
Memorial Day Weekend Events in Brooklyn
And our things to do / Brooklyn events calendar is updated monthly with between 50 - 100 different Brooklyn fun / cultural events. Click here to obtain information about things to do Labor Day Weekend in Brooklyn.
Art Exhibits Brooklyn & NYC - Memorial Day Weekend
Click here to view some of the in-progress art exhibits in Brooklyn this Memorial Day weekend. There are too many museums to showcase in this short space, but here are a few that are among the highlights of Brooklyn museums this weekend.
The Brooklyn Museum
The Brooklyn Museum is located at 200 Eastern Parkway in the Park Slope / Prospect Heights neighborhood of Brooklyn.
Dance, Theater & Music in Brooklyn NYC - Memorial Day Weekend
Click here to view the Theatre section of the Brooklyn Things to do this weekend - BK Weekend events calendar to see what's doing this Memorial Day weekend in theater in Brooklyn.
Brooklyn Academy of Music
Located at 30 Lafayette Street in the Fort Greene neighborhood of Brooklyn. The Brooklyn Academy of Music is one of the premier performing arts centers of NYC. They cultivate, host and present avante garde and classical music, dance and theater.
Kings Theatre Brooklyn in Flatbush Ditmas
Location. Located at 1027 Flatbush Avenue in the Flatbush Ditmas Park neighborhood of Brooklyn.
The Kings Theatre is an historic theater which opened in 1929 as a Loews movie theater in the early days of film. After years of neglect, the building was closed in 1977, and in 2010 restoration work began, completed in 2015. Today it is an evolving performing arts space / cultural center in the Flatbush Ditmas nieghborhood. Capacity 3,000.
Film in Brooklyn over the Memorial Day Weekend
Nitehawk Cinema - Movies, Dining & Drinks
Location. At 136 Metropolitan Avenue in the Williamsburg neighborhood of Brooklyn. Nitehawk Cinema is a film / dinner theater in Williamsburg. There are generally two seatings per evening. They host special events. Not sure if you can view films w/o dinner. And they host numerous special events.
History in Brooklyn over the Memorial Day Weekend
Brooklyn Historical Society in Brooklyn Heights
Locations. The Brooklyn Historical Society has two sites.
The original is located at 128 Pierrepont in the Brooklyn Heights neighborhood and the second is located at 55 Water Street in the DUMBO neighborhood of Brooklyn. The Brooklyn Historical Society hosts exhibits, films and lectures.
New York Transit Museum in Downtown Brooklyn
Location. Located at 99 Schermerhorn Street in Downtown Brooklyn.
They host exhibits, films and lectures about municipal transportation focused on NYC.
Fort Hamilton in Dyker Heights
Location. 101st Street at 4th Avenue in the Dyker Heights neighborhood of Brooklyn.
One of the oldest operational forts in Brooklyn, NYC & America lies opposite the Verrazzano Narrows from Fort Wadsworth on Brooklyn. One of two overlooking the primary gateway into NYC harbor. It was built between 1825 - 1831 and used as a training base during the American Civil War.
Floyd Bennett Field Aviation Museum in Marine Park Brooklyn NYC
Location. Located in the Marine Park neighborhood in the southeast corner of Brooklyn, along Jamaica Bay.
Floyd Bennett Field was built in 1928 and was the first airport in NYC. LaGuardia Airport replaced Floyd Bennett Field because of the lengthy ride into the city through Brooklyn. Eventually JFK was established as NYC's third airport [but Floyd Bennett Field has since been closed so there are only two airports in NYC / Newark is considered a third to reach the city], becoming the landing and take off destination for long haul / international flights that required longer runways. After being replaced by LaGuardia, Floyd Bennett Field became a naval air station.
The Hendrick I. Lott House in Marine Park Brooklyn
Location. At 1940 East 36th Street in the Marine Park neighborhood of Brooklyn. The Hendrick House Museum is an historic house in the Marine Park neighborhood of Brooklyn. It was first built in 1720 and modified in 1800. It harks back to the Dutch colonial past.
Green-Wood Cemetery in Greenwood Heights Brooklyn
Location. At 500 25th Street at 5th Avenue in Greenwood Heights Brooklyn. There are four entrances, including the Gothic Arch at the Main Entrance. Green-Wood Cemetery was established in 1838 and is one of the oldest remaining cemeteries in Brooklyn. In addition to the graveyard there are a couple of buildings at the cemetery where exhibits are occasionally presented. And it was given an arboretum award.
Street Fairs Memorial Day Weekend in Brooklyn
On Memorial Day Weekend in Brooklyn there are typically a number of street fairs / festivals planned, including in the two Memorial Day Parades noted above. You can also search for street festivals by clicking into our Brooklyn street fairs page below.
At the Wyckoff House they are hosting a Brooklyn Farmers Market on Memorial Day Weekend, and there are others.
Shopping in Brooklyn & NYC
This is a great weekend to do a bit of shopping during the pleasant weekend weather. Click here to view our shopping sections for Brooklyn at a later date. Both the Barclays Center area and the Industry City offer a plethora of shopping sites.
Each of these shopping sections includes, or will include, links to home pages, which have slide shows of merchandise as well as maps, store hours, phone numbers and telephone numbers.
Click here to view the Memorial Day Weekend Street Fairs in Brooklyn, including dates, times and map links.
Parks and Beaches in Brooklyn - Memorial Day Weekend
As mentioned above Brooklyn has two public golf courses, including
the Dyker Heights Golf Course and the Marine Park Golf course. Both of these courses are open Memorial Day Weekend in Brooklyn.
Brooklyn also has some very beautiful beaches, most notably located along the Coney Island / Brighton Beach Boardwalk at the southern end of the Brooklyn borough. More on this later.
Prospect Park is the Central Park of Brooklyn
Location. Prospect Park is adjacent to Prospect Heights, Park Slope, Flatbush Ditmas and other Brooklyn neighborhoods. Prospect Park is the premier park in central Brooklyn and home to a number of Brooklyn cultural attactions including the Brooklyn Museum, the Brooklyn Botanical Garden and the Brooklyn Zoo.
Brooklyn Bridge Park - 21st Century Park in Brooklyn Heights
Location. Brooklyn Bridge Park is located at 334 Furman in the Brooklyn Heights neighborhood. A relatively new park comprised of 85 acres along the East River near the NYC Harbor. They organize a number of programs and events throughout the year, many of which are free to the public.
Prospect Park Zoo in Brooklyn - Near Prospect Heights
Location. The Brooklyn Zoo is located at 450 Flatbush Avenue in Prospect Park.The Prospect Park Zoo is the premier zoo in Brooklyn.
Brooklyn Botanic Garden
Location. Brooklyn Botanic Garden has two entrances - at 990 Washington Avenue and 445 Flatbush Avenue in the Prospect Park / Lefferts Gardens neighborhoods of Brooklyn. Founded in 1910 the 52 acre garden is a collection of smaller gardens.
Bicycling in Brooklyn NYC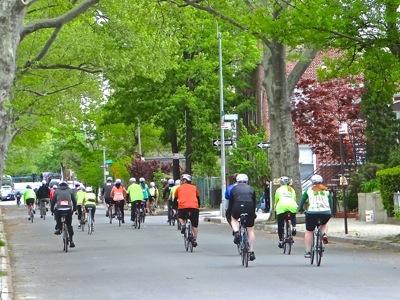 Brooklyn has a number of bike paths, which provide cyclists with some protection. Click here to view a report about bike laws in NYC so you can ride safely.
There's a program called Citi Bikes, which allows you to rent a bike using your credit card. Whereever you find bike racks filled with blue bicycles - take a closer look and it's probably a Citi Bike rack and you can rent a bike from there and return it to any of their racks around NYC.
I'm working on a useable map of bike trails in Brooklyn, but it'll be a while so don't hold your breath. NYC.gov usually has a good one on their website. In the photo to your right, are the 5 Boro Bike Riders cycling through NYC.
Kyaking & Boating in Brooklyn NYC
As of this posting, I'm not yet familiar with the boating options available in Brooklyn, except to say that there are a few options notably around the Gowanus Canal and also on Newtown Creek in the Greenpoint area. At a later date we'll return here to update this with our own findings.
Dining in Brooklyn NYC
Food in Brooklyn has always been good. The variety of restaurant choices includes Italian, Irish, Latin and Asian, and if you look carefully, you can find good food at reasonable prices too.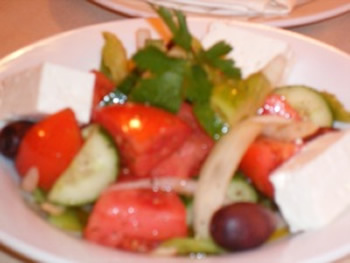 Click here to view the Brooklyn Restaurants NYC section of the site, which includes reviews of the restaurants we've selected to review. As of this writing, we've identified some of our old favorites, but haven't done the deep dive yet.
Other things to do coming in the future.
Things to do in Other NYC Boroughs Memorial Day Weekend
Things to do Manhattan Memorial Day Weekend and Queens Things To Do Memorial Day Weekend and Things to do Bronx Memorial Day Weekend and Brooklyn Things To Do Memorial Day Weekend and Staten Island Things To Do Memorial Day Weekend.
More events will be added to the Front Pages of each of these sites on Friday.
---
Brooklyn Memorial Day Weekend Things To Do / Events - Brooklyn NYC Related Links
Click for Brooklyn Neighborhoods - Brooklyn NYC.
Click for Brooklyn Schools & Brooklyn Public Education NYC. gb
Click for Brooklyn Street Fairs NYC.
Click for Brooklyn Politics & Government NYC. gb
Click for Brooklyn Farmers Markets NYC.
Click for Brooklyn Things To Do Brooklyn NYC / Arts & Culture / Real Estate & Business / Shopping / Banks & Loans & Mortgages / Restaurants.
---
Site Search Tips. 1) For best results, when typing in more than one word, use quotation marks - eg "Astoria Park". 2) Also try either singular or plural words when searching for a specific item such as "gym" or "gyms".
SEARCH
Click this link to search for something in our Brooklyn Business Directory - TBD.
---
Click the log in link below to create an ID and post an opinion.
Or send this story to a friend by filling in the appropriate box below.
---