---
$element(bwcore,article_picker,1496,Y,N,page_title_home,N)$
Election Day Thursday 9/13 - Please Vote
September 12, 2018 / Manhattan Neighborhoods / Manhattan Politics & Government / Manhattan Buzz NYC.
The New York State federal offices (Congress) primary election is tomorrow, Thursday September 13th.
The polling booths will be open from 6 am to 9 pm Thursday.
To find your poll location click on the graphic at right.
Once on the website, input your address, and then click the icon to the right of it to get the results of the search. You have to look for the super-tiny icon near the lower right corner of the screen.
Remember that if you really want things to change, then you can't keep electing the same representatives.
---
$element(bwcore,article_picker,1493,Y,N,page_title_home,N)$
$element(bwcore,article_picker,1460,Y,N,page_title_home,N)$
IDC Challengers' Rallies Sunday
Challenging Republicans Posing as NYS Senate Democrats?
April 28, 2018 / NYC Neighborhoods / NYC Politics & Government / Gotham Buzz NYC.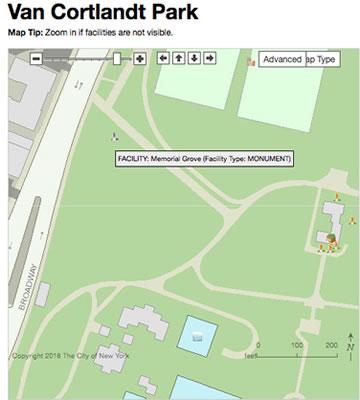 I just received an email notifying me of simultaneous rallies which will be held by IDC [Independent Democratic Caucus] member CHALLENGERS within the NYC Metro area. The members of the IDC, who these challengers are rallying against, have been caucusing with the Republicans since 2010 / 2011. By caucusing with the Republicans, the IDC Democrats have provided Republicans with a majority in the NYS Senate. Thus the IDC members appear to be Republicans running as Democrats on the Democratic ticket.
The IDC CHALLENGER rallies are intended to inform the electorate as to how their IDC electeds have been (mis?) representing them - as well as how the challengers would like to represent them - should they be given the chance.
"In an unprecedented show of strength and unity following the release of their joint statement about their agenda, the candidates will set forth their visions for their districts and will enlist those present at the rallies in registering voters, canvassing, and the like in preparation for the Thursday, September 13, 2018 primary election."
"The rallies will explain the need to replace the former IDC members with true blue Democrats whom we can trust not to turn their backs on the people who elected them. The IDC may have rejoined the Democrats for now, but they've been willing to ally themselves with the GOP since 2011 - and they've claimed to return to the Democratic fold before. The damage is done and we will not forget. New York deserves REAL Democrats who stand for progressive values, not Trump Democrats."
SUNDAY Rally Details:
Blue Wave Rally for Jessica Ramos, April 29, 2 PM, 31-04 Ditmar Blvd., Intersection at 31st Street Astoria, Queens.
Blue Wave Rally for Alessandra Biaggi, April 29, 2-3 PM, Memorial Grove in Van Cortland Park, Bronx. Memorial Grove is located in Van Cortlandt Park, near West 246 Street between Broadway and the Van Cortlandt Mansion - see map above.
Blue Wave Rally for Robert Jackson, April 29, 1:30-2:30 PM, at Bennett Park, W 183rd St & Fort Washington Avenue, Manhattan.
Blue Wave Rally for Rachel May, April 29, 2-3 PM, State Office Building, 301 East Washington Street, Syracuse.
Blue Wave Rally for Zellnor Myrie, April 29, 2-3 PM, at the Prospect Park subway stop, on Lincoln Avenue between Flatbush and Ocean Avenues, Brooklyn.
Blue Wave Rally for Jasmine Robinson, April 29, 2-3 PM, at Tappen Park, Staten Island (near the Stapleton SIR stop).
Blue Wave Rally to Make NY True Blue in SD38, April 29, 2-3, at 20 South Main Street, New City, NY
Blue Wave Rally to Make NY True Blue in SD21, April 29, 2-3 PM, Bell Boulevard at 73rd Avenue, Oakland Gardens, Queens
Press contacts:
Rise and Resist: Claire Ullman, 917-679-7120
True Blue NY: Lisa DellAquila, co-leader, 917-991-0605
Jackson campaign: Harris Doran, 917-797-6180
Myrie campaign: Andre Richardson (campaign manager), 201-892-5829, andrerichardson@gmail.com
Robinson campaign: Jane Nixon Willis, 914-584-2833; improvised3@gmail.com
Ramos campaign: Monica Klein, 917-565-0715, monica@seneca-strategies.com
Biaggi campaign: Dominique Shuminova, Deputy Campaign Manager, 917-821-7700
Avella protest: Judy Kirschner from Rise and Resist, 917-270-2705
Carlucci protest: John Gromada from Rockland Citizens Action, (845) 323-9896
Scroll down for related story or click here for the full story about the Independent Democratic Caucus & members.
---
$element(bwcore,article_picker,1495,Y,N,page_title_home,N)$
Mayor de Blasio Delivers State of the City Address 2018
NYC Mayor de Blasio's Theme for Second Term - Fairness
February 26, 2018 / Flatbush Neighborhood Brooklyn / NYC Neighborhoods / NYC Politics & Government / News Analysis & Opinion / Gotham Buzz NYC. By Michael Wood.
On Tuesday evening, February 13th, I made my way south toward the Kings Theater in the Flatbush neighborhood of Brooklyn. It was an unseasonably warm February, with temperatures descending into the 40's. I disembarked from the G subway at Church Avenue and headed east toward Flatbush Avenue, taking the opportunity to walk through the Prospect Park South neighborhood.
Kings Theatre - Historic 1920's Theater in Flatbush Brooklyn
When I arrived at Kings Theatre I found a number of people engaged in the exercise of their free speech rights, chanting for an accelerated pace of the reform initiated by Mayor de Blasio four years ago.
Once inside the theater I paused for a few minutes to take in the dazzling beauty of the 1929 theater built by Loews as a movie theater. The soaring arches and the ceiling had been restored in a renovation that was completed in 2015, at which time the Kings Theatre reopened. I walked up the stairs to look down into the lobby from the balcony to fully take in the architectural and artistic statement of an earlier time.
According to Wikipedia the Kings Theatre had been closed since 1977, named to the National Register of Historic Places in 2012, following the initiation of its restoration by the City in 2010.
Brooklyn Continues to Preserve its History & Queens does What?
It's nice to see this kind of preservation being done in Brooklyn - it's unfortunate that the government officials in Queens don't take the same sort of initiative to preserve more of the history of that borough. In 2017 a similar, although admittedly less expansive theater on 82nd Street in the Jackson Heights neighborhood of Queens, was demolished.
And in 2010 the landmarked mansion owned by the Steinways of Steinway & Sons Piano - built of granite in the 1850's, sitting atop about two and a half acres of land, and in very good condition - came on the market with an asking price of $2.5 million. The house was only blocks away from the piano factory where handmade pianos are still produced to this day and was the residence of one of the most influential, historically and culturally significant people in NYC and Queens of the latter half of the 19th century.
In an unbelievable failure of leadership in the borough of Queens - the Steinway mansion was not purchased by the government - nor was any meaningful attempt made to preserve it for the public - even though the mansion remained on the market until it was acquired by a developer in early 2014 [they had nearly four years to buy it]. The real estate developer subsequently built on the adjacent acreage - making back significantly more than he paid for the entire mansion, while still leaving him with ownership of the mansion. The future of the mansion itself remains unclear, as it is still in private hands, but because it has been landmarked, the outside of the mansion must be preserved. Click here to read our report about the Steinway Mansion and the travesty of the broken preservation process in Queens ... but I digress.
NYC Mayor de Blasio's State of the City Address 2018
Inside the theater, a Rabbi was making a speech. He was preceded by a priest, and followed by a minister, a transgender person, and the mayor's wife, Chirlaine McCray.
We were shown a film, which talked about education, housing and law enforcement - the three main challenges faced by the Mayor during his first term. And while the Mayor has made some solid progress in addressing these issues, they are likely to remain with us for many years to come.
New York City / The Tale of Two Cities: 2013 - 2017
Four years ago, the Mayor campaigned on a platform designed to address the tale of two cities. Last year he campaigned on his record of achievement in addressing the causes of the economic disparities implicit in his metaphor of the tale of two cities - but he didn't really tell us what to expect the next four years. Tonight, in his State of the City Address, the Mayor outlined what he hoped to achieve in the coming four years.
New York City / The Fairest Big City in America: 2018 - 2022
The Mayor, at his core is a bit of a policy wonk, and thus he began by outlining his plan to make New York City the Fairest Big City in America. I know that policy sounds boring - but in an age of political pugnaciousness and thoughtless theatrics - I actually find it refreshing to see an administration engaged in the process of trying to solve our social problems by using the data, analytic tools and most current social science / academic research.
1. NYC Mayor de Blasio's First Term Accomplishments
The Mayor started by touting his accomplishments which include on track to build a record number of affordable housing units, improving academic performance in the public education system [initiation Pre-K and 3-K] and continuing improvements in community safety, even while stop 'n frisk has declined over 90% [because the Mayor added thousands of police[wo]men to the force]. He noted that all of these accomplishments help make the city more fair than it was just four years ago.
The Mayor also spoke about the following topics, which I hope to add to at a later date.
2. Neighborhood Policing & Body Cameras
3. 3-K for All
4. Affordable Housing
He also proposed an electorate engagement plan, which I may also add at a later date.

Thomas Jefferson told us that a nation that expects to be ignorant and free, expects something that never was - and never will be. A government for the people by the people won't function properly if the people don't become engaged and remain engaged - as I witnessed on my way into the theater tonight.
---
Has The Pulitzer Prize Committee - Like the Corporate Media - Lost its Way?
Updated February 21, 2018 / NYC Neighborhoods / NYC Government & Politics / News Analysis & Opinion / Gotham Buzz NYC.
The following is an open letter that I sent to the Pultizer Prize Committee on January 25th, 2018 along with a journalistic series I had written in 2017 and sent to them in 2018 entitled Rupert Murdoch and the Rise of the 21st Century Propaganda Press. The series, which you can view by clicking the link, tells the story about how multi-billionaire Rupert Murdoch appears to use his media outlets as propaganda machines in order to promote pols who will grant him favorable tax legislation, favorable executive rulings and favorable industry regulatory legislation.
Murdoch also appears to be able to manipulate the course of governments and public policy. He appears to have done exactly this in the case of the Iraq War, whereby Murdoch appears to have sent three English-speaking democracies to war - not only for oil - but for his cable network TV ratings too. In Britain in 2016, regarding the Brexit referendum, Murdoch appears to have hijacked public policy in his favor - not the nation's - by pushing through a seismic policy change that enables Murdoch to have greater autonomy over how he conducts his multi-national media business - free from any meaningful government interference - and the Brexit referendum vote also gave Murdoch a huge purchase price discount, because of a devalued British currency.
While the Corporate Media obsesses over the Russian Collusion Investigation - they are distracted from putting in the spotlight what appears to be the REAL 2016 PRESIDENTIAL ELECTION STORY - which is Rupert Murdoch's election meddling to further empower and enrich himself at the expense of the republic and its institutions.
In Trump's first year, Murdoch was the recipient of numerous tax breaks, and breath-taking deregulatory actions in Murdoch's industry via FCC Rulings and telecommunications legislative changes. All of this has received scant news coverage, as the Pulitzer Prize Award winning corporate media, were too busy covering Donald Trump's Tweet distractions. By giving preferential treatment to Trump's tweets, which the American public is able to directly access on their own, the corporate media has failed the American public by regurgitating and hence amplifying the President's shock jock statements - instead of doing their job of providing the American public with context-based news reports about the important issues of the day.
---
---
Midtown / UES / UWS - Manhattan NYC
$element(adman,groupad,Catgry Rest)$
Click here to go to the Arts & Culture section of this site.
Click these links for promotions by advertisers in Manhattan.
Click this link to go to the Manhattan Neighborhood.
---
$element(adman,groupad,Catgry Finance)$
Site Search Tips. 1) For best results, when typing in more than one word, use quotation marks - eg "Midtown Neighborhood". 2) Also try either singular or plural words when searching for a specific item such as "gym" or "gyms".
$element(bwcore,insert_search,N)$
Click this link to the Gotham Buzz front page.
---
Click the log in link below to create an ID and post an opinion. Or send this story to a friend by filling in the appropriate box below.
---
---
$element(adman,groupads,Sectional2 Ad)$
---
Click the log in link below to create an ID and post an opinion.
Or send this story to a friend by filling in the appropriate box below.
---
---
NYC Related Links
Click for New Years Parties & Restaurants NYC
Click for Manhattan Farmers Markets NYC
---