---
NYC Municipal Elections Nov 2019 - NYC Charter Revisions on Ballot Queens DA Race & Public Advocate
Please Vote Tuesday, 11/5 NYC Municipal Elections
NYC Public Advocate, Queens District Attorney, Brooklyn District 45 NYC Councilmember Races & Changes to NYC Charter to be Decided
November 4, 2019 / NYC Neighborhoods / NYC Government & Politics / Brooklyn Blvd NYC.
The polling booths will be open from 6 am to 9 pm Tuesday, November 5, 2019.
To find your poll location click on the graphic above.
Once on the website, input your address, and then click the icon to get the results of the search.
PLEASE BE ADVISED that as of Sunday evening, the first poll site shown was the one used for EARLY VOTING, which at this point has ended, so scroll down to be sure you are going to the correct Poll site on Election Day.
---
Queens District Attorney Debate
Includes Video of Highlights from the Debate in Jamaica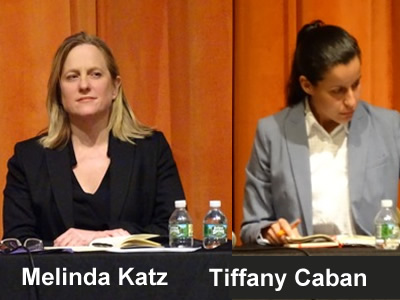 June 11, 2019 / Queens Neighborhoods / Queens Politics & Government / News Analysis & Opinion / Queens Buzz NYC.
In May I had the opportunity to attend the Queens District Attorney debate at the Jamaica Performing Arts Center. It was the second event, featuring the candidates running for the Queens District Attorney's office, that I attended. This time I focused more intently how well versed each candidate was on the issues to be addressed by the person winning that position, and what qualifications, experience and vision they might bring to the office.
I have noted my first impressions below, which were gleaned while attending a forum in April, to which all candidates were invited to participate at the Jackson Heights Jewish Center. In the second debate, some of these impressions were altered and some of them were confirmed.
The photo above shows the two leading candidates [based on endorsements] running for the Queens District Attorney office -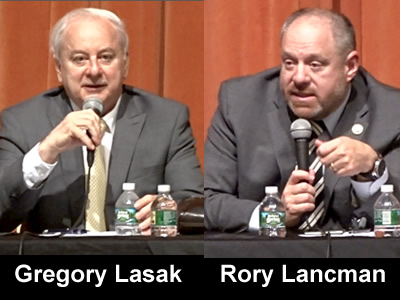 Melinda Katz and Tiffany Caban. The photo below shows the other two leading candidates running for the Queens District Attorney office - Gregory Lasak and Rory Lancman.
Tiffany Caban has, by far, received donations from more small contributors than any of the candidates. Melinda Katz leads in fundraising, with strong support from the real estate development community for which she spent years [2009 - 2013] working as a lobbyist.
Gregory Lasak and Rory Lancman have also been competitive fundraisers - but neither matching Tiffany Caban's small donor support, nor Melinda Katz's big donor support.
The following video captures about 17 minutes of highlights from the three hour long debate. I decided not to give equal time because many of the statements made were either repetitive or laden with platitudes. Thus former Justice Gregory Lasak and Public Defender Tiffany Caban received the most air time, as they provided real world anecdotes, as well as real world insights into how our criminal justice system functions and how it can be reformed.
---
Jumaane Williams Wins Public Advocate Election
Williams Bests 16 Other Candidates to Take Second in Succession to Mayor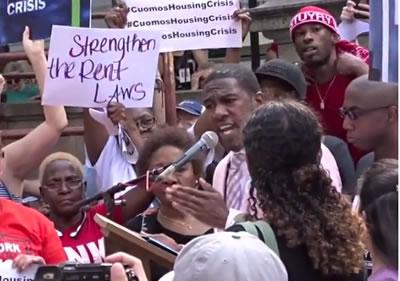 February 26, 2019 / NYC Neighborhoods / NYC Politics & Government / Gotham Buzz NYC.
Jumaane Williams appears to have won the election for Public Advocate. According to Ballotpedia, with 88% of the precincts reporting, Williams had received 120,000 or 33% of the vote.
The sole Republican, Eric Ulrich, received 70,000 votes or 19%, which was the second highest total of votes. The other Democrats included former NYC Council Speaker, Melissa Mark-Viverito, who received 40,000 or 11% of the votes, was followed by Michael Blake with 29,000 or 8%, Ydanis Rodriguez with 22,000 or 6%, Dawn Smalls with 15,000 or 4%, Rafael Espinal 12,000 or 3%, Ron Kim 11,000 or 3%, Daniel O'Donnell 11,000 or 3% and the others each had less than 10,000 votes with 88% of the precincts reporting.
Jumaane Williams is shown in the photo at right in June 2018, campaigning on the steps of the New York Public Library in Midtown Manhattan, for Lieutenant Governor. Williams lost that election in November, but quickly rebounded, winning the position for NYC Public Advocate in February of 2019.
According to a NY Times report Jumaane has eight months before he's up for election again, as this special election - to replace Tish James because she was elected NYS Attorney General - only lasts until the next regularly scheduled election. Congratulations Jumaane.
---
NYC Mayor Bill de Blasio Delivers State of the City Address 2019
De Blasio Delivers State of the City Address 2019
The Mayor Recounts a Year of Accomplishment & Seems to Push the Envelope
January 22, 2019 / Upper West Side Neighborhood / NYC Government & Politics / Manhattan Neighborhoods NYC / Brooklyn Blvd NYC.
On Thursday, January 10th, Mayor Bill de Blasio delivered his fifth State of the City Address at Symphony Space on the Upper West Side. To date the Mayor has delivered the address in three of the five boroughs, and this was the third delivered in Manhattan [at Apollo Theater in Harlem in 2017 and Baruch in 2015]. He delivered the third address in 2016 at Lehman College in the Bedford Park neighborhood of the Bronx and his fourth at Kings Theatre in the Flatbush Ditmas neighborhood of Brooklyn in 2018. Queens and Staten Island have yet to host the Mayor's State of the City Address, but he has a couple more years in which to make that happen, should he choose to do deliver his address in all five boroughs.
I arrived on a cold January morning. There was a crowd lined up outside, waiting to pass through security, even though it was well over a half hour before the address was to begin. Inside there was a large crowd mingling, and eventually it looked like it was a full house.
There were the usual warm up speeches and performances, including the Invocation by the NYPD Chaplain, Rabbi Alvin Kass, the singing of 'God Bless America' by NYFD vocalist Regina Wilson and an introductory speech by the First Lady Chirlane McCray.
---
NYC Public Advocate - NYC Special Election 2019 - NYC Candidates Summaries Public Advocate NYC
NYC Public Advocate Candidates in Election 2019
Melissa Mark-Viverito, Jumaane Williams, Daniel O'Donnell, Rafael Espinal, Eric Ulrich, Nomiki Konst, Ron Kim, Michael Blake & 9 Others are Running for this Office
February 25, 2019 / NYC Neighborhoods / NYC Politics & Government / Gotham Buzz NYC.
Tomorrow, Tuesday, February 26th, 2019 a few New Yorkers will go to the polls to select the next NYC Public Advocate.
Brief NYC Public Advocate History
The position was created in 1993, by renaming the office of the President of the City Council, which up until 1989, had held a seat on the New York City Board of Estimate until it was abolished that year.
The Public Advocate has a relatively small budget [under $4 million per year], a small department as measured by headcount and no voting power except in the cases where a deciding vote needs to be cast in the City Council. The real power of the Public Advocate is in that person's ability to influence the conversation regarding policy priorities and urgency.
Second in Line to Mayor de Blasio
And with Mayor de Blasio considering a run for the presidency - while quite a long shot at this point - the Public Advocate would be next in line to succeed him. There have been only four Public Advocates since the post was created, starting with Mark Green who made a run for Mayor and lost. Betsy Gotbaum followed Green, and she was followed by Bill de Blasio who managed to use the position as a spring board to win the Mayoralty. Letitia James succeeded de Blasio and she is now the NYS Attorney General. The City Council Speaker has been the interim Public Advocate since James took office in January 2019, and will give up the post following this election.
---
Public Advocate Election - Tuesday 2/26 - Please Vote
February 26,2019 / NYC Neighborhoods / NYC Politics & Government / News Analysis & Opinion / Gotham Buzz NYC.
The New York Public Advocate election is tomorrow - Tuesday, February 26th.
The polling booths will be open from 6 am to 9 pm Tuesday.
To find your poll location click on the graphic above.
Once on the website, input your address, and then click the icon to the right of it to get the results of the search. You have to look for the super-tiny icon near the lower right corner of the screen.
---
November 7, 2018 Midterm Election Results: Trump & Republicans Lose Badly in Midterms
Trump Suffers Huge Losses in Midterms
Americans Sharply Reprimand the Un-Reality TV President
November 7, 2018 / NYC Neighborhoods / NYC Politics & Government / New Analysis & Opinion / Gotham Buzz NYC.
The American people have spoken.
Now what the voters have said, by virtue of their votes, is already being spun by Donald Trump's and Rupert Murdoch's propaganda spin machines in order to further their self-serving agendas.
But before we look at the spin, let's look at the facts, as the electoral outcome is a measure of the American people's endorsement - or lack thereof - of the presidency of Donald J. Trump and by association, Rupert Murdoch, the multi-billionaire, global propagandist who was instrumental in helping Trump take the White House.
Republicans Gain 2 Senate Seats - One from Pence's Home State of Indiana & one from Donald's 2nd Home State of Florida
The Republican Party strengthened its already firm grip on the Senate by picking up three [North Dakota, Missouri & Indiana] maybe four [Florida] Democratic Senate seats, while losing two Republican seats [Nevada and Arizona], leaving them with a net gain of two seats.
Update - Republicans won Florida, so they gained four Senate seats and lost two. The tally now stands at 47 Democrats to 53 Republicans, meaning the Republican party continues to control the Senate.
So, assuming that the follow on election in Mississippi goes to Republicans, and the current tiny lead in Florida is not overwhelmed with absentee ballots, the Senate tally will change from the current 49 Democrats - 51 Republicans to 47 Democrats - 53 Republicans. Of note is that Republicans had only six seats to defend, while Democrats had 27 seats up for grabs.
At the moment there are two unresolved Senate races, one of which has been Republican [Mississippi] and the second of which is Florida [Democratic incumbent], so this tally could change.
Home States Advantage. It's worth mentioning that one of the seats picked up by the Republicans came from Indiana, the home state of Vice President Mike Pence, and the possibility of another comes from Florida, which I categorize as the second home state of President Donald Trump, given how much property he owns / manages there and how often he golfs there.
Republicans Lose Control of the House & Lose Control of 7 State Capitals
As of this report the Republican Party lost 27 and likely more seats in the House, thus relinquishing their majority in that body for the first time in eight years. And for the first time during the Trump presidency, the opposition Democrats have an opportunity to play a real role in governing again. The Democrats now have subpoena power, they have the power to impeach, and no legislation can be passed without Democratic signatures. At present count the Democrats have won 222 seats [218 provides majority rule] to the Republicans 194 seats, and there are 17 races that have not yet been officially announced, so the net loss / gain tallies will change, as the remaining 19 contests are settled. There are 435 congressional representatives.
Update - Democrats won 235 Congressional seats, while Republicans won 200 Congressional seats meaning there was a HUGE flip from strong Republican control of Congress to strong Democratic control of Congress.
---
Ballot Questions Tuesday
Most Pols Urge Folks to Vote Yes - I Respectfully Disagree
November 5, 2018 / NYC Neighborhoods / NYC Politics & Government / New Analysis & Opinion / Gotham Buzz NYC.
Tomorrow on your ballot you will find three ballot initiatives which appear designed to encourage participation in the electoral process. One pol informed me that NY State had the 8th lowest turnout in the nation in 2016 and these ballot initiatives are an effort to engage the public.
Most NYC public officials have come out in favor of the initiatives, with their rationale being that it will encourage participation by the electorate. While I applaud their initiative and efforts, I disagree with the specific proposals.
#1. Campaign Finance. To increase public matching from 6:1 to 8:1. To reduce the maximum campaign contribution from up to $5,100 for Mayor to $2,000 and from $3,950 to $1,500 for city council members. To reduce the requirements to qualify for those funds. And to make those funds available earlier in the campaign.
I like the idea of increasing the matching from 6:1 to 8:1 as an incentive to increase voter participation in elections. But that's where my support for this proposal ends. If my reading of the ruling of the Supreme Court in 2009 / 2010 in the Citizens United Case is correct that part of the ballot proposal is unconstitutional. While I don't know the specifics of how they've loosened the requirements to qualify for matching public funds or exactly how soon a candidate can access them - I've yet to hear of any major viable candidate complaining that their inability to qualify for or access public matching funds caused them to drop out of or lose a race. So making it easier for political candidates to obtain public money doesn't seem like a good idea to me - but I certainly understand why it would seem like a good idea to pols.
#2. A Civic Engagement Commission. To establish a civic engagement commission of 15 members, with 8 appointed by the Mayor, 2 by the City Council Speaker, 1 by each of the five Borough Presidents. The Commission Chair would be appointed by the Mayor and given a staff. The mission of this group would be to encourage civic engagement in the budgeting process by working with local groups and setting up translators at local poll sites.
How different is this from the role played by the Community Boards? The NYC.gov website states,
"The purpose of each New York City Community Board is to encourage and facilitate the participation of citizens within City government within their communities, and the efficient and effective organization of agencies that deliver municipal services in local communities and boroughs."
This seems redundantly bureaucratic to me. Instead of adding layers of bureaucracy, they should be working to make the existing government apparatus more meaningful and effective.
#3. Set Term Limits For Community Boards & Require Borough Presidents to Seek out Diversity. They want to limit Community Board members to four consecutive two year terms. And require Borough Presidents to seek out diverse people to serve as board members.
The only place I like term limits is in the Executive branch - because that's where most of the real power is vested. I don't like term limiting council members, assembly members, congress[wo]men or Senators because they are the locus of institutional knowledge. So I don't like seeing community board members term limited because they understand how the system works, and by the time the new ones move up the learning curve, term limits forces them from office, leaving those who lobby these groups with most of the control.
As for diversity - I'm all for it - but there are plenty of anti-discrimination laws already in place. At some point people have to begin to organize and stand up for themselves. Based upon the last eleven years of local reporting, the people of NYC appear to be pretty good at doing that. And if people feel they are being discriminated against, I suggest seeing a non-profit or for profit attorney about pressing your case.
---
Andrew Cuomo's Democratic Party Unfairly Attacks Cynthia Nixon
Has the Democratic Party Tipped the Scales ... Again?
Democratic Machine Releases Direct Mail Ad, Falsely Attacking Cynthia Nixon
September 11, 2018 / NYC Neighborhoods / NYC Politics & Government / News Analysis & Opinion / Gotham Buzz NYC.y
A Democratic Machine Big Lie?
Over the weekend, the NYS Democratic Party Committee, sent out a mailer which falsely claims that,
"... inexperienced Cynthia Nixon. Who won't stand strong for our Jewish communities."
The claim in this Democratic Party mailer is akin to Hitler's Big Lie. Hitler's Big Lie, according to Wikipedia is,
"... [Hitler's] 1925 book Mein Kampf, [talks] about the use of a lie so "colossal" that no one would believe that someone "could have the impudence to distort the truth so infamously".
It's a big lie because Cynthia Nixon is a mother to three Jewish children with whom she attends a local synagogue.
Andrew Cuomo's Implausible Denial?
Governor Andrew Cuomo, when queried about who was behind this 'dirty politics' mailer replied on Sunday in Manhattan,
"I didn't know about the mailer. I haven't seen the mailer."
The New York Times wasn't buying it. After having endorsed Cuomo less than a week earlier, on September 4th, the Times Editorial Board in a September 9th opinion said the following,
"Sorry, Mr. Cuomo, but that strains credulity."
They went on to note that,
"Mr. Cuomo dominates the state Democratic Party. It acts ethically or abominably at his direction, or at the very least, with his campaign's blessing."
Byron Brown - NYS Democratic Party Chair & Cuomo Ally
It's worth noting that the new Chair of the New York State Democratic [Party] Committee is Byron Brown. Brown was appointed to the post on May 23, 2016, and is a Cuomo political confidant. So it would seem Cuomo's ignorance of the mailer is either extreme incompetence - or more likely - an outright lie. Let's briefly examine the facts.
Democratic Party Chair Byron Brown was born and raised in Queens in the 1950's, as was Andrew Cuomo. Brown went on to become the Mayor of Buffalo from 2005 - 2017, and as early as 2006, when Andrew Cuomo began campaigning for NYS Attorney General, Byron Brown was described in a November 23, 2006 New York Times report as a "political confidant" of Andrew Cuomo's.
A May 30, 2006 report in the Buffalo News states that Byron,
"... seconded Cuomo's nomination [for NYS Attorney General] at the convention on May 30, 2006."
---
---
Midtown / UES / UWS - Manhattan NYC
Click here to go to the Arts & Culture section of this site.
Click these links for promotions by advertisers in Manhattan.
Click this link to go to the Manhattan Neighborhood.
---
Site Search Tips. 1) For best results, when typing in more than one word, use quotation marks - eg "Midtown Neighborhood". 2) Also try either singular or plural words when searching for a specific item such as "gym" or "gyms".
Click this link to the Gotham Buzz front page.
---
Click the log in link below to create an ID and post an opinion. Or send this story to a friend by filling in the appropriate box below.
---
---
---
Click the log in link below to create an ID and post an opinion.
Or send this story to a friend by filling in the appropriate box below.
---
---
NYC Related Links
Click for New Years Parties & Restaurants NYC
Click for Manhattan Farmers Markets NYC
---