Public Transit, LaGuardia Airport LGA, JFK Airport, Biking Around Manhattan, & NYC Subways & Roadways
Click here to go to the front page of Gotham Buzz - the web magazine of NYC.
Or click here to view our curated calendar of things to do in Manhattan.
---
$element(bwcore,article_picker,1501,Y,N,page_title_home,N)$
NYC / NYS Congestion Pricing 3.0
NYS Senators Liz Krueger & Brad Hoylman Host Community Transit Discussion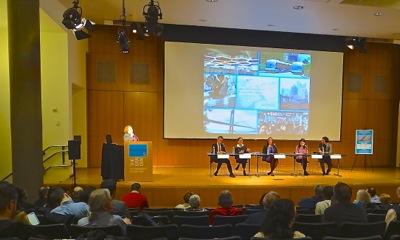 March 5, 2018 / Midtown Manhattan / Manhattan Neighborhoods / Manhattan Business / News Analysis & Opinion / Manhattan Buzz NYC.
It was a cool Thursday evening as I made my way to the CUNY Graduate Center in Midtown. The CUNY Graduate Center is located on Fifth Avenue just north of 34th Street kiddy-corner from the Empire State Building.
I was headed to a community discussion about the public transit crisis facing NYC. I suppose, not surprising, was that one of the Congestion Pricing representatives, Alex Matthiessen, was there to present. Alex started out the conversation with a presentation of the new Congestion Pricing Plan, which is now called Fix NYC, telling us how this Congestion Pricing plan was different from the two prior ones floated by the Bloomberg Administration and by Mattheissen's Move NY group a few years back.
Click here to read our report about NYC Congestion Traffic Pricing posted in March 2016 when we took a pretty in-depth view at who has been pushing this plan [consultancies & businesses that will profit from the infrastructure build out], how much of the London implementation revenue went back into improvements in that city [about 50%], how congestion pricing didn't reduce traffic, but time shifted traffic in a New Jersey bridge / tunnel implementation [they had claimed emissions reductions and used a 'green' label to promote the last version of this plan], and other important things to consider regarding implementing a 'new and improved' congestion pricing system along the East River Bridges.
---
Update: LaGuardia Airport Development Project
First Phase Moving Along with Second & Third Phases About to Begin
April 24, 2017 / Astoria Neighborhood / Queens Real Estate / Gotham Buzz NYC.
I attended a Community Board One meeting at the Astoria World Manor on Wednesday, April 19th. People representing the LaGuardia Airport development project were scheduled to provide the community with an update regarding several of the multi-billion dollar renovation projects associated with LaGuardia Airport, that are either currently in the works or nearing the end of the planning process.
The presentation was split into three parts: 1) LaGuardia Airport development project construction updates, 2) traffic mitigation efforts and 3) community outreach including job opportunities related to the projects.
Click here to read our report on the LaGuardia Airport development project & expansion, related job opportunities, its possible impact on travel times to the airport and the public hearing details on May 3rd, 2017 in Flushing. We have also included a small bit of history about the airport and the fight over the property and development in Flushing Meadows Corona Park. The graphic at right was created as part of the LaGuardia Airport development project.
---
$element(bwcore,article_picker,1380-1422-1321-130-1069-1033-679-490,Y,N,page_title_home,N)$
---
$element(bwcore,insert_search,N)$ Click for Manhattan Weather & Horoscope.
---
$element(adman,groupad,Sectional Ad)$
---
NYC Transit, MTA & Infrastructure - New York City Related Info
$element(adman,groupad,Catgry Foodwine)$
Click this link for promotions, discounts and coupons in New York City.
---
$element(adman,groupad,Catgry Health)$
Site Search Tips. 1) For best results, when typing in more than one word, use quotation marks - eg "Midtown Neighborhood". 2) Also try either singular or plural words when searching for a specific item such as "gym" or "gyms".
$element(bwcore,insert_search,N)$
Click this link to the Gotham Buzz front page.
---
$element(adman,groupads,Sectional Ad)$
---
Click the log in link below to create an ID and post an opinion.
Or send this story to a friend by filling in the appropriate box below.
---
NYC Related Links
Click for New Years Parties & Restaurants NYC
Click for Manhattan Farmers Markets NYC
---