Brooklyn Outdoor Free Public Swimming Pools in BK NYC
Brooklyn Free Public Outdoor Swimming Pools - BK NYC
This Brooklyn Public Swimming Pool Report Includes Contact Info NYC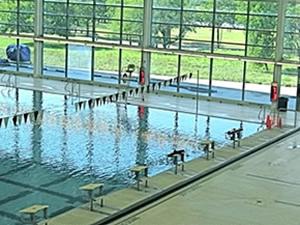 May 16, 2023 / Brooklyn Neighborhoods / Brooklyn Swimming Pools, Parks & Sports / Brooklyn BLVD NYC.
Brooklyn offers easy access to a wide range of recreational swimming pools. The following is an attempt to provide you with a view of the range of public swimming pools available in the parks of Brooklyn. We encourage you to make use of these facilities because they provide healthy, fun, and frequently free or inexpensive entertainment for both individuals and families with children.
Only outdoor public pools will open in late June 2023. A few of the indoor pools will be closed this summer to allow for construction and improvements.
Generally pool hours are from 11 am - 7 pm daily, with a one hour break between 3 and 4 pm for cleaning. Bring a padlock for your locker and proper swimming trunks are required [for boys this means not shorts as trunks must have liners]. Don't bring food, glass bottles, newspapers, electronics, floaters and no or as few valuables as you can bring to minimize your risk because the park isn't responsible for your losses. Free sunscreen will be made available while supplies last.
As of this posting 5.16.23, masks are NOT required for indoor activity including in the locker rooms, but stay tuned as it's possible that could change.
Click here to view a listing of Brooklyn outdoor swimming pools, free public swimming pools in Brooklyn in the neighborhoods of BK. Please note the photos do not reflect the onsite pools as of this post 5.16.23.
---
---
NYC Marathon Coming Through Brooklyn
New York Road Runners 49th NYC Marathon on Sunday
October 29, 2019 / Brooklyn Neighborhoods / Brooklyn Things To Do / Brooklyn BLVD NYC.
The New York Road Runners / NYRR is hosting its 49th NYC Marathon on Sunday. The NYRR was founded in 1958 and has been organizing the NYC Marathon since 1970. The proceeds from the race go toward the programs of the runner non-profit. They report that the NYRR serves 670,000 people, of which 250,000 are youth, annually.
There are plenty of festivities this week surrounding the affair. Some are held at the NYRR Run Center [NYRR headquarters] at 320 West 57th Street between 8th and 9th Avenues in Manhattan, while others are held at the NYC Marathon Pavilion in Central Park at 67th Street and Central Park West, near the Tavern on the Green in Manhattan.
The other pre-race activities [see location addresses above] include a discussion on Tuesday about the NYC Marathon Book Club from 6 - 8 pm at the NYC Marathon Pavilion. On Wednesday there's a forum of Celebrity Charity Runners who talk about why they are running at the NYC Marathon Pavilion from 7 - 8 pm. On Thursday evening between 6 and 7 pm the NYRR presents the awards for the NYRR Hall of Fame inductees at the NYC Marathon Pavilion. On Friday at the NYRR Run Center there's an NYRR Running History Tour which runs from 10 - 11.30 am.
The pre-race festivities culminate the Saturday evening before the race, when there's an early dinner [3.30 - 8.30 pm] for the runners at the NYC Marathon Pavilion that is prepared by the chefs from Tavern on the Green. They call it the Marathon Eve Dinner. It has a sort of holiday ring to it.
NYC Marathon Times, Route & Statistics to Beat
Statistics 2018. According to the NYRR.org website, in 2018 there were 52,813 runners, from 129 countries, their average run time was 4.40 [hours.minutes] and they raised $40 million for charity. This year there are a number of primarily TV game show celebrities running to raise money for charity.
According to Wikipedia, in 2018 records for participation were broken, yet again, with 30,669 men and 22,143 women participating. The fastest runs times were approximately 2.05 [hours.minutes] for men and 2.20 [hours.minutes] for women.
NYC Marathon Organized at Fort Wadsworth on Staten Island
As you can imagine, organizing the 52,000 plus runners in the NYC Marathon, is an annual logistics feat. The NYRR has organized the race into four Waves. Each Wave begins at a different time. Within each Wave there are three Start Times which are color coded green, orange and blue. In addition to three different start times for each wave, there are six different Corrals, A through F, where runners gather to be released into the race during their wave and start time.
NYC Marathon Start Times 2019
The NYC Marathon begins at 8.30 am at Fort Wadsworth on Staten Island. From there over 52,000 runners departed last year, and the race continues to grow in popularity. The first group to begin the race are in the wheelchair division, followed by the handcyclists. These two groups depart between 8.30 am and 8.52 am.
The next group departs at 9.10 am and it comprises the professional women competing for the title. They are followed a half hour later, at 9.40 am, by the professional men. It is at this time [9.40 am] that the first wave kicks in, with its three start times. The second wave begins at 10.10 am, the third wave begins at 10.35 am and the fourth and final wave begins at 11 am.
NYC Marathon Best Guess Viewing Times
The 16 mile mark of the 29 mile NYC Marathon is at the Queensboro Bridge. That's a bit more than halfway. If you divide the average run time of 4 hours and 40 minutes, to get 2 hours and 20 minutes, you can figure out - depending on which wave / start time your loved ones are in, roughly when they'll be at the halfway mark. And then you can add to that time if you're viewing in Manhattan, or subtract from that time if your viewing in Brooklyn, or be there at the start time if you're on Staten Island. For the Bronx adding three hours to their start time should give a good proximation of when they'll be coming through Mott Haven.
NYC Marathon Route 2019
The NYC Marathon had originally circumvented Central Park, but it quickly outgrew that locale.
Staten Island NYC Marathon Route. The route used today has been in place for a long time, possibly decades. It starts at Fort Wadsworth on Staten Island, crossing the Verrazzano Bridge.
Brooklyn NYC Marathon Route. The NYC Marathon travels along 4th Avenue through most of southern Brooklyn, then taking a short turn eastward on Lafayette in Downtown Brooklyn, before resuming the northern trek along Bedford Avenue through Williamsburg into Greenpoint, where the course jumps onto Manhattan Avenue at McCarren Park.
Queens NYC Marathon Route. The next step is across the Pulaski Bridge into Long Island City Queens, where the NYC Marathon zigs west to Vernon Blvd, marches north along Vernon Blvd, and then 44th Drive and 21st Street before crossing the Queensboro Bridge.
Manhattan NYC Marathon Route. In Manhattan the NYC Marathon travels north along First Avenue.
Bronx NYC Marathon Route. The NYC Marathon route traverses the Willis Avenue Bridge into the Port Morris and then Mott Haven neighborhoods of southern Bronx. The NYC Marathon then heads west along 135th Street to 138th Street in Mott Haven and turns south heading back through Port Morris, over the Madison Avenue Bridge to Manhattan.
Manhattan NYC Marathon Route. In Manhattan the NYC Marathon travels south along 5th Avenue and into Central Park at 125th Street coming down inside the park to end at the NYC Marathon Pavilion.
Whew. I'm plum tired out just cataloguing the route, let alone running it : )
** LINK. Here's a link to the NYC Marathon route map. Enjoy.
---
Greta Thunberg at Climate Strike in Battery Park NYC 2019
Tens of Thousands Showed for the Climate Strike - NBC Estimated 60,000
September 20, 2019 / Downtown NYC / Manhattan Buzz NYC.
I attended the Climate Strike in Battery Park Friday late afternoon. It was a beautiful day and thousands had shown up to rally support for changing how we live in order to avert the disaster of irreparably destroying the ecosystem which supports life on the planet. Swedish teen activist Greta Thunberg was there and spoke at the rally. The video below provides views of the crowd, some of their signs, a poetry performance, a musical performance and some of Greta's remarks. Stay tuned next week as the United Nations meets and Greta visits the U.N. to implore them to take action.
---
Only in Queens: The U.S. Open & the USTA
Intergenerational Tennis Wins: Nadal Defeats Medvedev & Andreescu Defeats Williams
September 10, 2019 / Flushing Neighborhood / Sports in Queens / Queens Buzz NYC.
In the week leading up to the U.S. Open the USTA opens its doors to the Flushing, Queens and NYC community. They host a number of tennis related events, and provide opportunities for those who visit to watch the pros practice on the courts. The week culminated in Arthur Ashe Kid Day at the end of the week and families from the NYC metro area, most notably Queens come in droves to take in the rich atmosphere of the newly renovated USTA Billie Jean King National Tennis Center.
I had the opportunity to visit this year, which was enhanced by being able to photograph and video a shirtless Rafael Nadal - who won the men's title this year, complete with ripped abs - while practicing. See video later in the story.
---
$element(bwcore,article_picker,1457,Y,N,page_title_home,N)$
Spring Has Arrived
The Trees are Blooming and Warmer Weather is on its Way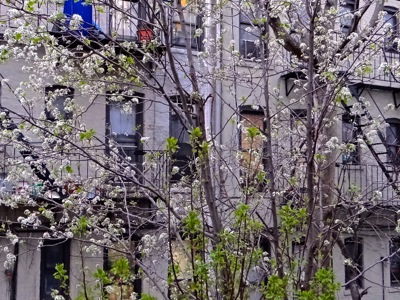 April 17, 2018 / NYC Neighborhoods / Gotham Buzz NYC.
This weeks our deciduous trees have begun budding and flowering. We can see the bright pea green buds and the white tree blossoms popping out everywhere. This unique period of springtime lasts only a week or two, so enjoy the majestic beauty while it lasts.
The photo to your right shows what is a very ordinary view of a back wall of apartment windows in NYC, as it comes alive with nature's beauty. The budding trees add oxygen during the day and carbon during the night to our atmosphere. And provide shelter from the hot sun during the summer and some privacy between neighbors as well.
So enjoy these magical week(s) as nature blossoms and our deciduous trees awake from their wintry slumber.
---
$element(bwcore,article_picker,1458-1368-1321,Y,N,page_title_home,N)$
NYS Medical Marijuana Law & DPA
Drug Policy Alliance Reports First Deadline For Submissions Passes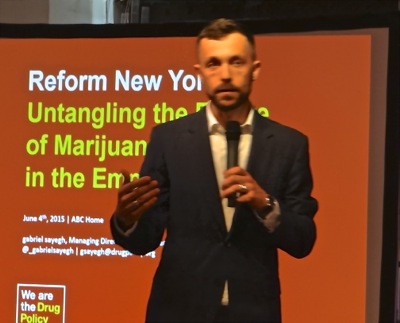 June 8, 2015 / NYC Neighborhoods / NYC Healthcare / Gotham Buzz NYC.
I attended a forum on medical marijuana last week. It was sponsored by the Drug Policy Alliance, a non profit group, whose mission is to promote
"drug policies that are grounded in science, compassion, health and human rights".
During the course of this forum I found that there's a lot going on in this area - not just with regard to implementing the legalized use of marijuana for medical use - but in going signficantly beyond that milestone, to making it available to the general public by regulating it in a manner, of which the options range in similarity to: pharmaceuticals, alcohol or tobacco.
To be sure, as public perceptions and policy change, there are important concerns and issues associated with these changes that must be properly managed, or the results of these changes won't be beneficial to the community as the marijuana legalization advocates suggest - but rather could be just the opposite.
We'll have more on the Drug Policy Alliance forum held last week at ABC Carpets on Broadway.
Click here for things to do in Midtown NYC.
---
$element(bwcore,article_picker,1373-1119-1104,Y,N,page_title_home,N)$
Affordable Care Act Insurance Deadline
Deadline To Complete Enrollment Extended To February 28th
But February 15th Is Final Day To Begin NYS Insurance Enrollment

Updated February 15 / February 12, 2014 / NYC Neighborhoods / NYC Healthcare / Gotham Buzz NYC.
New Enrollments For ACA Health Insurance Ends February 15, 2015. Those who have begun the enrollment process by February 15th will have until February 28th to complete them. The deadline is February 15th to begin an enrollment. We received reports that many folks were having difficulty in getting through to a telephone operator, so it looks like there was a spike in demand near the deadline, which also happened in 2014.
On Saturday, NY State of Health extended the enrollment deadline by two weeks to enable those who do not complete their enrollments by Sunday, February 15th. Hence, enrollees now have until February 28th to complete enrollments in the New York State health insurance plans associated with the Affordable Care Act. It's worth mentioning that the NY State Of Health does not have operators available on Sunday and that they are only available Saturday from 9 am - 1 pm.
Enrollment On Target With Government Incentives. According to recent national news services, there were already 9.5 million enrollees in the Affordable Care Act plan as of a few weeks ago [mid / late January 2015]. The total enrollment target nationally for this year is 10.5 million. Last year the New York State of Health - which runs the NYS Affordable Care Act enrollments - signed up nearly 371,000 people. There were reports in January 2015 that the number of NY State of Health enrollees has grown this year. We also understand that the folks who enrolled last year and are currently participants in a plan will be automatically renewed in their Affordable Care Act Health insurance, so they are not required to update their enrollment with the state. But that said, they must renew their status with their health insurance provider around the time of the anniversary of their enrollment.
One news site recommended that folks already enrolled in the plan ought to review and update their enrollment to make sure they want to stay with their present insurer, and that they fully understand the tax consequences of their healthcare choices.
Tax Penalties 2015. One report noted that the majority of Affordable Care Act enrollees get some measure of monetary incentive to enroll in the plan. In 2014 the tax penalty for not having health insurance was $95 per adult or 1% of household income. In 2015 the penalty rises to $325 per adult or 2% of income.
Click here to view the New York State of Health website.
---
$element(bwcore,article_picker,1029-1033,Y,N,page_title_home,N)$
$element(bwcore,article_picker,1375-1374-1394-1395-1385-1366-1372-745-1384-1396-1397,Y,N,page_title_home,N)$
NYC Healthcare, Ecology, Parks & Sports - NYC
NYC Healthcare & Environment - New York City Parks & Sports Related Info
$element(adman,groupad,Catgry ManWmn)$
Click this link for promotions, discounts and coupons in New York City.
Click these links for promotions by advertisers in Manhattan.
Click this link to go to the NYC Neighborhoods section.
---
$element(adman,groupad,Catgry Rest)$
Site Search Tips. 1) For best results, when typing in more than one word, use quotation marks - eg "Midtown Neighborhood". 2) Also try either singular or plural words when searching for a specific item such as "gym" or "gyms".
$element(bwcore,insert_search,N)$
Click this link to the Gotham Buzz front page.
---
$element(adman,groupads,Sectional2 Ad)$
---
Click the log in link below to create an ID and post an opinion.
Or send this story to a friend by filling in the appropriate box below.
---
NYC Related Links
Click for NYC Neighborhoods NYC.
---