This Weekend Things To Do NYC & News Updates
Perfect Weather Weekend, NYC Institutions doing more Blended Virtual & Live Programming, Lincoln Center ReAwakens, Bronx Week Ending, Bike Blvds Coming This Summer, Some Open Streets to Continue, Kids 12 - 15 Now Eligible for Vaccinations, Some Subway Stations Giving Free Vaccinations, Tourism Coming Back, Subway Safety & Resumption of 24/7 Service & Economic Snapshot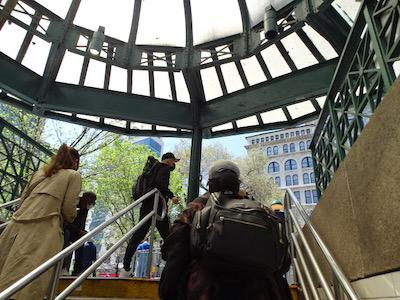 May 14, 2021 / NYC Neighborhoods / NYC Corona Virus / News Analysis & Opinion / Gotham Buzz NYC.
Weather. The temperature highs will be in the mid 70's, while the temperatures lows will be in the mid 50's all weekend. No rain is in the forecast. The humidity will range between 40% and 60%, rising as the weekend progresses. Winds will be 5 - 10 mph.
In the photo at right you can see folks emerging from the subway station near Union Square in Manhattan. The photo seems a metaphor for where we're at in the pandemic, emerging, but not quite there.
Lincoln Center goes Green
So, on this first weekend of the newly 'greened' Lincoln Center pavilion, there are a couple of live performances on Saturday which are open to the public for free via a ticket lottery in order to maintain some sort of CoVid discipline. The first performance is at 11 am for kids and the second is at 7.30 pm but unfortunately has been sold out. They're going to continue this live programming through May, so if you're interested cut and paste this link to their website for future shows - https://www.lincolncenter.org/lincoln-center-at-home . They're also providing some virtually streamed videos which are a mix of documentaries and performance. Free.
Bronx Week Ends This Weekend at Orchard Beach
On Saturday Bronx Week will host two live events as it winds down. The first is the Walk of Fame event at 10 am the whereabouts of which, remains unclear. If I hear back from the Bronx Borough President's Office in time, I will post the location. The second event begins at 12 noon at Orchard Beach and it's a Drive-In Grand Finale Concert. I believe it's a first come - first serve parking spot event. Free.
Mayor de Blasio Announces Plans for Bike Boulevards Bike Lanes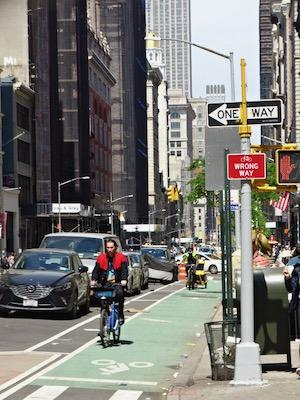 The Mayor announced plans for more bike lanes in 2021, including one bike boulevard in each borough. The proposals must go through the community vetting process, so it's not a done deal. Here are where the proposed bike boulevards are slated to take place - BUT will only include a segment of each street / avenue - NOT the entire road.
21st Street (South Slope, Brooklyn)
39th Avenue (Sunnyside, Queens)
Jackson Avenue (Mott Haven, Bronx)
University Place (Greenwich Village)
Netherland Avenue (Mariners Harbor, Staten Island)
The NYC.gov website tells us that,
"... In coming weeks, DOT Borough Commissioners and planners will present proposed plans to elected officials and community boards, with the expectation that they will be completed this year... "
In 2020 the de Blasio Administration expanded bike lanes in all five boroughs by a total of over 20 miles, and he expanded priority bus lanes by 16 miles.
De Blasio Announces Open Boulevards Effort to Jump Start Cultural Activities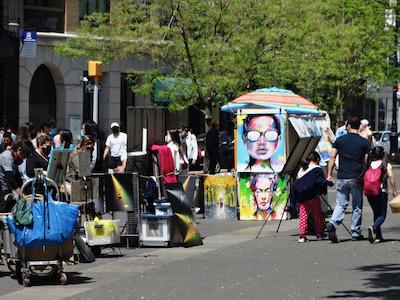 Last summer the open restaurants / open streets program provided relief to restaurant owners and communities during the CoVid pandemic. In an effort to build on that success, Mayor de Blasio announced plans for Open Boulevards in an effort to provide relief / kick start cultural activities in NYC this summer. The program has thus far identified ten boulevards, spanning all five boroughs, wherein it is planning to cordon off some segment of each major street - likely over the weekend - and use the space to enable the artists, musicians, actors and dancers of NYC to show their stuff. The ten boulevards include: a) BRONX - 1) Alexander Avenue near East 134th Street and 2) Arthur Avenue near Cresent Street, b) BROOKLYN - 3) Fifth Avenue in Park Slope and 4) Fifth Avenue in Sunset Park, c) MANHATTAN - 5) Amsterdam Avenue at 110th and 6) Columbus Avenue at 106th, d) QUEENS - 7) Ditmars Avenue at 33rd Street and 8) Woodside Avenue at 78th Street, and e) STATEN ISLAND - 9) Minthrone Street at Victory Blvd. I don't yet know what the tenth street is.
CoVid Vaccination Approval for Pfizer in Kids 12 - 15 & Changing Mask Guidance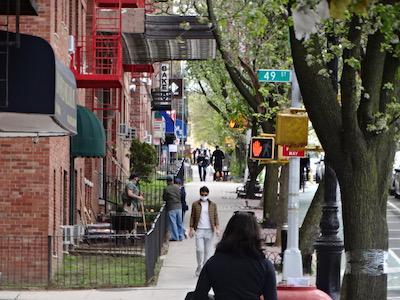 The Pfizer vaccine was approved for use in children ages 12 - 15 by the FDA on Monday. May 10, 2021. The Federal Advisory Board must also approve the vaccine, and is likely to do so as early as this weekend. Governor Cuomo has indicated once the vaccine passes muster with these two scientific groups, the state will approve it as well and begin administering it, which could be as early as next week. The Moderna vaccine isn't far behind Pfizer in the data collection and scientific approval process, but it likely will be weeks to more than a month, before it's in the market.
On Thursday, May 13, 2021 the CDC surprised us, when they announced changing mask and social distancing guidelines for vaccinated people. They told us that for people who are not immuno-compromised, and who have received the full vaccination dose [one shot for J&J and two shots for Pfizer and Moderna] over two weeks ago [takes two weeks for your immune system to fully ramp up], they no longer are advising these people to wear masks indoors or outdoors and they don't have to social distance.
People were surprised because this creates a bit of confusion, as anyone traveling on mass transit like buses, trains, planes and the like are still required to mask up, regardless of vaccination status. And the ultimate guidance on masks is essentially up to state lawmakers, municipalities and local businesses.
The reason the CDC made the announcement isthat they have found the vaccines to be very effective against CoVid hospitalizations and deaths.
NYC Tourism Back on the Rise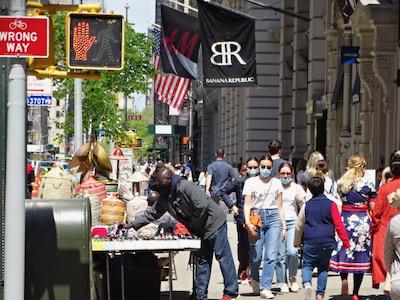 One of NYC's most significant revenue and employment economic categories is tourism. Prior to the pandemic NYC had hosted 67 million tourists in a single year. These visitors spent some $70 billion while here on entertainment, hotels, dining, shopping and the like. That kind of economic activity helped fuel employment of about 300 - 400 thousand workers.
During the pandemic, the entire planet seemed to nearly close shop on recreational tourism. In NYC, the city welcomed 22 million visitors - most of whom came prior to the pandemic. Because of the downturn, some hotels closed, reducing the available rooms by 36,000 to 88,000 rooms. Hundreds of thousands of hotel, restaurant and retail workers were either dismissed or furloughed due to the inactivity.
While this year won't be a banner year, there are signs of tourism coming back to life. The Met Museum has seen its visits rise from 4,000 per day last summer to 7,000 per day in recent weeks and as high as 9,000 in a single day. This is still well below the 25,000 the museum used to accommodate pre-pandemic, but a significant improvement nonetheless. And even though the Statue of Liberty is still closed, 33% more tourists took the ride to view the Lady than did just a few months ago. NYC expects about 31 million tourists to visit NYC this year, but we could overshoot that if the vaccinations continue to progress and chase the virus away.
Economic Snapshot - Unemployment Likely to Keep Falling as Hiring Resumes
The U.S. unemployment rate was about 6% in March, while the NYS unemployment rate was about 8.5%, dragged down in part by NYC's performance which had an unemployment rate of 11.2%. One of the primary reasons NYC is lagging the state and nation is because of the loss of tourism, as noted above. As mentioned, tourism declines lead to a loss of hundreds of thousands of hospitality and retail jobs in the city. That's the bad news.
The good news is that it appears to be coming back. While a great deal of NYC tourism is from abroad, even more originates domestically. And with CoVid rates declining, restaurants opening longer hours, office workers returning to their desks beginning this month through September, the MTA to resume 24/7 service before the end of this month, the Mayor said he expects the city to be fully reopened by July 2021.
Economic Snapshot - Inflation & the Stock Market
The stock markets were spooked this past week by a report showing inflation was 4.2%. They calmed down by the end of the week, as a major contributor to the spike, were the low Consumer Price Index numbers of a year ago. Nonetheless, folks should beware, as if inflation returns, the cost of borrowing will rise, and economic activity will slow because the costs associated with big ticket purchases will rise.
The fact that the markets calmed, indicates they believe the spike may be temporary, fueled in part by the multi-trillion dollar stimulus package and the resumption of economic activity compared to a depressed base. But it's key to stay vigilant on both the healthcare front and one's finances, as caution is the better part of valor.
Have a nice weekend.
---
Special Interests & Scott Stringer NYC Mayoral Candidate
NYC Mayoral Stringer Candidate Scott Stringer Frequently Appears to be an Agent for Special Interests - Except When Their Interests & His Career Ambitions Collide
May 10, 2021 / NYC Neighborhoods / NYC Corona Virus / News Analysis & Opinion / Gotham Buzz NYC.
Weather. It's going to be a fairly consistent weather week with the temperature highs in the 60's and the temperature lows in the high 40's to low 50's. There's scant chance of rain [12% on Tuesday], and winds will be about 10 mph give or take. Humidity will be low all week faling from 40 - 50% today to between 30 - 40% during the middle of the week and returning to 40 - 50% by Friday.
In the photo at right are a couple of direct mail pieces that were sent by Stringer and funded, in part by NYC real estate developers.
The NYC Mayoral Campaign - Based on Funding & Polls it's a Two or Three Horse Race Unless Things Change Significantly as Voters Tune in - Garcia
According to the NYC Campaign Finance Board as of May 7, 2021, Eric Adams and Scott Stringer were leading in campaign contributions and with cash on hand. Eric Adams has $8.9 million and $7.9 million left to spend, while Stringer raised $8.4 million and has $7.4 million left to spend. Andrew Yang is a distant third having raised $5.9 million with $5 million left to spend, and Maya Wiley an even more distant fourth having raised $3.9 million with $2.5 million left to spend.
The second tier of candidates including Shaun Donovan [$2.2 million left to spend], Dianne Morales [$2.5 million left to spend], Kathryn Garcia [$2.7 million left to spend] may not be viable unless things dramatically change in a fairly short period of time. This assessment isn't just based on funding, but on the polls, as these candidates are running far behind the leading candidates Yang [26%], Adams [20%] and Stringer [13%], as each of them has less than 10% of the vote. Wiley has 10%, so she is very disadvantaged in both cash and polling vis a vis the two leaders.
It's worth noting that the New York Times endorsed Garcia this week. She's not getting the oodles of special interest money like the front runners, has solid track record in NYC municipal government, and she would be the first woman to become the Mayor of NYC, were she to prevail [as would Maya Wiley or Dianne Morales].
Scott Stringer Stays Focused on his Career
I started paying attention to Scott Stringer as I began the launch of Gotham Buzz / Manhattan Buzz in the summer / fall of 2013. The first reporting I did which included Scott Stringer in it, was a short brief in the late summer of 2013, when as the Manhattan Borough President Stringer gave his conditional approval of the Midtown East Rezoning Plan. As I was launching those sites, I didn't have the time to do the proper research into the planned mega real estate rezoning and development, which Stringer had publicly criticized, but which he ultimately approved.
That said, what did happen was that my 'Spidey Sense' had picked up the scent of a self-serving politician.
2013 / Manhattan Borough President Stringer / Midtown East ReZoning
Stringer Seems to do What's Right for His Career, NOT for His Constitutents?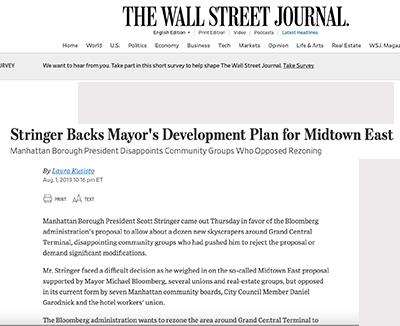 The Midtown East rezoning was a gargantuan real estate development push centered in and around the Grand Central Terminal neighborhood. At the time [August 2013] Scott Stringer was the Manhattan Borough President. And, as I eventually found Stringer to have done before, he came out strongly publicly criticizing the plan, and then seemed to do an about face and sign off on it.
This was as Scott Stringer ran for NYC Comptroller - the position he holds today. An August 1, 2013 report in the Real Deal started with this,
" ... A day after the city pledged to provide upfront funding for transit improvements as part of the Midtown East rezoning plan, Manhattan Borough President Scott Stringer announced he will support the proposal, Crain's reported ... [and then this] Stringer won praise from the Hotel Trades Council, the city's biggest hotel union, thanks to his endorsement of a special permit process for any hotels that would be built as part of the plan ... [and then this] ... Since the changes were announced, observers awaited Stringer's approval, wondering whether he would side with the plan's critics and risk alienating the city's real estate community as he runs for the position of New York City Comptroller against former New York Governor Eliot Spitzer ... "
In the graphic at right, you can see an August 1, 2013 report in the Wall St Journal that notes that Stringer approved the Midtown East Rezoning even though it disappointed community groups who opposed the rezoning. Stringer seemed to side with the real estate developers in lieu of the community, which he also did as Manhattan Borough President in the case of the Greenwich Village / NYU rezoning. Beware politicians who appear to vote in favor of those who fund them, in lieu of the broader community.
Stringer went on to win that close election. And according to an October 5, 2016 report by DNA Info, the Midtown East Rezoning Plan,
" ... was advanced by the Bloomberg administration but was withdrawn in 2013 after elected officials, including Garodnick, opposed it, saying it lacked transparency regarding exactly what public improvement projects would be funded through deals with developers ..."
In May 2014 Mayor de Blasio established the East Midtown Steering Committee to rezone the area. The new Manhattan Borough President, Gale Brewer and City Councilmember Garodnick worked on a new rezoning plan, which was approved in August of 2017.
2014 / 2015 - NYC Comptroller Scott Stringer Hypes False Allegations of 'Corruption' at Queens Library, which DeStabilizes the Non Profit, Enabling Politicians to Wrest Away Independent Control of it
No Corruption Found / Taxpayers Pay Ten(s) of Millions for Investigation & Settlement / Queens Library Loses its Independence at a Time When Real Estate Developers are Circling like Sharks Around Public Library Property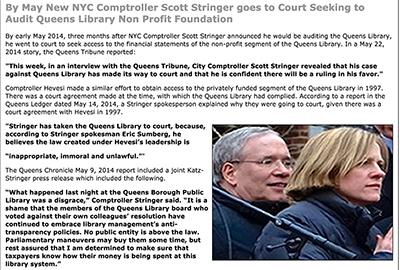 In 2014 the NY Daily News, which at the time was owned by real estate developer Mortimer Zuckerman, began a barrage of seemingly endless attacks on then Queens Library President Thomas Galante. Almost every NYC media outlet followed the lead and tone of the NY Daily News coverage - except us and a couple of other independent outlets.
In early 2014, newly elected Queens Borough President Melinda Katz and NYC Comptroller Scott Stringer jumped on the bandwagon and rode the allegations and innuendo of Queens Library corruption all the way to Albany and back. The NYS Senate and NYS Assembly - in what I consider a major failure by almost all of them - nearly unanimously passed a bill in both houses to rescind the Queens Library independence based on UNPROVEN ALLEGATIONS of corruption. The independent Queens Library board had been set up by Andrew Carnegie in the early 1900's and seemed operate well ever since, including during the time of the seemingly phony, trumped up allegations.
In the graphic at right, from a December 16, 2014 report on Queens Buzz, you see Scott Stringer and Melinda Katz together at an outdoor cultural event, just before they began their 'corruption' assault on the Queens Library president and non-profit board. After over a year of intense scrutiny and legal wrangling, they found NO WRONG DOING, while squandering millions of dollars of taxpayer money and politicizing the library and its board, by wresting away its non-profit independence, which increases the likelihood that real estate developers will have representation [or surrogates] on the board who can wrangle away from the community the choice real estate the libraries rest upon.
But both bodies of the NYS legislature didn't let the facts get in the way of what they did, and Scott Stringer can take a bow for helping amplify those false allegations of corruption, seeming to help make them appear true.
Why? Perhaps because Mortimer Zuckerman, a billionaire real estate developer, owned the NY Daily News at the time. In politics having an ally who is both rich and owns mass media is a significant advantage in an electoral race. And perhaps because both Katz and Stringer had previously interacted with Zuckerman's Boston Properties to get new zoning pushed through in the Village for NYU in 2012. Here's a link to a December 20, 2014 report in Queens Buzz that should give you the gist of for whom Scott Stringer appears to really work.
2012 / Manhattan Borough President / NYU Campus Expansion Greenwich Village
Supports Massive Real Estate Development in Greenwich Village which Residents Oppose
NYU planned a mega real estate development, to expand its campus footprint in Greenwich Village. The people who lived there weren't supportive of it, as their Community Board 2, opposed the proposal based on its size and the impact of the construction on the neighborhood before and after the development was completed which was estimated to be about 19 years. There were also accusations that NYU's math was 'fuzzy' with respect to how they counted public space in the proposal.
A June 15, 2012 report in CityLandNYC.org tells us that,
"... Manhattan Borough President Scott M. Stringer supported the proposal under certain conditions. Stringer recommended, among other things, eliminating the proposed below-grade space from under the landscaped strips, reducing the size of the new buildings on the superblocks, and eliminating the construction of the temporary gym. Stringer also recommended imposing limits on eating and drinking establishments if the Loft Blocks were rezoned with a commercial overlay..."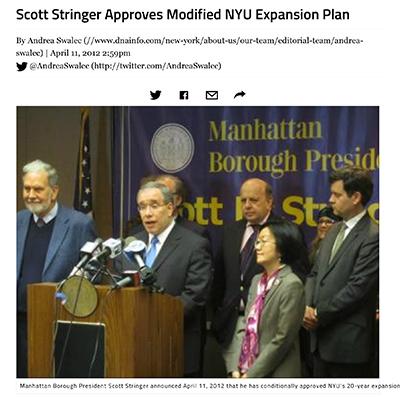 I think it's worth noting that generally speaking, conditional statements included in rezoning proposals, were oftentimes ignored, once the plan was approved. This was so much so the case, that in June 2018 Mayor de Blasio opened up a Rezoning Commitments Tracker to remedy this situation based on legislation passed by the City Council [Local Law 175 of 2016]. Unfortunately the page does not appear to have been updated since the pandemic and social unrest began in the Spring of 2020.
In the two graphics above and at right you can see: 1) that the Greenwich community urged the then Manhattan Borough President Scott Stringer to vote against the mega NYU expansion plan development in 2012 and 2) that Scott Stringer voted for it anyway.
It's worth mentioning that the developer, Boston Properties, was owned / controlled by the then owner of the NY Daily News, billionaire real estate developer Mortimer Zuckerman. Zuckerman and his NY Daily News also played a role in hyping false allegations of corruption against the President and non-profit board of the Queens Library, in what seemed an effort to wrest away control of the organization from the non-profit [which they succeeded in doing], in order to enable the possibility of wresting away the land upon which the libraries sit - as has been done in Brooklyn.
https://www1.nyc.gov/site/operations/performance/neighborhood-rezoning-commitments-tracker.page
2014 / Education / Stringer Appears to Try to Thwart de Blasio Push for Universal Pre-K
Stringer Seems Willing to Sacrifice the Education of some Portion of 53,000 NYC Children to Enable a Career Enhancing Challenge to the Mayor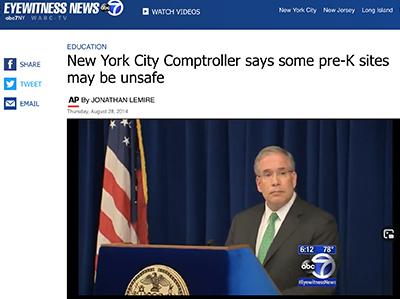 As with the phony. trumped up charges in the Queens Library 'Corruption Scandal', Scott Stringer appeared to use his office to try to undermine Mayor de Blasio's push for Universal Pre-K in the Fall of 2014, after de Blasio helped secure the NYS legislation authorizing the plan.
Stringer attacked Mayor de Blasio's push to implement Universal Pre-K in the Fall of 2014 by claiming that a number of the organizations the Mayor was working with, to implement the plan on relatively short notice, hadn't fully complied with some of the paperwork Stringer oversaw in the NYC Comptroller's office.
It was a politically staged event that pundits believe Stringer used to hope to position himself against Mayor de Blasio for the next election in 2017.
Stringer tried to create the impression that some of the Universal Pre-K sites might be unsafe, but multiple city agencies were working to make sure that wouldn't be the case [and it wasn't] in a push to make Universal Pre-K happen. In an August 2014 Politico report states,
"... The comptroller's role is to approve the contract," de Blasio said, adding "way before that, all these agencies were working on health and safety. When I think about health and safety, I think about the professionals who do this work..."
The same Politico report quotes Stringer saying,
" ... "I want them to stop playing games," Stringer said of the administration during his press conference, during which he hinted at "legal action..."
But even Stringer allies sided with de Blasio, likely recognizing Stringer has oftentimes made staged political statements in an effort to further his career, in lieu of an issues / people based agenda. According to a September 1, 2014 report in the Observer,
" ... Mr. de Blasio had wrangled two pols from Mr. Stringer's Upper West Side base, along with many other shared allies, to repudiate his [Stringer's] latest analysis of the mayor's prekindergarten plan, even digging out a statement from a former Bloomberg chief of staff to drive the point home: I am the mayor, you are wrong and I have many, many friends who agree with me... "
The September 1, 2014 Oberver report also noted that this was not the first time Stringer tried to trip up the Mayor, early in de Blasio's Mayoralty.
" ... Mr. Stringer challenged the mayor on accounting related to retroactive raises granted to the United Federation of Teachers, the first major labor deal of Mr. de Blasio's tenure... "
The question here is why did the United Federation of Teachers union support someone who seemed to undermine an important educational initiative? Their leadership may be as guilty as billionaires and corporations of looking out for themselves, not their constituents.
2017 - Special Interest Scott Stringer is a Player of Games Using Political Theater
Politics Can be Dirty - Watch What Pols Like Stringer Do - Not What They Say
A June 3, 2017 OpEd in the NY Post provides the following, which shows how Stringer plays fast and loose with hypocrisy.
" ... Union puppet on a stringer ... A telling sign that a politician is a puppet for teachers unions is a robotic claim to be putting children ahead of politics. Behold city Comptroller Scott Stringer. He was on auto-control while pushing back against legislators demanding to know how state money was spent.Said Stringer: "Our kids should be above politics. Their futures can't be treated as pawns in a political game." You could hardly see the unions' lips moving."
So it appears ok to play politics with the kids' education in furtherance of Scott Stringer's career. But it's not ok 'to play politics' by asking for transparency regarding funding related to the Teachers Union, which likely was also a career enhancing move by Stringer, given the UFT endorsed him.
2016 - 2019 / Stringer Gambles with Public Money?
NYCERS aka New York City Employees Retirement System Increases Investments in Private Equity Real Estate 45% - Impact on Risk / Returns, Affordable Housing & Stringer Campaign Donations?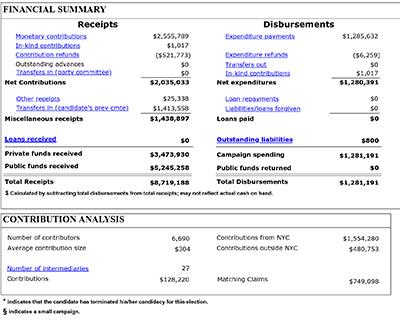 This is a two pronged deal where Stringer seems to fund private equity that is alleged to be contributing to the global housing shortage. And fund real estate investments that have reportedly also provided sub par returns for the funds. If I'm not mistaken, municipal pension fund shortfalls are paid by city taxpayers. Are these financial guys donors / possible donors to Stringer's campaign(s)?
Who's Will be Pulling the Strings on Stringer?
Do these people fund Stringer's campaigns? I think so, but that's hard to prove. But as an example, Stringer has NEARLY FOUR TIMES MORE intermediaries collecting money for his campaign than the other TOP THREE CANDIDATES COMBINED. Stringer has 27 intermediaries [which I assume are set up to hide who's really contributing], while Yang has 0, Adams has 4 and Wiley has 4.
In the graphic to the right the second to the last line at the bottom on the left shows the number of intermediaries who probably package money that doesn't want to be seen by the public, so the public won't know who's pulling the strings on Stringer?
Ranked Choice Voting - If You're Rich & Powerful - Stringer #1 / McGuire #2
This indicates to me that Stringer is the choice of the wealthy, probably real estate investors and developers. So if you want the city run by the rich and powerful over the next four years, Scott Stringer is your choice and Ray McGuire would be your second choice.
Stringer Embraces Public Investments in Mass Transit Additions that Benefit Billionaire Manhattan Developers
While Ignoring the People who live in the Mass Transit Deserts of the Outer Boroughs
The then Manhattan Borough President Stringer approved the Hudson Yards #7 subway line extension and the Upper East Side subway line extension. This was done while there were and still are an incredible number of other places in the city with greater transportation needs than almost anywhere in Manhattan - let alone south of 90th Street. These other places are called transportation deserts, where residents have to travel hours, if they use public transit, to get anywhere central.
There are other mass transit needs too. For example, how about one East - West subway in the Bronx? How about a second North South subway in middle / eastern Queens Brooklyn? How about one more north south subway on the west side of Staten Island?
Conclusion - Stringer Doesn't Appear to be the Man the Corporate Media Tell You He Is
Is Scott Stringer a progressive? Yes, but that progressivism seems limited to the generic democratic issues that are required of any viable NYC Democrat.
But when it counts, when it comes to local issues where Stringer can really make a real difference for his constituents, Scott Stringer seems to let his career ambitions - and those who fund them [like real estate developers] or those who mobilize voting blocks [like specific union leadership] - drive what he's going to do. Voters and residents be damned.
We have a lot of choices for Mayor this primary. For my money, Scott Stringer isn't one I would rank highly, if at all, because he's going to look out for his career and the special interests who support him - not the people of New York City.
Have a good week.
---